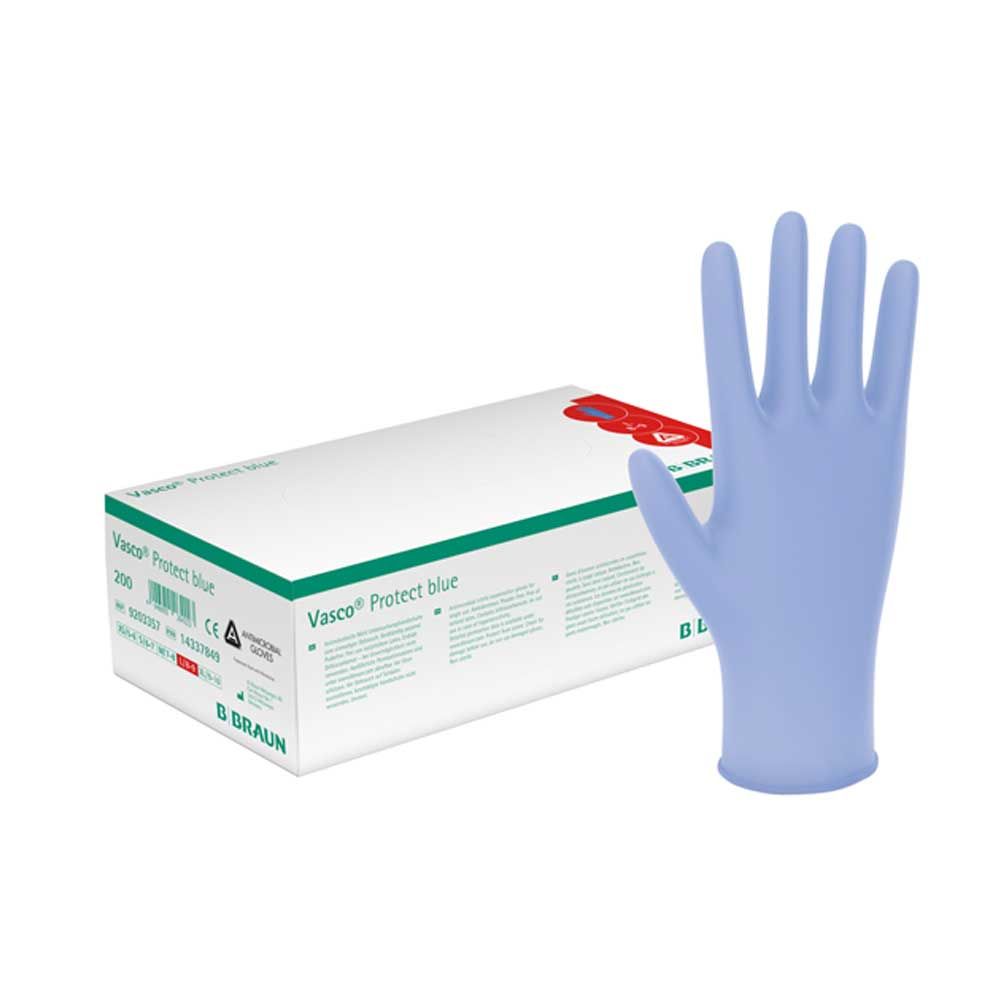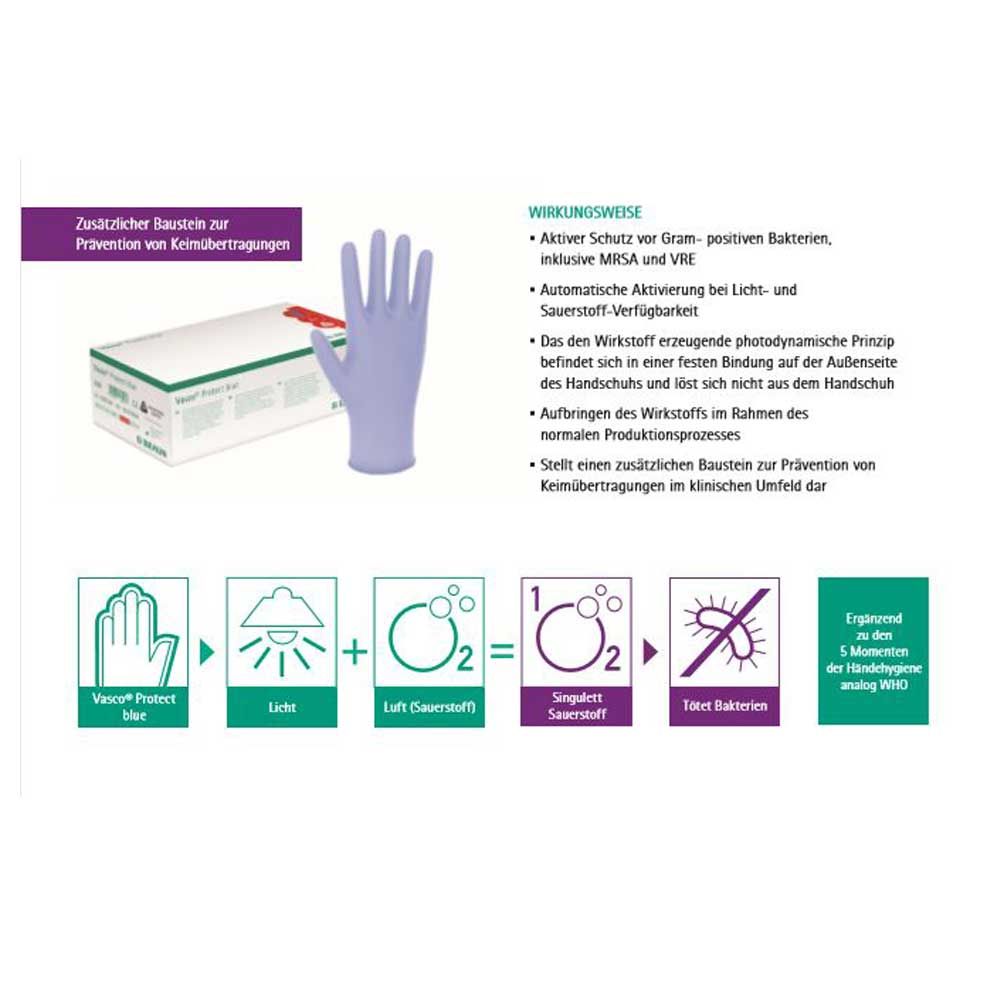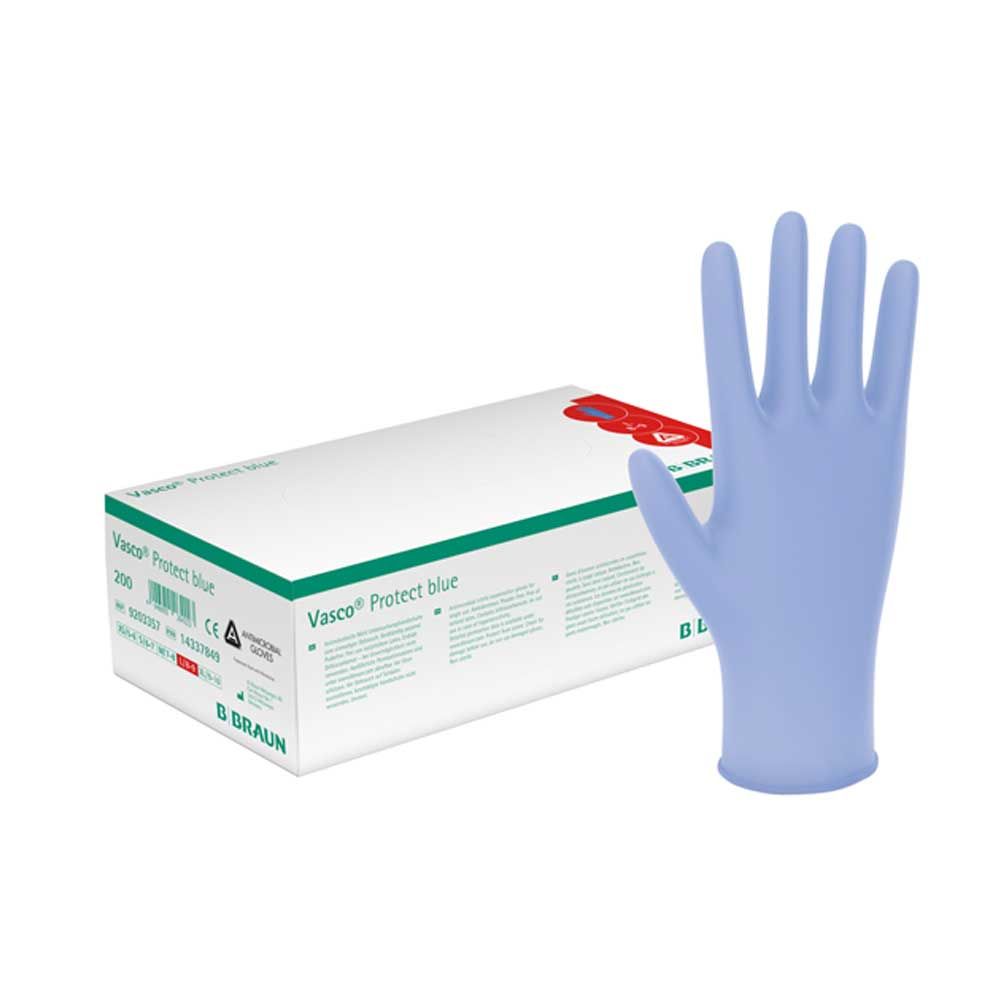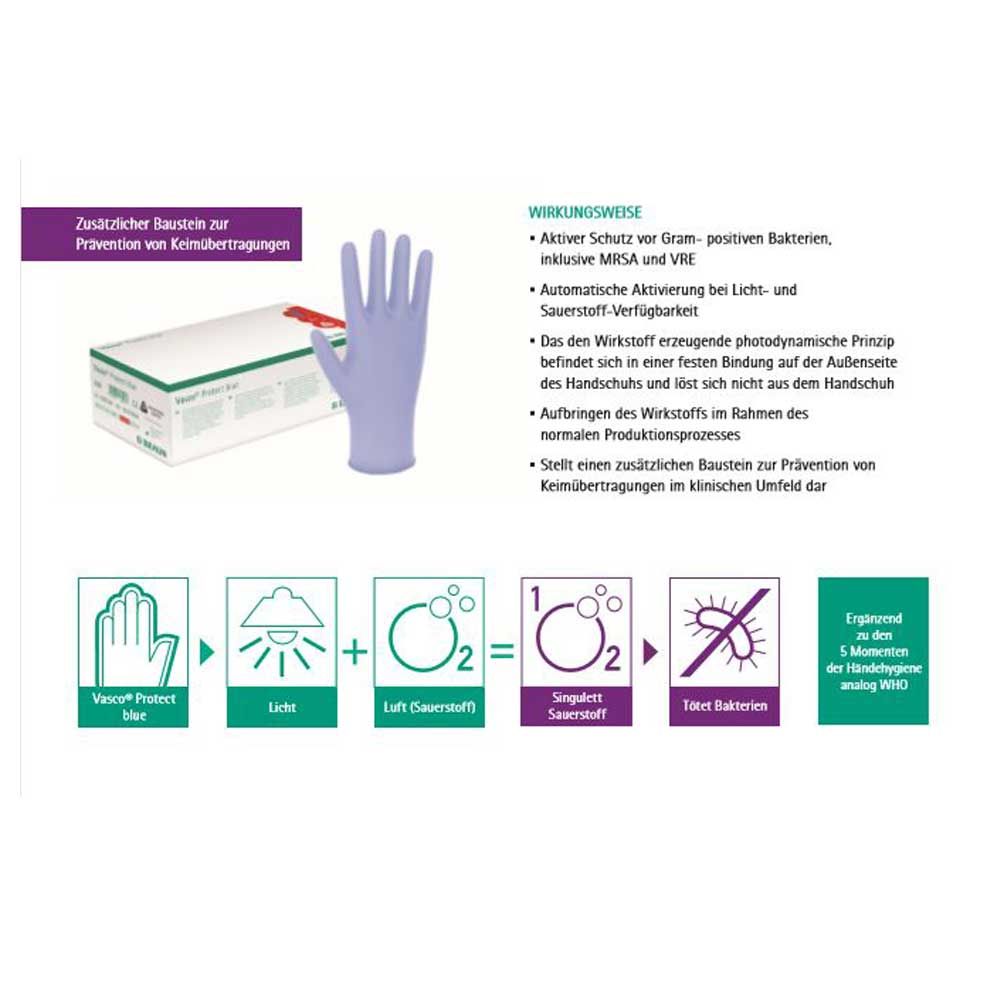 Product number:
PET9203315K
Best Advice on Medical Products
Fast Delivery of available products
High quality brands
Purchase on Account
Product details - Nitrile Gloves Vasco® Protect Blue
The nitrile glove Vasco® Protect Blue by B.Braun is a novel disposable glove with an antimicrobial coating on the outside. It is available for the first time on the European market and convinces in the fight against the spread of bacteria and associated newest hygiene standards.
Efficacy ranges from normal positive bacteria to MRSA and VRE and is triggered by exposure to air and oxygen. This means that even when the gloves are removed from the packaging, a process is triggered which intensively combats bacteria. Working with the Vasco® Protect Blue will therefore be even safer for the user and the person being examined.
But not only its antimicrobial effect, but also its other properties convince. It is free of powder, latex, thiurams and mercaptobenzothiazoles MBT, which reduces the risk of allergies. In addition, it is dyed blue-violet, ambidextrous and offers excellent grip through the textured finger area.
Vasco Protect Blue is available in sizes of XS-L with 200 gloves each and i size Xl with 180 gloves.
Mode of Action of Antimicrobial Nitrile Glove
Active protection against Gram-positive bacteria, including MRSA and VRE
The process of action is triggered independently with the availability of light and oxygen
the drug-producing photodynamic principle is in a tight bond on the outside of the glove and does not come off the glove
the application of the active substance takes place within the normal production process
Properties of Antimicrobial Nitrile Glove
unsterile
with antimicrobial glove technology "AMGTM"
against bacterial cross contamination
powder-free, latex-free
free of thiurams and mercaptobenzothiazoles MBT
blue violet
ambidextrous
with rolled edge and normal cuff - easy on and off
with textured finger area surface,
inside: chlorinated online
consists of nitrile butadiene rubber (NBR)
Medical device class I
according to MDD 93/42 / EEC
according to EN 455 1-4
tested by SATRA UK according to ISO 11193, EN 374-5, ISO 16604
according to ASTM D6319
Quality Certificates: ISO 9001, ISO 13485
Water resistance: AQL 1.0
Size selection: XS-XL
180/200 St depending on size per box
Size and Packaging Information of Antimicrobial Nitrile Glove
XS / 200 pcs
S / 200 pcs
M / 200 pcs
L / 200 pcs
XL / 180 pcs
Applications of Antimicrobial Nitrile Glove
for the prevention of germ transmission in the clinical environment
as examination gloves
as protective gloves
in all medical areas
Manufacturer "B. BRAUN"
Our range includes many different medical products from B.Braun Melsungen AG . The company, which was founded in 1839, is known for first-class medical technology as well as proven products for pharmaceutical and medical needs. In addition to protective gloves made of natural latex, the wide range of B.Braun products also includes disinfectants and cleaning agents for medical instruments, surfaces as well as for skin and hands. We also carry cannulas, needles and syringes as well as complete catheter sets and wound pads, plasters and bandages from B.Braun.
More articles from B. BRAUN to look at
Discover other interesting items!