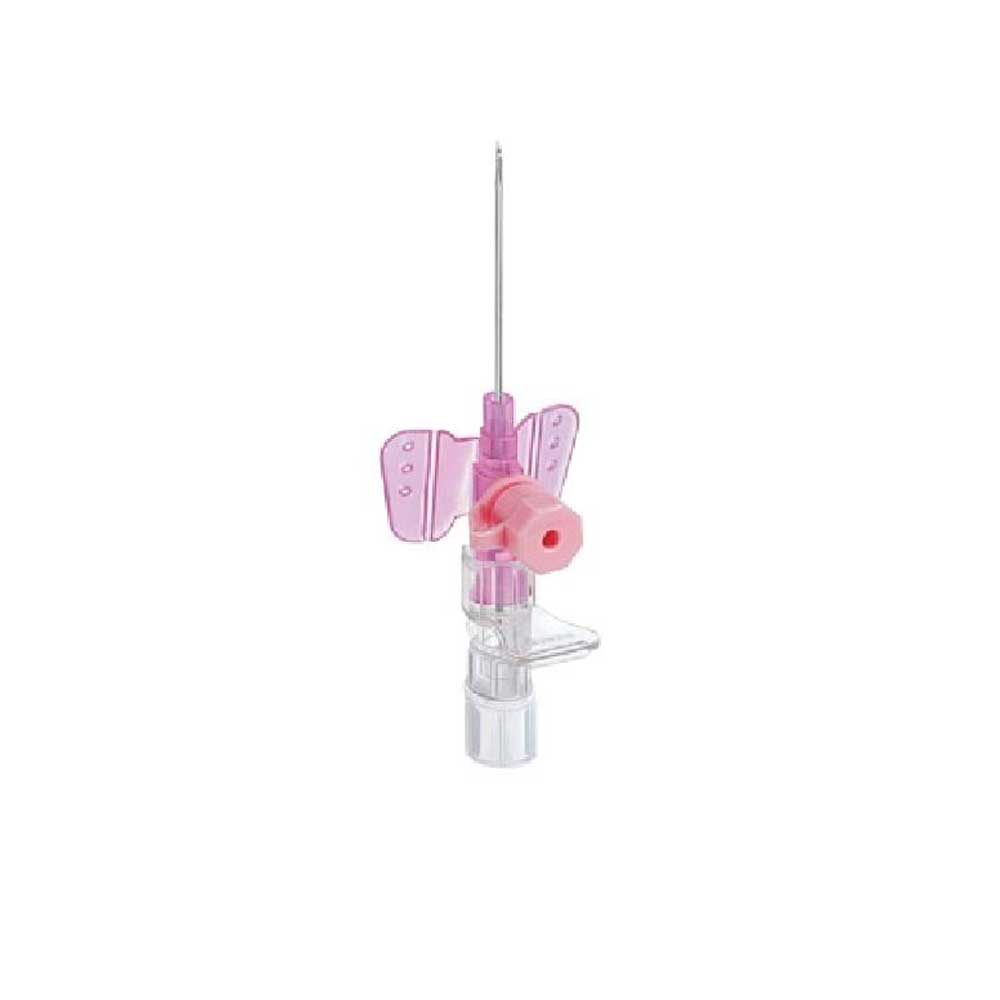 Available, delivery time 3-5 days
Product number:
PET4269136
Best Advice on Medical Products
Fast Delivery of available products
High quality brands
Purchase on Account
Product details - Vasofix® Certo Butterfly Cannulae
The Vasofix® Certo venous irrigation cannula with injection port and B.Braun polyurethane catheter allows for an uncomplicated stay and the administration of drugs without re-puncture.
The Vasofix Certo is available in different sizes and is clearly identified by a color code in size. This color coding is identical to the colors of the Vasofix Mandrin. Gauge is the name for the outer diameter of cannulas and hoses, the larger G, the smaller the diameter.
Properties of Venous Indwelling Cannula
Polyurethane catheter material for an uncomplicated stay
Integrated injection port: Medication can be administered quickly without re-puncture
Excellent puncture properties due to atraumatic cannula tip with 3-facet cut geometry
Capillary: Four fully embedded X-ray contrast strips
Hydrophobic blood catcher plugs
Removable lock closure cone
Lock approach
Color size indicator
Latex-free
PVC-free
According to ISO standard 10.555-1 / 5
Executions of Venous Indwelling Cannula
Gauge diameter x length
blue 0.90 x 25 mm (Ø x length) G22 Flow rate 36 ml per minute
pink 1.10 x 33 mm (Ø x length) G20 flow rate 61 ml per minute
green 1.30 x 45 mm (Ø x length) G18 Flow rate 96 ml per minute
white G17 1,50 x 45 mm (Ø x length) G17 flow rate 128 ml per minute
gray G16 1.70 x 50 mm (Ø x length) G16 Flow rate 196 ml per minute
orange G14 2,20 x 50 mm (Ø x length) G14 Flow rate 343 ml per minute
green (with white ring) G18 1.30 x 33 mm (Ø x length) G18
pink (with white ring) 1,10 x 25 mm (Ø x length) G20
Manufacturer "B. BRAUN"
Our range includes many different medical products from B.Braun Melsungen AG . The company, which was founded in 1839, is known for first-class medical technology as well as proven products for pharmaceutical and medical needs. In addition to protective gloves made of natural latex, the wide range of B.Braun products also includes disinfectants and cleaning agents for medical instruments, surfaces as well as for skin and hands. We also carry cannulas, needles and syringes as well as complete catheter sets and wound pads, plasters and bandages from B.Braun.
More articles from B. BRAUN to look at