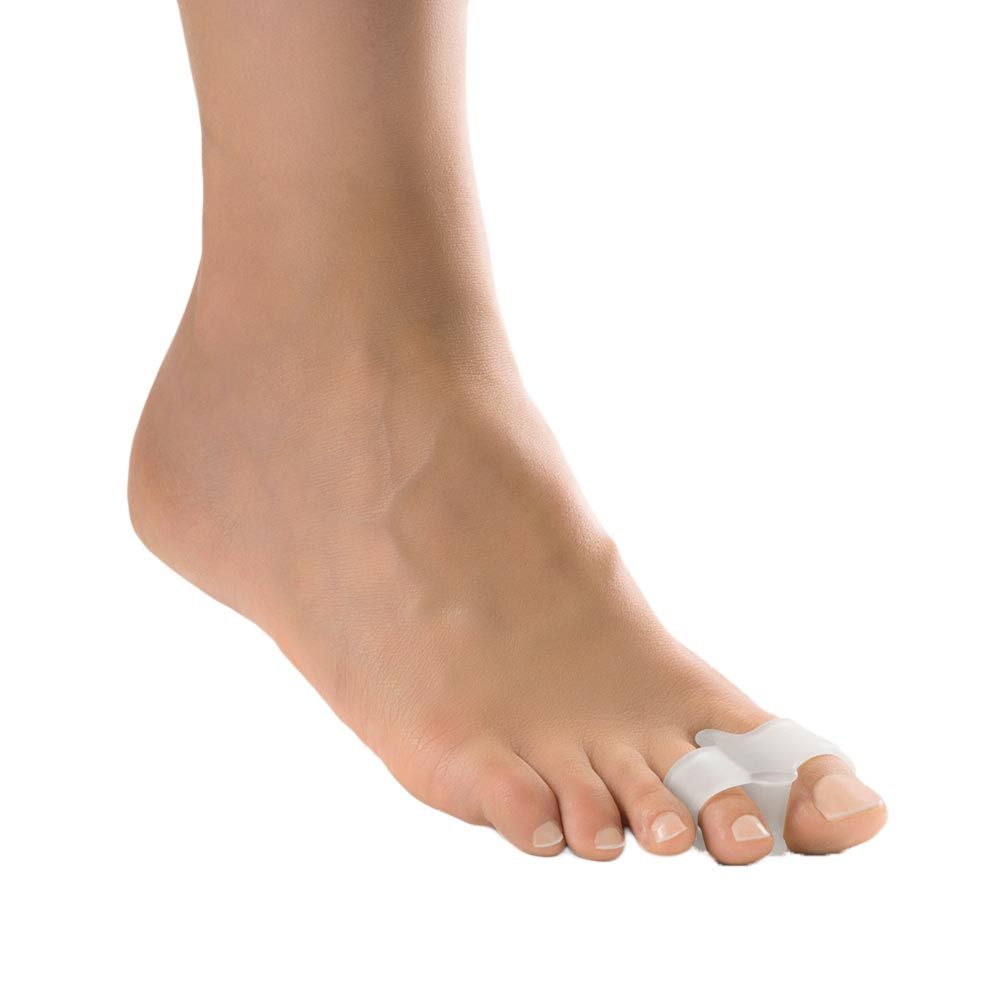 Available, delivery time 3-5 days
Product number:
BOR107155
Best Advice on Medical Products
Fast Delivery of available products
High quality brands
Purchase on Account
Prodct details of PediSoft® Toe Spreader with a Double Ring
The toe spreader with double ring PediSoft®, made of silicone / gel, for the reduction of pressure pain and wound healing offers a non-slip fixation.
Standard toe spreaders are simply pushed between the toes and then separate them from each other. Unfortunately, the spreaders slip quite quickly with a lot of movement. With this gentle toe spreader it is different - it is pushed between two toes too close to each other and securely fixed by the double ring.
The toes are embedded very soft, through the silicone gel material - a so-called memory effect arises. A comfortable, painless running, even with shoes, is guaranteed dadruch. Air circulation is also improved and existing wounds, e.g. corns, can heal better and more painlessly.
Thanks to the smooth surface of the material, cleaning can be done very simply with soap and, if necessary, disinfected. The toe spreader is very hard-wearing and best suited for long-term use.
In the delivery are 2x PediSoft® toe spreaders with double ring, optionally in size S or L, so both feet can be treated right away.
Properties of toe spreader with dppel ring
Toe spreader with dppel ring
prevents drifting
prevents pressure points
helps with chicken eye
animated wear
very gentle to the skin
separates gently toes
from soft Slikon and Gel
with memory effect - toes embed themselves
adapts perfectly to the toes
returns to its original form
easy cleaning with soap
disinfectable - very hygienic
very durable and durable
2 pieces per pack
Sizes: S or L
Areas of application of toe spreader with double ring
for the separation of tight-fitting toes
in chicken eye
with wounds in the toe spaces
for daily use
for diabetics
Manufacturer "BORT"
Bort GmbH is known for excellent orthopedic aids. In our online shop we have, for example, bandages, splints, bandage shoes and orthotics in various colors and sizes as well as for different parts of the body. For example knee wraps, back wraps or elbow wraps. In addition to bandages and supports with a compression effect, we also offer splints and orthoses for the complete immobilization and stabilization of feet, wrists or the cervical vertebrae. Gripping aids and medication dispensers are also part of the Bort range.
More articles from BORT to look at