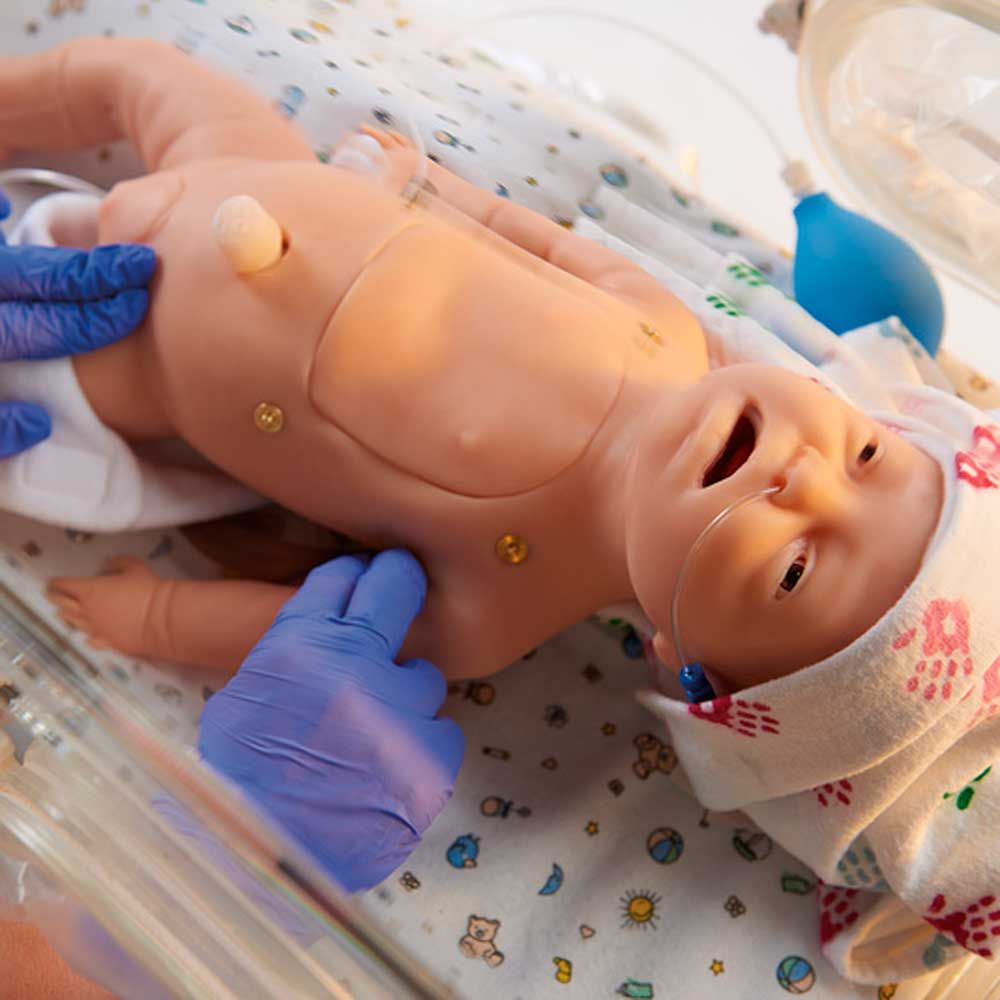 Available, delivery time 4 weeks
Best Advice on Medical Products
Fast Delivery of available products
High quality brands
Purchase on Account
Product details - Baby C.H.A.R.L.I.E. Neonatal Resuscitation Simulator with ECG
The Resuscitation Simulator Baby C.H.A.R.L.I.E with/without ECG by Erler Zimmer was designed to meet the training needs of the Neonate Resuscitation Program, 7th Edition of the American Academy of Pediatrics.
The abbreviation C.H.A.R.L.I.E. means the following training needs:
C: Compressions, Cardiac

H: Heat compatible

A: Airway, Arterial access via the umbilicus

R: Resuscitation

L: Laryngeal mask capable for oxygen use or PPV

I: Intravenous, Intraosseous, Intubation

E: ECG (EKG)
Properties of Baby C.H.A.R.L.I.E
airway, breathing, intubation, and ventilation
birth anomalies
chest tube placement
CPR
ECG simulation
gastrointestinal (GI) tube
interchangeable genitalia
intraosseous infusion
IV hand and foot
observation and measurement
palpable manual pulse points in 7 locations
patent umbilicus with venous and arterial access
PICC site in arm
urinary catheterization
Comes with or without interactive ECG simulator. Model ECG offers the following options:
defibrillation shock can be delivered through manikin or simulator
connect defibrillator/external pacer to simulator using adapters
built-in circuitry allows you to defibrillate and pace directly into the ECG simulator and observe ECG rhythms through the PADS connector
convert feature
select another rhythm to run immediately after defib discharge
pacing can be done on any manufacturer's defibrillator
battery saver feature powers-off simulator automatically when not in use
6 waveforms
17 adult/pediatric rhythms
Manufacturer "ERLER ZIMMER"
Erler Zimmer is a family-run, traditional company that specializes in the manufacture of first-class anatomical models and other medical training and education materials. Medicalcorner24® carries an extensive selection of Erler Zimmer products, from complete skeleton models to enlarged detailed studies of individual organs in natural colors or color-coded. Medical simulators and manikins from Erler Zimmer are also part of the range. The nursing dolls are sometimes highly complex and have a variety of functions. We also have medical posters and display boards for school lessons or patient education.
More articles from ERLER ZIMMER to look at