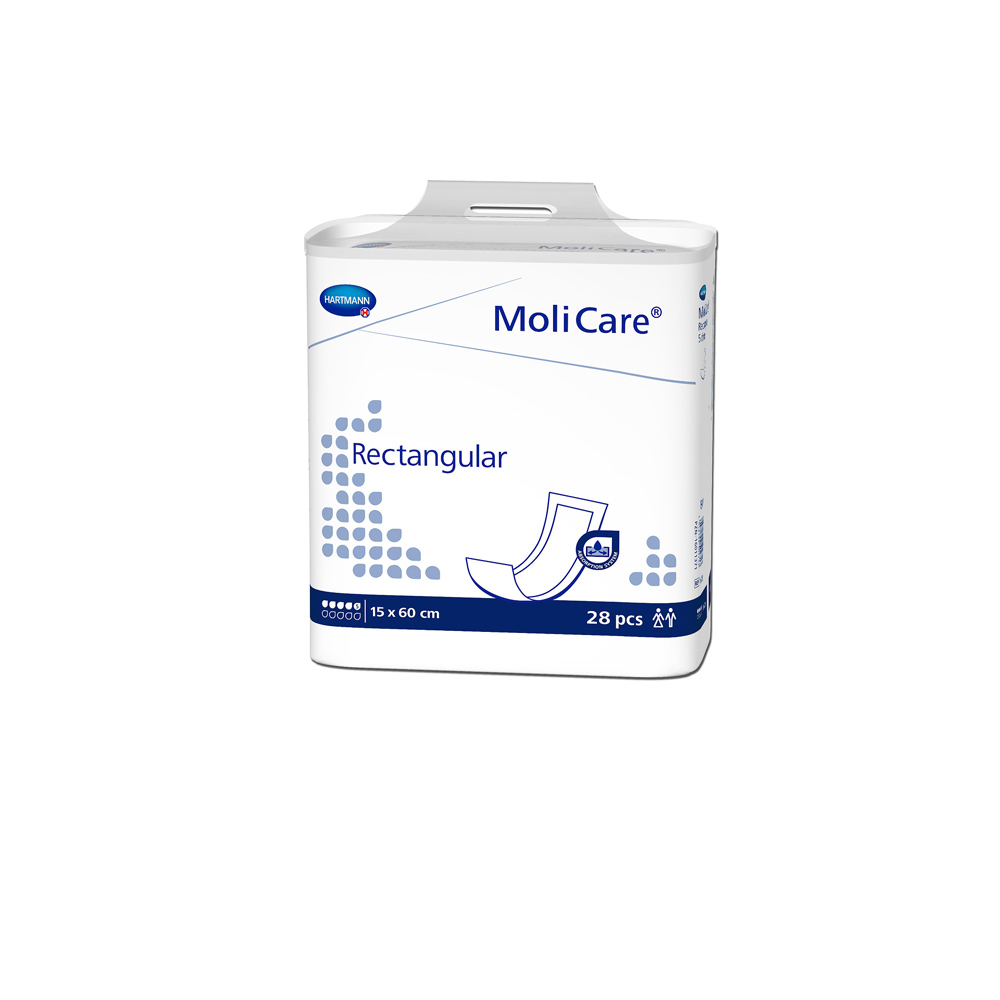 Available, delivery time 3-5 days
Product number:
HA-1608607
Best Advice on Medical Products
Fast Delivery of available products
High quality brands
Purchase on Account
Product details for MoliCare® Rectangular incontinence pads
The MoliCare Rectangular incontinence pad from Hartmann offers a hygienic solution for light to medium incontinence.
The incontinence pad MoliCare® Rectangular offers with a highly absorbent core and liquid impermeable outer film safe protection for everyone. The pads are dermatologic tested and a soft, skin friendly top. For mobile and bedridden male and female are these incontinence pads ideal.
The incontinence pads with 3 and 4 drops gives protection for light incontinence. For medium incontinence are the incontinence pads with 5 drops ideal. Against faecal incontinence gives the incontinence pads with 4 and 5 drops protection.
The MoliCare® Rectangular incontinence pads should be worn with fixation pants. Ideal for that are the in our shop available MoliCare® Fixpants and MoliCare® Premium Fixpants.
Properties of the MoliCare® Rectangular incontinence pads
safe protection for light to medium incontinence
with highly absorbent core
liquid impermeable outer film
dermatologic tested
soft, skin friendly top
suitable for mobile and bedridden people
equally suitable for male and female
Sizes of the MoliCare® Rectangular incontinence pads
3 drops: 20 x 40 cm
4 drops: 20 x 60 cm
5 drops: 15 x 60 cm
Protection for following incontinence kinds and strengthen
light incontinence: 3 and 4 drops
medium incontinence: 5 drops
faecal incontinence: 4 and 5 drops
Manufacturer "PAUL HARTMANN"
Hartmann AG is one of the largest manufacturers of dressing materials such as plasters or gauze bandages, surgical disposable tools and other surgical accessories as well as dispenser systems for disinfectants and cleaning agents. In the field of medicine, Hartmann also manufactures products for in-patient or home care. For example, we also have special pads, templates and briefs that are used in cases of incontinence. We also carry various skin care products from Hartmann AG. For athletes, we offer cooling compresses, ice spray and cooling gel from Hartmann.
More articles from PAUL HARTMANN to look at