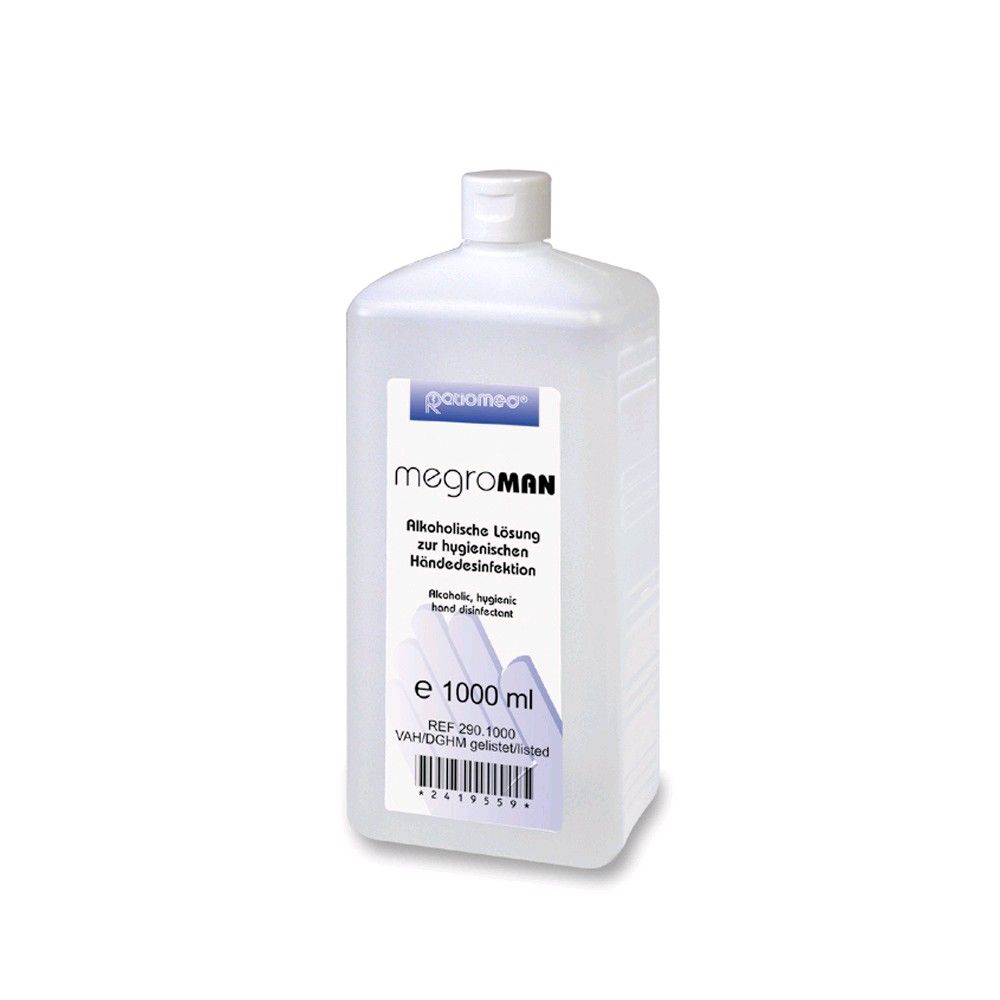 Available, delivery time 3-5 days
Product number:
MEG290.1000
Best Advice on Medical Products
Fast Delivery of available products
High quality brands
Purchase on Account
Product details for megroMan Hand Disinfectant
megroMan is a solution for hygienical and surgical hand disinfection. It is ready to use out and can also be applied to prepare cooling compresses.
The disinfectant contains no perfumes or colourants and is used for hygienical and surgical disinfection. It can also be used to prepare cooling compresses if thinned with an equal share of water.
Properties:
contains no perfumes and colourants
bactericidal
levurocidal
fungicidal
virucidal (HBV, HCV, HIV, SARS, Noro, Vaccinia, Rota, Herpes, Influenza/ H1N1/ H5N1)
tuberculocidal
VAH/DGHM-listed
Fields of Application:
surgical hand disinfection
for cooling compresses
in practices
for nursing
Available in different sizes
More articles from RATIOMED to look at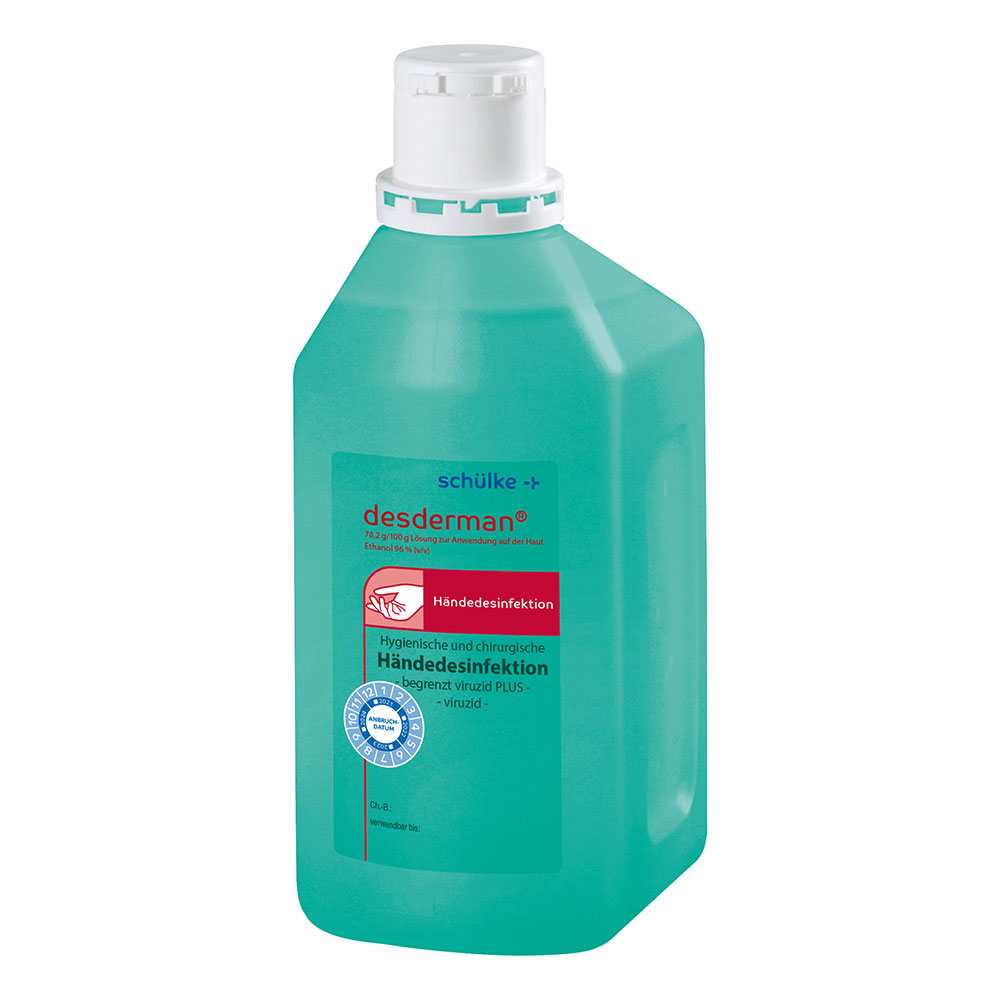 Schülke Desderman® Hand Disinfectants, Norovirus,1000 ml
It has an increased microbicidal and virucidal activity and is therefore also used against Noro viruses. Due to the well-thought-out composition with the absence of dyes and perfume, the preparation is also very suitable for sensitive skin or skin that is prone to allergies. Furthermore, Desderman® contains moisturizing ingredients that protect the skin from drying out.Properties of Hand Disinfectantready for usecolorlesspronounced microbicidal and virucidal activitygoodskin compatibilityRückfettungssystemperfume and dye-freebactericidal (incl. TB)fungicidevirucidal in lipophilic and hydrophilic viruses Polio, Aldeno, vaccinia, herpes simplex viruses, HBV, HCV, HIV, Noro virusesIHO ListRKI listVAH certificateComposition: 100 g solution contain: Active ingredients: 78.2 g ethanol 96%, 0.1 g biphenyl-2-ol. Excipients: povidone 30, isopropyl myristate (Ph. Eur.), (Hexadecyl / octadecyl) (2-ethylhexanoate), sorbitol solution 70% (crystallizing) (Ph. Eur.), 2-propanol (Ph. Eur.), purified water.Applications of Hand Disinfectanthygienic and surgical hand disinfectionMandatory texts on authorised medicinal products according to § 4 HWGdesderman® 78.2 g/100 g solution for application on the skin - active substance: ethanol 96 % (v/v).Fields of application: Alcohol-based disinfectant for hygienic and surgical hand disinfection. Spectrum of antimicrobial efficacy: bacteria (incl. TbB), fungi, viruses: classification: "virucidal" (enveloped and non-enveloped viruses) and classification: "limited virucidal plus".For risks and side effects, read the package leaflet and ask your doctor or pharmacist.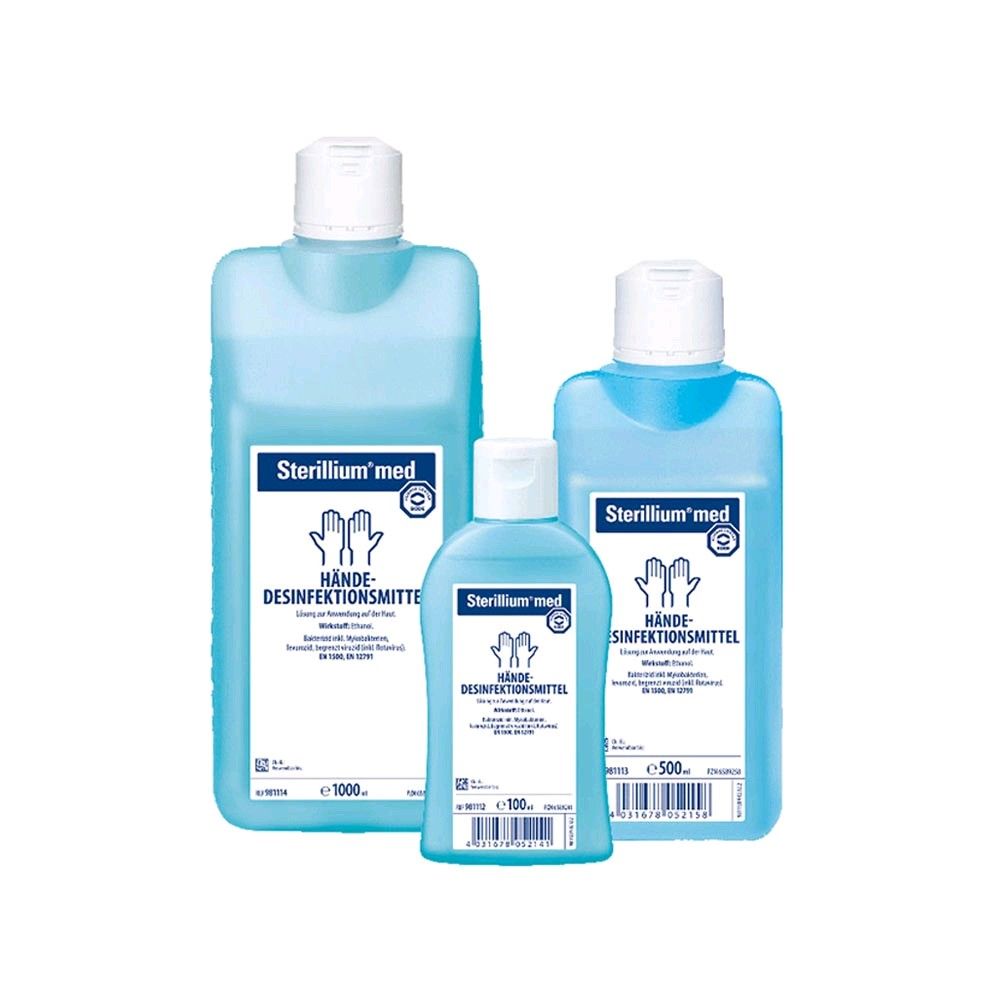 Sterillium med, Hand Disinfectant by Bode
Sterillium med by Bode is produced on ethanol-basis. The hand disinfectant is perfume-free, colourant-free and offers a broad range of effects against viruses, including noro viruses. Sterillium med is gentle on the skin and suitable for people with allergies. Properties: ethanol-based broad range of effects colourant-free and perfume-free quick acting good remanence effect for sensitive skin and people with allergies bactericidal: listeria, salmonella, VRE and MRSA tuberculocidal levurocidal fungicidal mycobactericidal limited virucidal (including HBV, HIV, HCV) effective against avian and human influenza, noro, adeno, rota and rhino viruses Fields of application: in treatment rooms and ambulances in laboratories in household areas in hospitals for rescue services in medical practices of all medical fields in care nursing and baby care for home dialysis Available in different sizes.