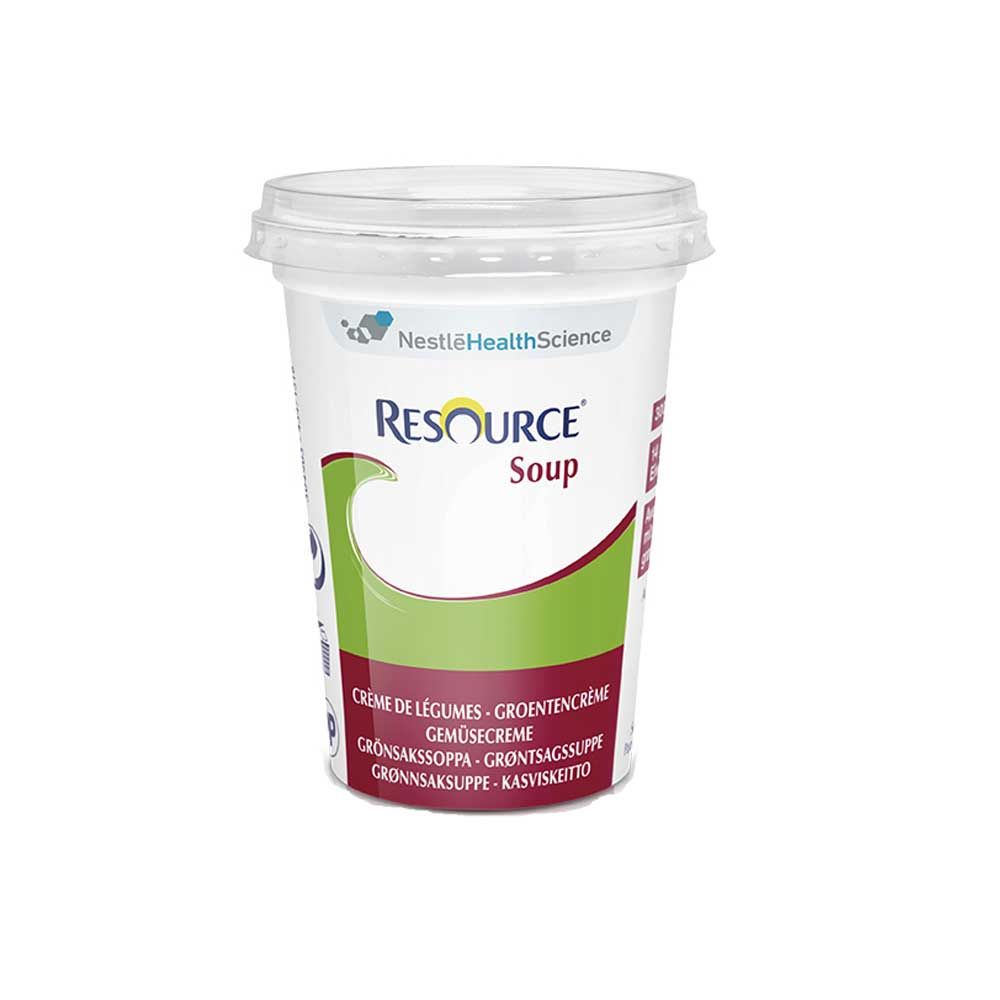 £6.19*
Content:
0.8 L
(£7.74* / 1 L)
Product number:
NEST12282221K-002
Best Advice on Medical Products
Fast Delivery of available products
High quality brands
Purchase on Account
Product details of Nestle sip feeds Resource Soup
The Nestle Resource® Soup is a hearty and aromatic high-calorie food for people with increased energy and nutritent requirements or intractable malabsorption.
A tasty combination of ingredients and pleasant consistency stimulates the appetite. As a fiber-free soup, this food is also ideal for fiber intolerance.
Properties of Nestle Resource® Soup
rich of protein (9,4g per 100ml)
less lactose (<0.5 g per 100 g)
fibre-free
purine-free
Flavors: vanilla, chocolate, apricot, wild berry, coffee and strawberry
Packing sizes: 200ml, 4 or 24 pcs
also as mixed box available
Applications of Nestle Resource® Soup
disease related malnutrition
increased energy and nutrient requirements
decreased food intake due to chewing and swallowing difficulties
intractable malabsorption
Nutritonal Information of Nestle Resource® Soup
per 100ml
Energy: 125 kcal
Fat: 3,5 g (25 kcal%)
Carbohydrate: 14 g (45 kcal%)
Fibre: 0 (0 kcal%)
Protein: 9,4 g (30 kca %)
Salt: 0,20 g
sodium: 80 mg
Potassum: 155 mg
Phosphorus: 100 m
The nutritional values ??vary slightly, depending on the flavor variation
Ingredients of Nestle Resource® Soup
Water, glucose syrup, milk protein, rapeseed oil, pea protein, starch, minerals (potassium chloride, Magnesium oxide, iron sulfate, zinc sulfate, manganese sulfate, copper sulfate, sodium boride, potassium iodide, sodium selenate, chromium chloride, sodium molybdate), yeast extract, emulsifier (E471), salt, vitamins (C, E, niacin, pantothenic acid, B6, A, B1, B2, D, K, folacid, B12, biotin), flavor (contains milk). UHT sterilized. Sealed under protective athmosphere. Gluten free.
Vegetables: vegetables (reconstituted 40.6%: tomato 8.6%, leek 7.3%, pumpkin 7.3%, carrot 5.3%, celery 4.7%, onion 4.7%, potato 2.7%)
poultry: p, vegetables (reconstituted 8.4%: carrot 5%, onion 3.4%), milk protein, rapeseed oil, chicken meat (reconstituted 3%), pea protein
tomato: reconstituted 39.7%: tomato
Manufacturer "NESTLE"
Nestlé Health Science is a subsidiary of the Swiss Nestlé group, which manufactures high-quality products in the medical nutrition sector. These are nutritional solutions for patients of different age groups and diseases. In our assortment you will find different types of drinking food or desserts for people with increased nutritional needs. These are suitable, for example, for administration in case of malnutrition or loss of appetite. In hospitals and nursing homes, these medical foods are used for targeted nutrition of sick or otherwise weakened patients.
More articles from NESTLE to look at