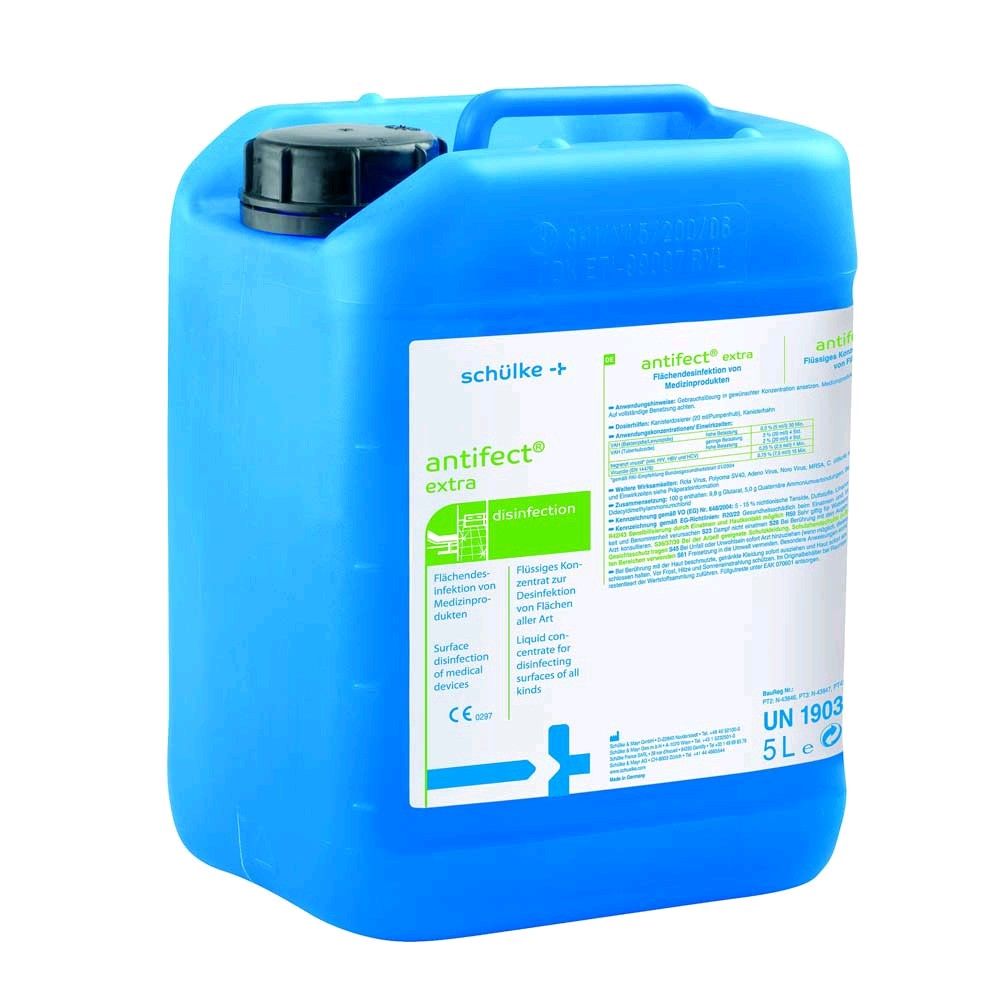 £37.04*
Content:
2 L
(£18.52* / 1 L)
Available, delivery time 1-3 days
Product number:
SMH-118302
Best Advice on Medical Products
Fast Delivery of available products
High quality brands
Purchase on Account
Product details for antifect® Extra surface disinfectants
The aldehyde surface disinfectant concentrate Schülke antifect® extra for critical / sensitive areas, has high detergency and material compatibility.
Properties of surface disinfectant
liquid concentrate
start working solution at the desired concentration
on the basis of quaternary ammonium compounds and aldehydes
formaldehyde-free
very good cleaning properties
good material compatibility
pleasant smell
color green
pH about 4.7
VAH and IHO listed
CE 0297
Microbiological effectiveness: VAH tuberculocidal according, levurocidal EN1650, EN13697, bactericidal, Acinetobacter baumannii EN13727, fungicidal, virucidal EN13697 limits, (including HIV, HBV and HCV.) Conform DVV, virucidal according DVV, adenovirus, norovirus, polyoma SV40, rotavirus, sporicidal
Ingredients from surface disinfectant
100 g contain of active ingredients: 9.8 g Glutaral, 5.0 g alkyl (C12-16) dimethyl benzyl ammonium chloride (ADBAC / BKC (C12-C16)), 5.0 g Didecyldimethylammoniumchlorid
Labelling according to Regulation (EC) No 648/2004:. 5 - 15% nonionic surfactants, perfumes, Linalool, Butylphenyl Methylpropional, Citronellol
Applications from surface disinfectant
Disinfection and cleaning of medical devices and all types of surfaces
for disinfecting urinals
in critical / sensitive areas, eg. as production areas of the pharmaceutical and cosmetic industries
in all hospital areas
Manufacturer "SCHÜLKE"
The Schülke & Mayr GmbH - also known under the short form Schülke - is an internationally highly regarded manufacturer of disinfectants and cleaning agents. Schülke products are used, for example, to prevent infections in medical practices and hospitals, for industrial hygiene or general everyday hygiene. The Schülke & Mayr GmbH is an important partner of Medicalcorner24® and we have a wide range of Schülke products. Including well-known brands such as Desderman or Desmanol as well as modern dispenser systems for soaps and disinfectants.
More articles from SCHÜLKE to look at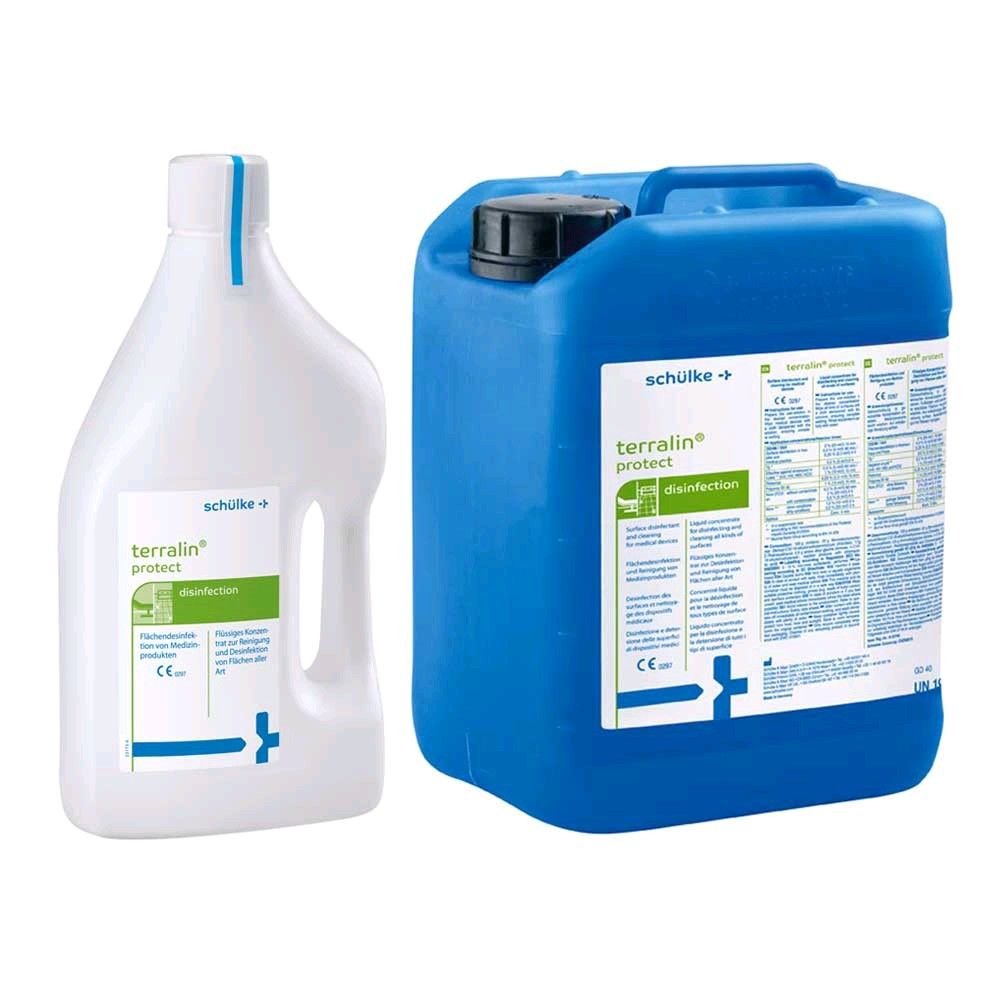 Schülke terralin® protect surface disinfectant, concentrate, sizes
Properties of surface disinfectant liquid concentrate start working solution at the desired concentration based on a combination of aromatic alcohols, quaternary ammonium compounds, amphoteric and nonionic surfactants glycine very good hygienic protection excellent cleaning performance no addition of other cleaning additives delivers superior optics with a subtle fresh scent aldehyde-free color green pH about 8.6 Ingredients from surface disinfectant 100 g solution contains of active ingredients: 22 g alkyl (C12-16) dimethyl benzyl ammonium chloride (ADBAC / BKC (C12-C16)) 17 g 2-phenoxyethanol 0.9 g Aminoalkyl-glycine (amines, n-C10-16-alkyltrimethylenedi-, reaction products of chlorine acetic acid) Labelling according to Regulation (EC) No 648/2004.: 5-15% nonionic surfactants Scents Applications from surface disinfectant Disinfection and cleaning of non-invasive medical devices and all types of surfaces in all areas where hygienic safety in all hospital areas for odor-sensitive areas (eg. as prematurity stations) on sensitive materials (eg., acrylic glass) in critical / sensitive production areas (eg. as the pharmaceutical and cosmetic industries)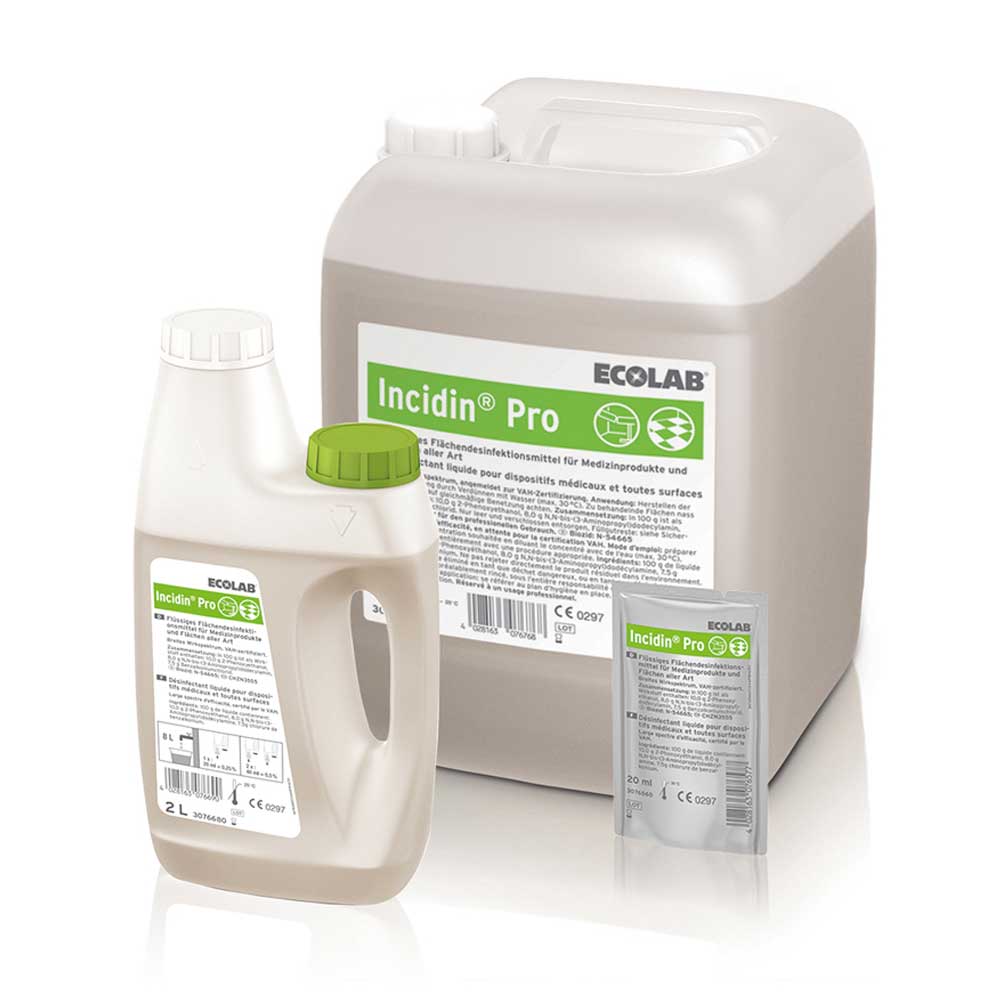 Ecolab Surface Disinfectant Incidin Pro, Sizes
Incidin™ Pro by Ecolab makes use of the SMART-BALANCED-FORMULA to offer a complete efficiency spectrum for surface disinfection of medical products and surfaces of all kinds. Incidin™ Pro acts tuberculocidal, mycobactericidal and virucidal against norovirus within 60 minutes – even in the lowest conentration. Efficieny according to the 4-field-test is achieved within 30 minutes at a concentration of only 0,5 percent. The cleaning power is high as well. At the same time, Incidin™ Pro is gentle on materials like metal, linoleum, pvc, ceramics, rubber or plastic. For application, Incidin™ Pro is mixed with water in the desired concentration not warmer than 30 degrees celsius. The designated surface is then evenly wiped. According to UVV gloves should be worn, when disinfecting with Incidin™ Pro. Properties of Incidin™ Pro Surface Disinfectant for medical products and surfaces of all kinds full disinfection spectrum within 60 minutes, even in low concentration bactericidal tuberculocidal levurocidal mykobactericidal limitedly virucidal material-friendly carry gloves during application available in variants with 20 ml, 2 liters, 6 liters or 30 liters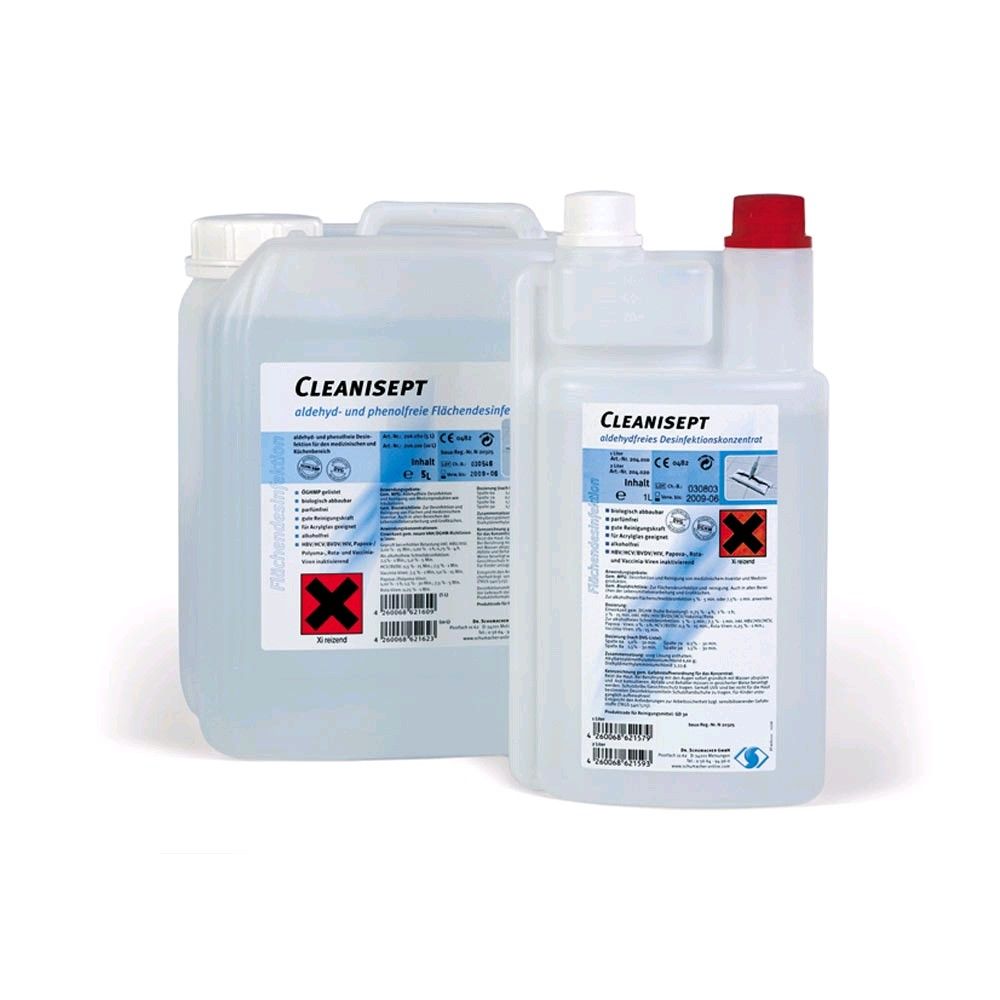 Cleanisept Surface Disinfectant by Dr. Schumacher
Cleanisept® can be used as an alcohol-free rapid disinfectant and is suitable for the disinfection and cleaning of acrylic glass surfaces.The product is DVG-listed and ideally suited for use in all areas of the food industry and in canteen kitchens. Cleanisept® is very user-friendly due to its good grease removing abilities and perfume-free formulation.Conforms to the EU Biocides Directive and is ÖGHMP-listed. Properties of liquid concentrate for surface disinfection aldehyde-free preparation with good cleaning power DVG-listed for disinfection purposes in the food area perfume-free Range of Application of liquid concentrate for surface disinfection disinfection of medical devices disinfection and cleaning of medical inventory and all kinds of surfaces acc. to Biocide Directive Exposure Time of liquid concentrate for surface disinfection bactericidal incl. MRSA, fungicidal acc. to VAH/DGHM 2,5 % 15 min 2 % 30 min 1 % 60 min rapid disinfection 7,5 % 1 min 5 % 5 min effective against all enveloped viruses incl. Hepatitis B virus/HIV/Hepatitis C virus/Vaccinia virus/BVDV 1 % 15 min 7,5 % 1 min Rota virus 0,25 % 1 min Papova-/Polyoma virus 1 % 60 min 7,5 % 5 min 7,5 % 5 min