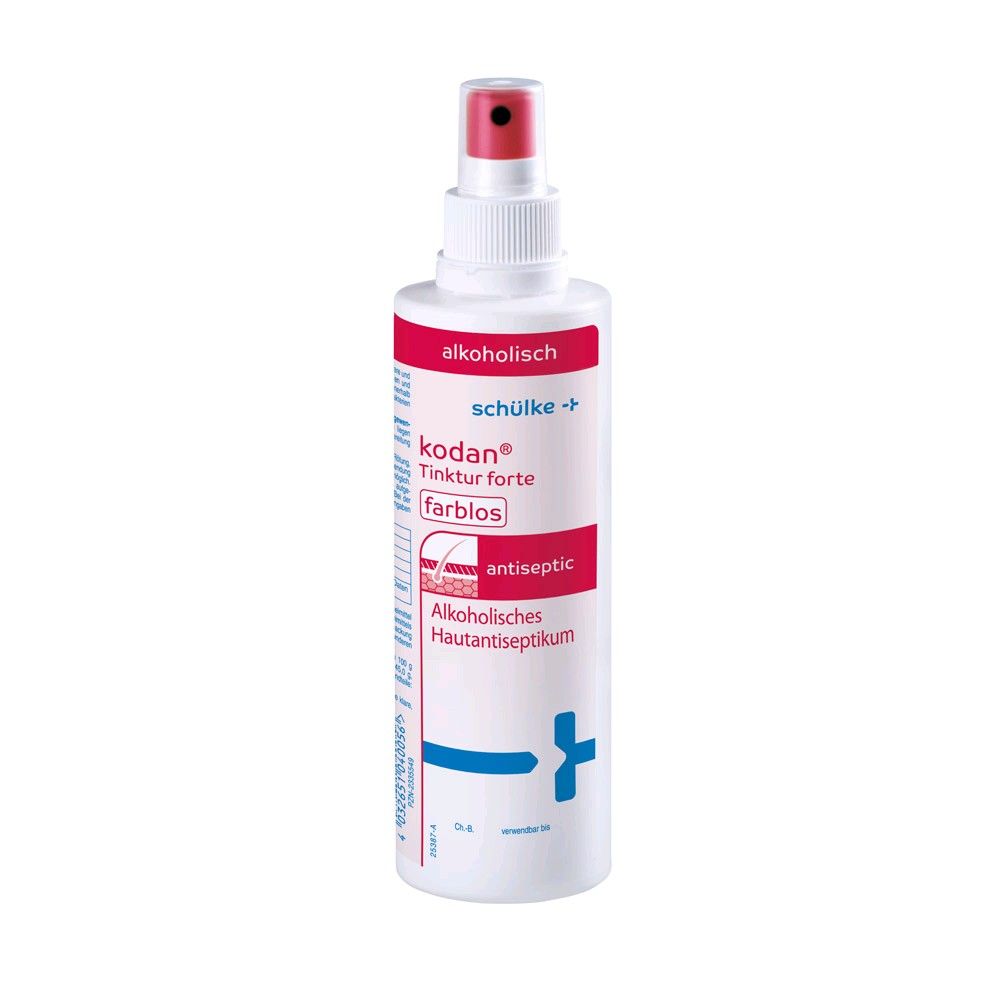 Quantity
Unit price
Base price
To

2

£5.29*


£21.14* / 1 L

To

4

£5.26*


£21.04* / 1 L

To

6

£5.24*


£20.97* / 1 L

To

9

£5.24*


£20.94* / 1 L

From

10

£5.10*


£20.40* / 1 L

Available, delivery time 1-3 days
Product number:
SMH104005
Best Advice on Medical Products
Fast Delivery of available products
High quality brands
Purchase on Account
Product details for skin antiseptic kodan Tinktur forte
The Schülke skin antiseptic kodan tincture forte, is an alcoholic, ready-u. Colorless solution for disinfecting the skin with long-term effect in 24 hours.
The spray is hypoallergenic and has a broad antiseptic spectrum of on. In addition, it has a very short exposure time of about two minutes, resulting in fast onset of action guaranteed. The antiseptic is used in many different areas for skin disinfection such as used before injections and blood sampling.
Properties of skin antiseptic
colorless
short action (interventions on skin rich in sebaceous glands: 2 min.)
Long-term effects of min. 24 hrs.
broad antiseptic spectrum of
rapid onset of action (15 sec. prior to injection)
good Inzisionsfolienhaftung after drying
very skin-friendly
bactericidal (incl. Tb), fungicidal (C. albicans)
limited virucidal "* (HBV, HCV, HIV, herpes simplex virus)
virucidal against rotavirus and adenovirus
Applications of skin antiseptic
for preoperative skin antisepsis
for postoperative suture care
before catheterization, injections, blood draws, punctures, excisions, cannulation and biopsies
to support general-hygienic measures under the prevention of fungal skin infections
for hygienic hand disinfection
Manufacturer "SCHÜLKE"
The Schülke & Mayr GmbH - also known under the short form Schülke - is an internationally highly regarded manufacturer of disinfectants and cleaning agents. Schülke products are used, for example, to prevent infections in medical practices and hospitals, for industrial hygiene or general everyday hygiene. The Schülke & Mayr GmbH is an important partner of Medicalcorner24® and we have a wide range of Schülke products. Including well-known brands such as Desderman or Desmanol as well as modern dispenser systems for soaps and disinfectants.
---
Ein tolles Produkt, durch die Sprayflasche sehr einfach aufzutragen, werde es auf jeden fall wieder kaufen.
More articles from SCHÜLKE to look at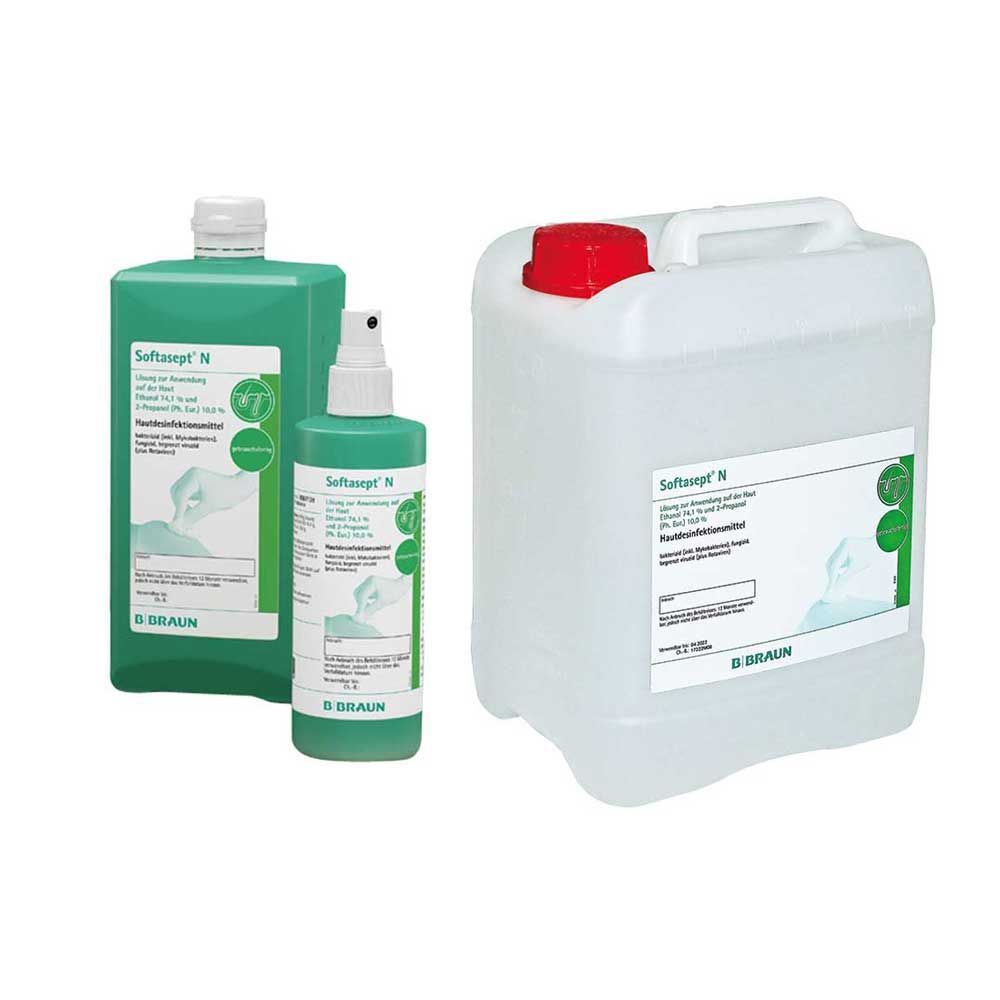 B.Braun skin disinfection Softasept® N colorless, sizes
In addition, the clear and colorless solution is purely alcoholic without any additional microbicidal additives. Also, the Softasept® has N a wide spectrum of action which can ideally be used undiluted for skin disinfection, before injections, punctures or even before minor surgical interventions.Softasept® N is available from us in all available sizes, 250 ml, 1,000 ml or as a canister with 5 liters .Properties of skin disinfectionready-to-usealcoholicwithout microbicidal additivesshort soaking timeexcellent long-term and deep effectdries quickly on the skinworks against bacteria (incl. MRSA, TbB) and fungihas limited virucidal properties (incl . HBV, HCV, HIV)effective against rota and poliovirusesDGHM / VAH listedSizes: 250 ml (spraybottle), 1000 ml or 5 liter canisterIngredients of the skin disinfectant Softasept100 g solution containsActive ingredient: Ethanol (100%) 74.1 g, 2-propanol (Ph.Eur.) 10.0 gAreas of application for skin disinfectionfor skin disinfection before injections, punctures and surgical interventions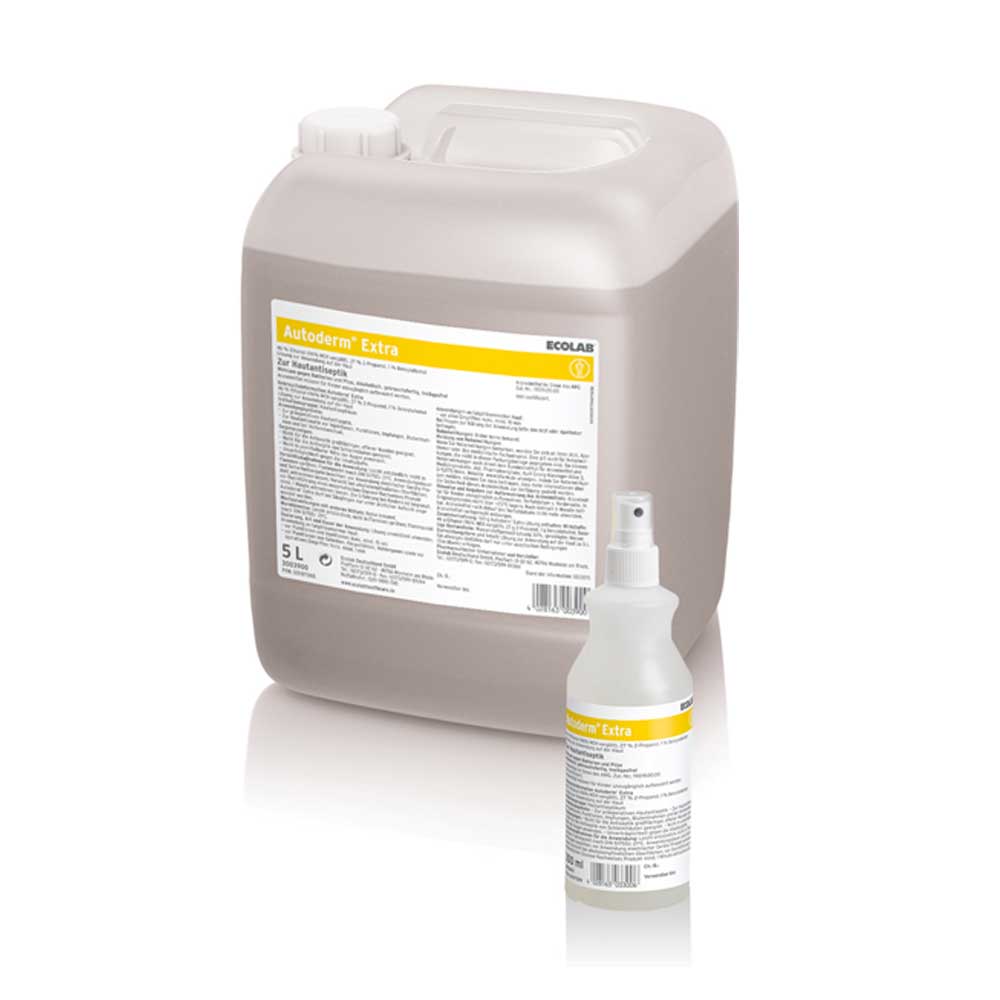 Ecolab Skin Antiseptic Autoderm Extra, Sizes
Autoderm™ Extra by Ecolab is suitable for pre-surgical skin antiseptic. The skin disinfectant is free from colorants and iodine and allows for safe and reliable disinfection of the whole body surface. Autoderm™ Extra possesses a broad efficiency, is bactericidal (incl. TB), levurocidal and limitedly virucidal (incl. HIV, HBV and HCV). The skin antiseptic is also efficient against wart viruses and dermatophytes. Since it contains no iodine, Autoderm™ Extra can be used for patients with iodine allergy. The skin disinfectant is available in the sizes 350 ml and 5 liters./ Properties of Autoderm™ Extra skin antiseptic for pre- or post-surgical application prior to injections, punctions and blood sampling contains no iodine colorant-free bactericidal (incl. TB) levurocidal limitedly virucidal (incl. HIV, HBV and HCV) efficient against wart viruses and dermatophytes available in the sizes 350 ml and 5 liter Important information: Autoderm® Extra solution for application on skin. 100 g Autoderm® Extra solution contain: Agents: 46 g ethanol (96% MEK-denaturated), 27 g 2-propanol, 1 g benzyl alcohol. Other Ingredients: Hydrogen peroxide solution 30%, cleaned water. Application: Pre.surgical skin antiseptic. Skin antiseptic prior to injections, punctions, vaccination, blood sampling or when changing bandages. Counter-indications: Not suitable for antiseptic of large, open wounds. Not suitable for antiseptic of mucosae. Do not use close to eyes. Do not use when allergic or sensitive to ingredients. Side effects: None known so far. Safety instructions for application: Easily flammable. Do not spray into flames. Flash point (according to DIN 51755): 21 degrees Celsius. Always regard manual and safety rules; let product dry copletely before handling electric devices. Let product dry at least one minute prior to encymatic glucose tests. Avoid contact with the eyes. If contact with eyes occurs, rinse the eyes with lots of water (also underneath the eyelids) – at least for 15 minutes. Check for and remove contact lenses. Contact a doctor, if smptoms are persistent or strong. Expertise with use on children is limited. Use with infants is only allowed when monitored by a physician. Date: 06/2017 Ecolab Deutschland GmbH, Ecolab-Allee 1, 40789 Monheim am Rhein.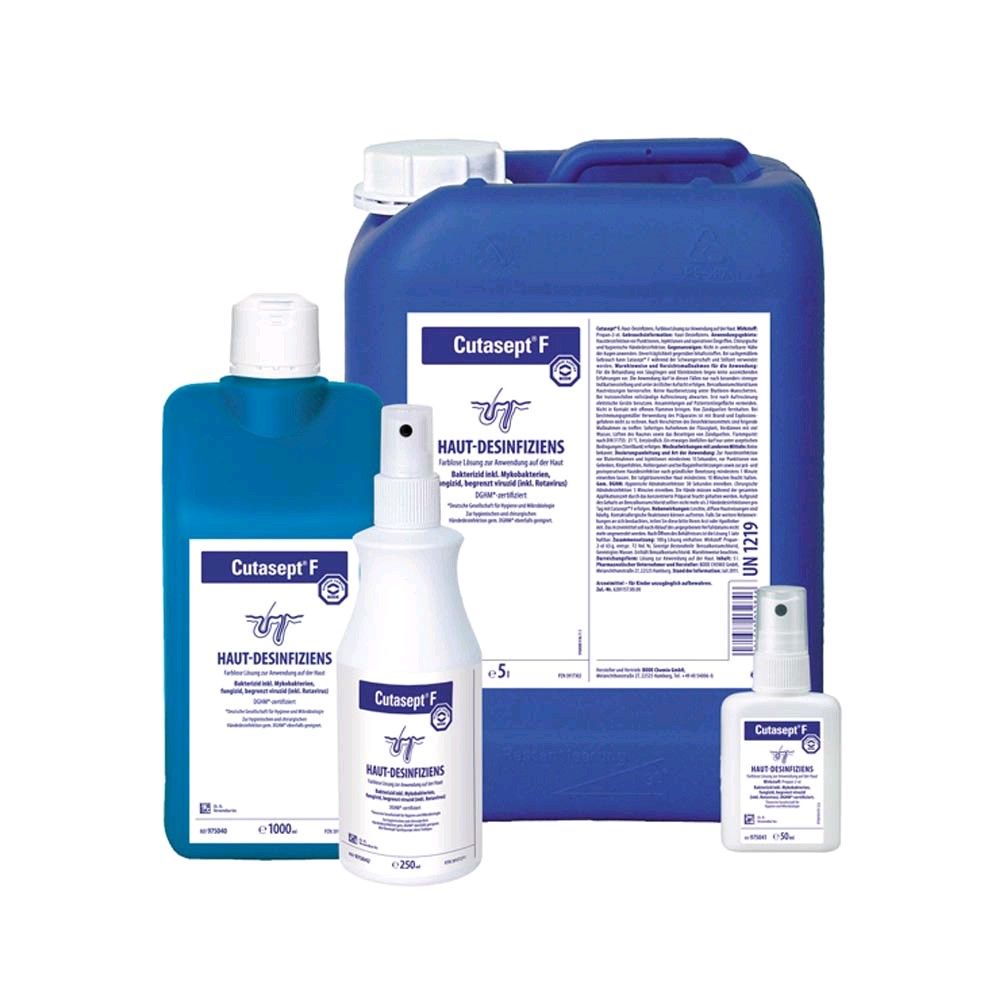 Cutasept F Skin Disinfectant by Bode
Cutasept F by Bode is a colourless skin disinfectant on alcoholic basis. The colourless antiseptic acts very quickly after just 15 seconds and has a broad range of effects, including rota viruses. Cutasept F is long term efficient – even 24 hours after the application, the amount of germs is still the same as right after the application. Thus, optimal patient protection is guaranteed even during longer operations.Properties:almost instant effect after 15 secondsacts quickly and over long periodsgood long term efficiencyvery gentle on the skingood adhesion to incision drapesecomomical use by administration devicesbactericidal (including MRSA)fungicidaltuberculocidallimited virucidal (including HIV, HBV, HCV)efficient against rota virusFields of application:prior to injections and punctionsprior to surgeryin hospitalsin medical practicesstationary geriatric care and home dialysiswhen measuring blood sugar and administering insuline for patients with diabetesHIV post exposition prophylaxisIngredients:propane-2-ol 63,0 g – equates to 72 vol. %benzalkoniumchloridecleaned water