Plasters
The assortment of plasters includes plasters for diverse purposes in different shapes, sizes and materials.
Be it plaster strips, adhesive plaster on rolls, blister plaster, water-proof plaster, special wound plaster or plasters ready to be cut to size, etc. - the selection includes plasters for professional medical purposes as well as for private demand. Also available: detectable plasters e.g. for the food processing industry, refill packs for plaster dispensers or special plaster sets, for example with funny pictures for children.
The plaster range is constantly growing. We´ll gladly answer any questions regarding our selection or the available lot sizes.
...


Bandages for Wound Care and Other Applications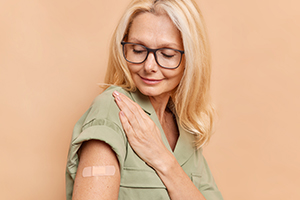 Bandages are commonly used as medical aids for the treatment of minor skin injuries. The most common form is the rectangular bandage, which is taken from a box or a bandage dispenser as individual bandages or cut from a roll of adhesive tape.
These rectangular bandages have wound pads that protect the injured area from dirt and germs. They absorb blood and secretions and provide some cushioning. The adhesive strips on the bandages allow them to be attached to the desired area of the skin without touching the pad. Minor injuries such as superficial cuts, scratches, or abrasions heal protected by a bandage within a few days in a hygienic manner.
Some injuries, such as burns, require a moist wound environment to heal. In such cases, special hydrogel wound dressings are used.
In addition to wound dressings, our range also includes surgical tapes and fixation tapes, which are used for bandaging or securing cables and tubes.
In our online shop, you can order bandages in various types, shapes, and sizes at affordable prices. Buy bandages now!
Various Types of Bandages
Waterproof bandages are made of breathable but water-resistant material such as polyethylene. They are available as rectangular bandages in various sizes and protect the wound from moisture. The moisture protection of waterproof bandages is so effective that they do not come off even with prolonged contact with water. Therefore, they are also called shower bandages and can be worn while showering or swimming.
Shower bandages are ideal for travel pharmacies. However, waterproof bandages also provide valuable service in work environments with high humidity or direct contact with water.
Spray bandages offer an alternative to traditional bandages as they can be sprayed directly onto the injured area. This substitute for bandages consists of a polymer solution that is applied using a spray can. When exposed to air, a flexible film quickly forms, adhering closely to the skin and completely covering the wound. Because spray bandages do not restrict movement, they are often used in joint areas or other hard-to-reach areas. After a few days, the polymer layer naturally dissolves.
Note that spray bandages are only suitable for treating superficial cuts or abrasions. They should not be sprayed on deep wounds or burns. Take care not to use them near the eyes or mouth or on mucous membranes. Inflamed or infected wounds should also not be covered with spray bandages.
In our extensive range of bandages, you will find many that are skin-friendly and suitable for allergy sufferers. For example, many people are allergic to latex. Therefore, adhesive bandages, rectangular bandages, and other types of bandages are now also offered with latex-free polyacrylate adhesive. This adhesive typically adheres to sensitive skin without causing irritation. The wound dressings of the bandages are usually made of skin-friendly, soft non-woven material.
Order skin-friendly bandages now!
Detectable metal bandages contain flexible metal strips to make them detectable by metal detectors. They are also colored in a bright blue to make them visually easy to locate. There is a demand for detectable bandages in various industrial facilities and the gastronomy sector.
When working with a bandage on the hands, there is always a possibility of it getting lost. If this happens, for example, in food production, the detectable bandage can be quickly found and removed from the production chain.
Children's bandages are adorned with colorful and fun designs such as animals or dinosaurs. They are intended to provide a little comfort to the injured child and help alleviate the pain. When children's bandages appeal to the taste of the little ones, they are proudly worn for as long as possible. The child will not attempt to remove the bandage prematurely, allowing the wound to heal undisturbed.
Treating the fingers and fingertips with regular rectangular bandages can be challenging. For the finger joints and the curves of the fingertips, special finger bandages and finger tip bandages are available. These are designed in a wing shape, allowing them to better conform to the shape of the finger and fold securely around the desired area.
Cannula bandages are used for the secure fixation of venous catheters. The bandages have a slit – usually in a Y-shape – as an opening for the cannula, allowing its "wings" to be securely attached to the skin along the course of the venipuncture. The cannula bandage ensures a stable anchoring of the venous access. The cannula valve remains accessible for medication administration or blood collection, while the puncture site is reliably protected from dirt and germs. Cannula bandages are easy and quick to apply and are therefore part of the standard equipment in emergency medical services.
Injection bandages are small rectangular bandages specifically used for treating the injection site after injections. They are usually made of breathable non-woven fabric and have skin-friendly, hypoallergenic adhesive surfaces.
Blister plasters are used for covering blisters or other pressure points. They are available in suitable shapes for fingers as well as for the ball of the foot and the heel – these body parts are most prone to blister formation. Blister plasters have pressure-relieving gel pads that reduce pain and protect the affected skin area from germs.
Similar plasters are also available for the treatment of corns or calluses. However, corn plaster contains additional active ingredients such as salicylic acid to soften the corn and aid in its removal.
Here in the shop, you will find various convenient bandage sets stocked with bandages of different sizes and shapes. For example, you can order sets of rectangular bandages in the form of plaster strips. We also offer bandage sets specifically designed for DIY enthusiasts and crafters, which include finger bandages and finger tip bandages to treat minor hand injuries.
Many of the bandage sets can also be used as refill packs for bandage dispensers. Suitable dispensers for plaster strips and bandage rolls can also be found here in our online shop.
Adhesive plasters have strong adhesive properties. They do not have wound dressings since they are primarily used as adhesive strips to secure dressings. In the medical field, these sturdy fixation plasters are also used to attach cables, tubes, or medical devices to patient beds or the patients themselves.
Adhesive plasters are available on rolls and can be torn or cut to the desired length. Fixation plasters with serrated edges are particularly easy to tear by hand. They are made of durable, skin-friendly materials such as textile or non-woven fabric. In our online shop, you will also find convenient dispensers for roll plasters. If the plasters need to adhere directly to the skin, adhesive plasters with synthetic rubber adhesive should be used to prevent latex allergies, for example.
Wound closure strips are a special form of wound plasters. They are sterile packaged adhesive strips with hypoallergenic adhesive that can be directly applied to superficial cuts. They hold the wound edges together, providing an atraumatic alternative to suturing the wound.
In addition to plasters, you can also find the following items in the online shop of Medicalcorner24: