Water Distiller - Distill Water Yourself
Water distiller offer you the simple option of distilling yourself - tap water, for example - and producing healthy drinking water yourself. The devices have stainless steel tanks in which the water is heated so that it is collected in a separate container as purified steam. This cools down and becomes distilled water that you can drink or otherwise use. Read on here at the end of this page.
...


Water Distiller - Produce Your Own Healthy Drinking Water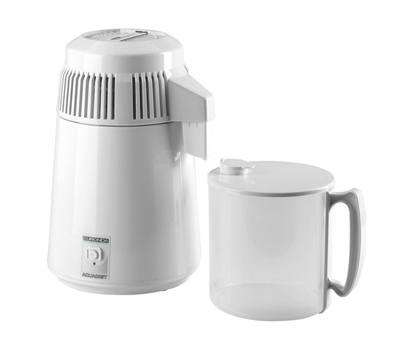 In our shop you can get high-quality water stills with which you can distill tap water and produce purified drinking water in your own household. The handy devices are made of plastic, with a stainless steel tank inside. The water stills are usually provided with handles and can be used in a very similar way to conventional kettles.
In the still tank, water is heated until it boils and then evaporates. The steam is cleaned by an activated carbon filter and fed into the separate tank or plastic container, where it can condense. Viruses, bacteria, chemical substances and other impurities have been removed from the water purified in this way.
It can be drunk as healthy drinking water and used in the household for watering plants or for ironing. In addition, the water produced in the water distiller is suitable for use in the autoclave. The distillation systems can also be used for cleaning and recovering the solvents. Buy water distillers here at Medicalcorner24®.
The distillers and stills for water from our offer usually work with activated carbon filters. These water filters are crucial for the quality of the distillation, as they clean the water of organic and inorganic substances and impurities as well as residues of bacteria and even viruses that get stuck in the filter. Of course, numerous pathogens or germs are killed beforehand by boiling the water. You should change the filters regularly so that they always work at full capacity. That is why we also offer activated charcoal filters to change. According to the EN 13060 standard, these are suitable for small steam sterilization in the water still.
Buy Water Distillers at Medicalcorner24®
Aside from stills for water purification, you will also find other products in the Medicalcorner24® online shop: