Walking Frames - the Small Support in Everyday Life
Walking frames are versatile walking aids that are used by people with permanent - for example age-related - walking difficulties as well as by people who have to rebuild their walking apparatus after an injury or a longer illness. The walking frames from Medicalcorner24® offer you the following advantages:
handles made of materials such as soft rubber protect your hands

stability even on smooth floors thanks to non-slip rubber feet
stable materials such as metal, plastic or aluminum

depending on the model, can withstand 130 kg or more

More freedom of movement and a feeling of security
In the Medicalcorner24® range you will find walking frames that fit your needs exactly and support you as you require it. They reduce the efforts that arise from rebuilding the walking apparatus and enable even long-term users to cope with certain distances on their own again. Whether used as part of rehabilitation technology or as a permanent care aid - the auxiliary device gives back a bit of independence. Buy walking frames now!
Would you like to find out more about whom walking frames are suitable for and which versions are available? Read more at the end of this page.
...


Who are Walking Frames suitable for?
A walking frame - also known as a walker or support frame - gives back a piece of independence to seniors who are restricted in their mobility. The walking aid becomes part of the daily routine and allows them to move through everyday life without having to rely on the support of relatives or caregivers. Walking frames enable them to take on certain tasks independently again – such as walking to the mailbox.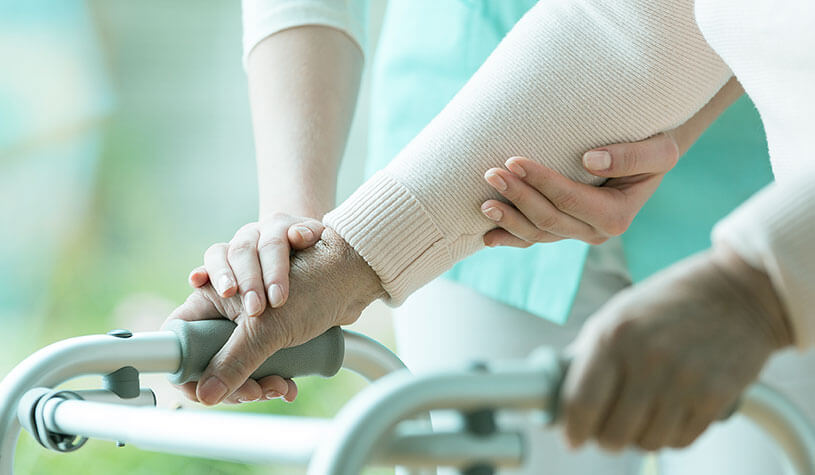 Furthermore, walking frames are suitable for use in exercise therapy and medical rehabilitation after accidents, long illnesses or an operation, in order to support the development of the muscles of the walking apparatus.
Assisted walking makes it easier for patients to take their first steps.
In the case of these movement disorders and scenarios, walking frames support:
As a walking aid when walking unsteadily.
For walking training during the rehabilitation phase.
As a standing aid in case of temporary balance problems or chronic balance disorders.
For long-term support with all coordination disorders and gait disorders that require a high degree of stability and security. The costs for walking frames can be covered by the health insurance company or long-term care insurance company.
Where to use Walking Frames
Walking frames are used in a variety of ways - for example, they are used in these environments and facilities:
hospitals
nursing homes
old people's homes
physiotherapy practices
rehabilitation centers
private household
sports medicine facilities
The walking aids offer a wide range of options and are a solution for many people with restricted mobility to improve gait and stability - regardless of the reasons for their restricted mobility. Order walking frames now at Medicalcorner24®!
How are Walking Frames used?
Walking frames are very similar to rollators in many ways - also in terms of use - but the rigid construction offers more stability and cannot roll away. In contrast to rollators, walking frames are equipped with non-slip rubber feet. The mobility aids are versatile and support people with walking difficulties in many situations of their daily lives.
By moving the frame step by step in their walking direction, users can reliably lean on the walking aid with every step. Since the aid does not have wheels, locomotion is less fluid than with a rollator. However, walking and standing are a lot more stable. For this reason, walking frames are particularly suitable for people with severely limited ability to walk or those who are still very unsteady on their feet after an operation.
Whether longer or shorter distances - support by the feet of this walking aid makes a more independent life possible, while age-related or injury-related sensitive joints are relieved.
Different Versions of Walking Frames
The walking frames from Medicalcorner24® are available as rigid as well as collapsible or foldable constructions. Depending on the model, they can be loaded with 130 kg of weight or even more. The different sizes also allow for use by children, for example as part of exercise therapy.
Height-adjustable models allow for use by different people, which is particularly useful in rehabilitation clinics and similar institutions. Different height settings also ensure that the appropriate height setting for maintaining a good posture can be adjusted.
The following features ensure the high degree of stability:
legs with rubber caps for extra slip resistance
four support points between which users can find a secure stand
durable and stable due to high quality workmanship
individually adjustable according to body size
support legs and connecting rods made of robust material
The foldable design enables uncomplicated transport of the walking frames and offers special handiness in everyday life.
Buy Walking Frames & other Walking Aids at Medicalcorner24®
The Medicalcorner24® range includes frames that meet the requirements of various mobility restrictions. You can also find other high-quality walking aids in our online shop. Among other things, we offer you these products:
Walking Sticks
White Canes
Walking Aid Accessories