Double-Distilled Water
Aqua Bidest - double-distilled water, is double-microfiltrated, demineralised water in especially pure form. We offer double-distilled water in different charges at very convenient prices.
Aqua Bidest ist used in laboratories, cosmetics studios, in medical, chemical or pharmaceutical institutions. It is also suitable for various private uses. Our friendly service team will gladly answer any further questions regarding distilled water. Read on here at the end of this page.
...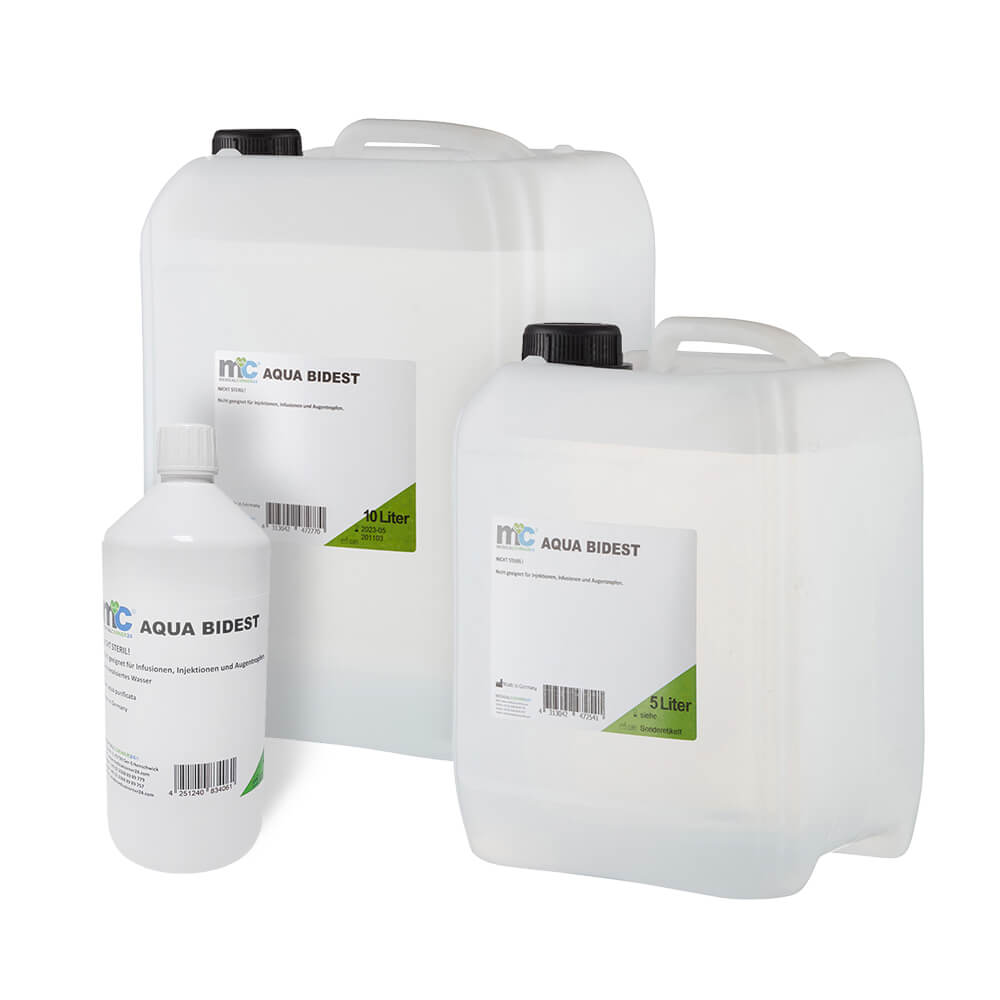 Aqua Bidest - Double Distilled Water
Double distilled water, like Aqua Dest, is free from all trace elements, salts, and microorganisms, but it has an exceptionally pure form. Demineralized water should not be compared to tap water, as tap water can contain impurities that occur in natural water sources. The double distilled water offered here finds application in various areas - in pharmaceutical research, medical, chemical, and technical fields.
High-purity, double distilled water is primarily used for:
cleaning solutions and solvents

producing colloidal silver using the Ionic-Pulser® system

use as laboratory water and in other medical areas

use in pharmacy, chemistry, and biology

in medical practices, clinics, care facilities, and for laboratory purposes
Attention: Distilled water is non-sterile and not suitable for infusions, injections, or eye drops, or any other applications that require sterility. Double distilled water is not suitable for consumption and may have harmful effects on health.
How Is Double Distilled Water Produced?
In most cases, double distilled water is produced through distillation. The process involves the purification and separation of liquid substances through evaporation and recondensation. The resulting product is called distillate and is demineralized. Another method is reverse osmosis.
For everyday household use, double distilled water is also suitable. However, for this purpose, we recommend using the sufficient and more affordable Aqua Dest (simple distilled water). Browse our online shop or buy double distilled water for your needs now!