Anatomical Teaching Aids - Posters, Charts and Teaching Aids for a Clear Presentation of the Anatomy
Anatomical teaching aids such as posters, wall charts and three-dimensional anatomy models are used for patient education or as illustrative material in the training of prospective doctors, therapists or nurses and in biology classes. Medicalcorner24® offers you a large selection of different formats from which you can choose the right variant for your needs. With the help of anatomical teaching aids, you will understand or explain the structures of the human body realistically and vividly.
The advantages of the anatomical teaching aids at a glance:
large selection of various high quality teaching materials

durable designs for everyday use in studies, education, doctor's offices and clinics
visualize bones, muscles, organs, joints, joint ligaments, structures and movement sequences

comprehensive learning material at affordable prices
Medicalcorner24®'s anatomical teaching aids support learning and understanding of content - ideal for patients in practices, medical students at universities, schoolchildren in class and medical professionals during further education and training. Order anatomical teaching aids and anatomical models now and promote a better understanding of the medical fundamentals! Read on now at the end of this page.
...


Various Anatomical Teaching Aids for Different Purposes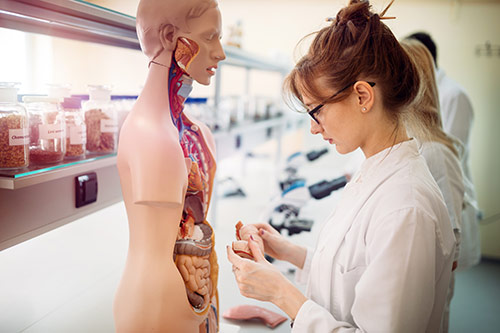 In addition to being used as training material, anatomical teaching aids are used by doctors and therapists to explain the functioning or disorders and the structure of the human body to patients. With the help of such anatomy models or posters, for example, causes and therapy proposals can be easily and comprehensibly explained.
Our boards, posters and models are detailed images - ideal for use in hospitals, medical practices and universities in order to understand the normal state as well as various diagnostic findings, afflictions and illnesses. Discover the variety of anatomy models and other anatomical teaching aids from Medicalcorner24®!
Anatomy Models
Anatomy models represent the structures of the human anatomy in miniature or life size or in an enlarged form. The three-dimensional, homologous representation makes medical principles vividly tangible and understandable. In the case of anatomy models, a distinction is made between organ models, skeletal models and dental models. Frequently used examples are the spinal column model or skull model. They are often used in doctor's offices, massage practices, or in physiotherapy.
At Medicalcorner24®, models of the human skeleton, musculoskeletal system or organs are available in natural shades or colored in a didactically meaningful way. Depending on the version, these anatomical teaching aids can be dismantled into individual parts for better understanding, are movable and equipped with individual removable components - perfect for use as exercise models.
We offer you durable products from the manufacturer Erler Zimmer, which are made of high-quality plastics and are very detailed and carefully processed. Depending on the version, the models are available as natural casts.
Choose the right model from these body parts:
Arm & Hand Models
Leg & Foot Models
Eye Models
Brain Models
Larynx Models
Skull Models
Skeleton Models
Tooth Models
Now make the human body tangible and order anatomy models and other teaching aids from Medicalcorner24®!
Anatomical Teaching Aids: Wall Charts and Posters
Anatomy posters and anatomical wall charts illustrate both the structure and the functions of the human body and its organs. Explanations by a doctor or lecturer are supported by labels, depending on the topic. The high-quality printed posters or charts are often hung in medical practices and treatment rooms. They are also suitable as teaching aids, for example, for biology lessons, medical studies and other training in the health sector. At Medicalcorner24® these visual anatomical teaching aids are partly available in multiple languages.
Order High-Quality Anatomical Models and Medical Products from Medicalcorner24®
Anatomical teaching aids visualize relevant medical context and thus offer an excellent learning effect that you can make optimal use of in your studies and teaching as well as in patient discussions.
Medicalcorner24® also offers you these other articles and products from the field of diagnostics:
Activity Trackers
Blood Pressure Monitors
Tuning Forks
Stethoscopes