Hand Disinfection
The selection includes hand disinfectants for diverse purposes - e.g. for hand disinfection in the professional medical field as well as for private uses. The available hand disinfectants are suitable for preventive measures against infections and are effective against viruses, bacteria or fungi.
The growing range of products includes eudermic, perfume-free and colourant-free hand disinfectants with different efficiency factors. For any further questions regarding the available hand disinfectants, simply contact our friendly service team. Read on here at the end of this page.
...


Where are Hand Disinfectants Useful?
Preparations for hand disinfection are essential for hand hygiene and the protection of the health of staff and patients in clinics and medical practices. Whether in surgical and medical treatments in hospitals, in the care sector, or in private households, disinfecting solutions with active ingredients such as ethanol prevent the spread of pathogens. Wherever you can come into contact with pathogens on surfaces, hand disinfection is absolutely preferable to washing with soap.
At Medicalcorner24®, you can order hand sanitizers from renowned manufacturers such as schülke, B. Braun, and Bode in various quantities and sizes. Order hand sanitizers now!
Medical & Care Sector
In medical facilities such as doctor's offices, hospitals, and nursing homes, hand disinfection is indispensable. These places are exposed to increased microbial contamination. Both airborne germs and pathogens from feces, blood, urine, or other substances can end up on various surfaces.
From doorknobs, telephones, keyboards, or toilet seats, they can then transfer to hands and from there, through contact transmission, to the mucous membranes of the nose, mouth, or eyes. Since so many pathogens spread through contact transmission via hands, their thorough disinfection reliably interrupts chains of infection.
In medical practices, clinics, or nursing homes, hand sanitizer dispensers are available in the wards, rooms, and at the entrances.
Pharmacies Doctor's offices Clinics Hospitals
Nursing homes Retirement homes Laboratories Ambulance services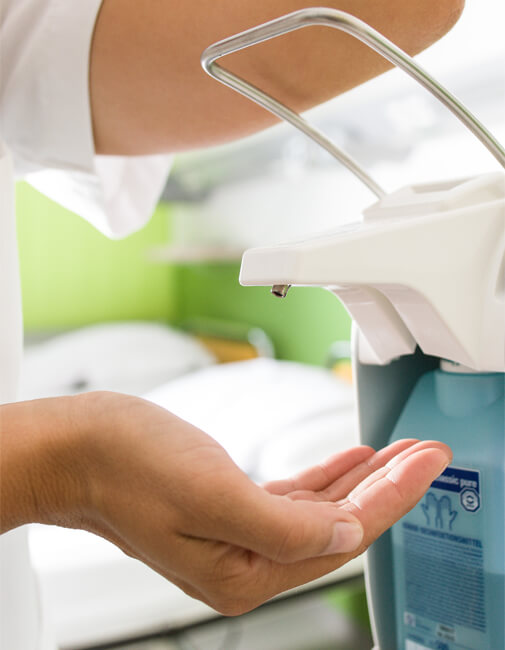 Private & Travel
In private environments, there are also germs lurking on many surfaces. Hand disinfection can prevent pathogens from entering your own four walls through hands. Therefore, hand disinfection is strongly recommended even beyond the viral and cold seasons in the home environment. This is especially true if you are caring for or assisting sick or weakened family members at home.
Hand sanitizers are also valuable companions when shopping, running errands, or traveling. Children can use them to protect themselves from infections at school and daycare. In universities, government offices, or stores, disinfectant dispensers should be available for general use.
Excursions & Travel Home Public restrooms
Kindergarten School Universities Government offices & Stores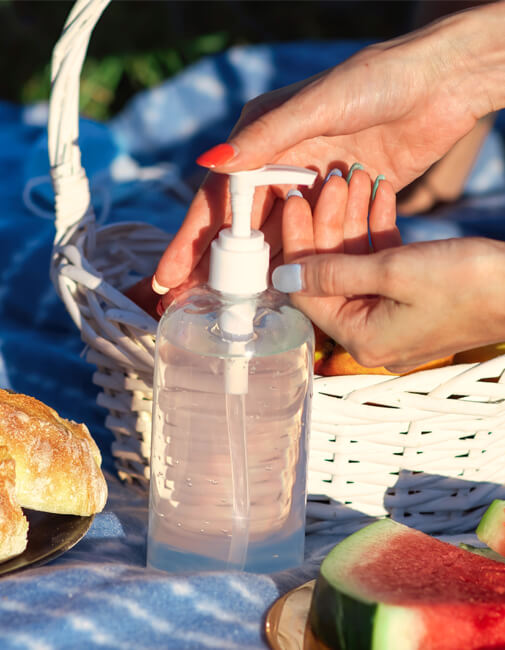 At the Workplace
Hand disinfection protects against germs on tools, telephones, keyboards, and other surfaces in the workplace. In some areas, such as the food industry, regular hand disinfection is even mandatory. The goal is to prevent contamination of food through hands. Conversely, employees are protected from pathogens, such as raw meat, through hand disinfection.
In beauty salons or during tattooing, disinfected skin and hands protect the health of customers and employees. Those who work outdoors, such as on construction sites or in horticulture, should also disinfect their hands. Disease-causing germs lurk in the soil, dust, and dirt.
Modern, skin-friendly hand sanitizers make regular and frequent hand disinfection easy. Break the chain of infection by rubbing your hands with skin-compatible disinfectants.
Office Commercial Industry Gastronomy Beauty salons Tattoo studios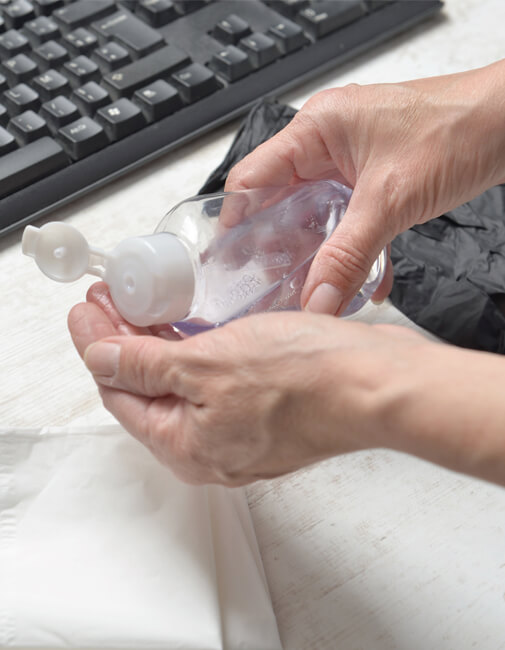 Consider the Effectiveness of Hand Sanitizers
When hands are thoroughly rubbed with the appropriate disinfectant solution, there is an immediate and sustained effect against bacteria and yeast fungi, SARS, MRSA, Adeno-, Papova-, and Rotaviruses, as well as against HBV, HIV, or HCV, depending on the spectrum of activity. Some viruses, especially non-enveloped viruses, require an exposure time of several seconds to one minute. The respective product description provides information about the range of effectiveness and ideal application. The following modes of action are distinguished:
Virucidal: effective against viruses (including Corona)

Bactericidal: effective against bacteria

Fungicidal: effective against fungi and spores

Levurocidal: effective against yeast fungi

Sporicidal: effective against spores of bacteria, fungi, or protozoa
Lists maintained by the RKI (Robert Koch Institute) and the VaH (Association for Applied Hygiene) indicate which agents are suitable for hand disinfection. These disinfectant lists also specify the pathogens against which various hand sanitizers are effective.
Important: Hand sanitizers do not replace regular handwashing but are only intended as a supplement.
Our Product Recommendation: Hand Sanitizers
The hand sanitizers available in our online shop are typically based on a mixture of different alcohols. This combination achieves a particularly high disinfection rate that is also gentler on the skin compared to disinfection through handwashing.
In general, the ready-to-use preparations for skin disinfection contain additional nourishing ingredients. This ensures that the hand sanitizers remain skin-friendly even when used multiple times a day.
Proven hand sanitizers such as Sterillium by Bode, desmanol® by schülke, or Softa-Man® by B.Braun are known for their high effectiveness and skin-nurturing properties. Ingredients such as allantoin, bisabolol, or panthenol counteract skin dehydration caused by the evaporation of alcohol components. They retain the skin's natural pH balance and provide a moisturizing effect.
In addition, there is a minimal risk of allergies during application. Potential allergenic substances such as dyes or perfumes are not included in the production of these sanitizers.