Electrode & Contact Spray for Skin-friendly Use
The electrode contact spray serves as a contact agent to increase conductivity and as a skin-friendly lubricant for the examination probes of medical ECG, EEG or EMG devices. The spray applies a thin layer of conductive gel that is non-greasy and can be removed without leaving any residue during the subsequent cleaning. In addition to helping the conductive effect, the electrode spray acts as a protective layer for the sensitive measuring probes of medical technology devices. Read on now at the end of this page.
...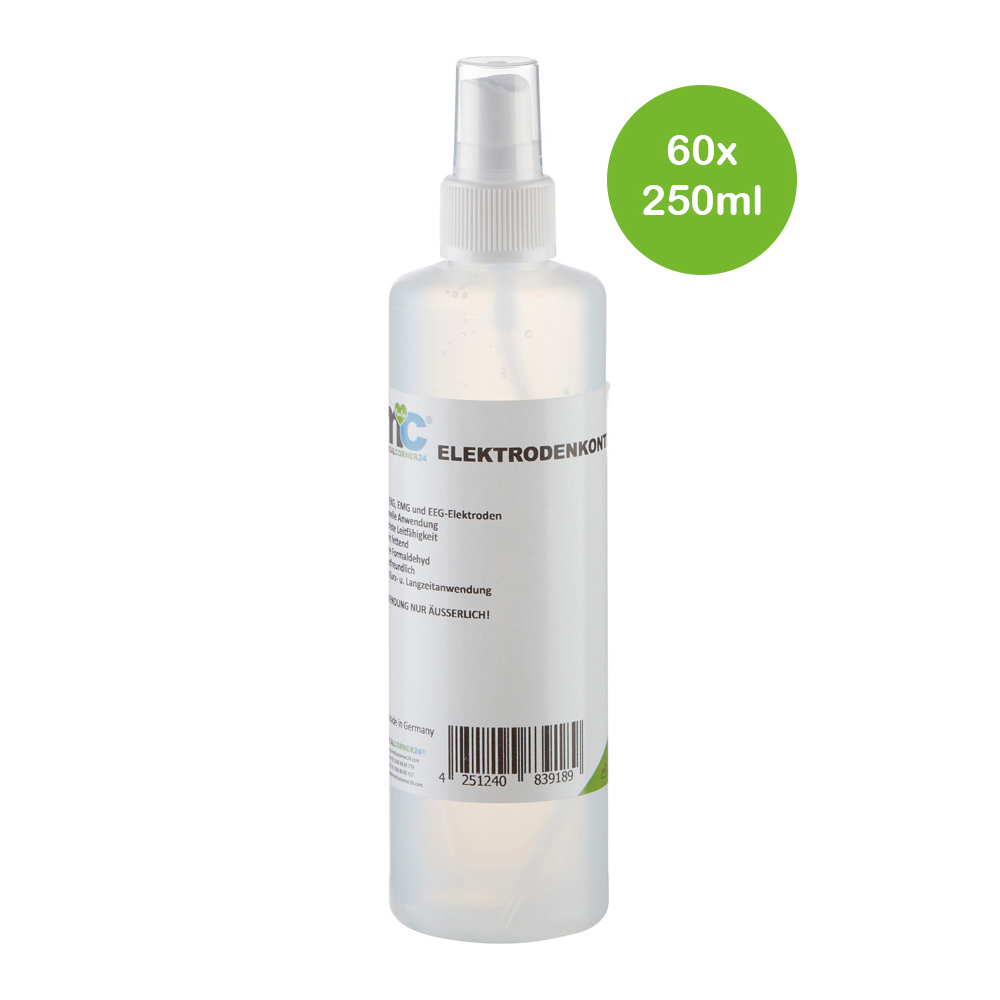 Electrode & Contact Spray as Coupling Agent in Diagnostics
We offer sprays for electrodes of ECG, EEG or EMG devices in various filling quantities. The available products are intended for external use only. The gel, also known as ECG contact spray or ECG spray, is sprayed onto the skin and the probes of medical measuring devices, which are intended for skin contact, using a spray bottle. As a coupling agent, it ensures the optimal transmission of signals - for example during an ECG examination. Since the probes are guided directly over the skin, the spray also acts as a lubricant. Order online here at Medicalcorner24®.
Our electrode spray contains aqua, isopropyl alcohol and electrolyte. The spray is skin-friendly and free from formaldehyde. In terms of optimal hygiene in medical technology, it is non-greasy and can be easily wiped off without leaving any residue. The electrode contact spray offered is characterized by the highest conductivity.
Order Low Priced Electrode Contact Spray at Medicalcorner24®
The electrode contact spray offered comes from our own production. Depending on your needs, you can get the electrode spray in different quantities and packaging sizes from the 250 ml spray bottle to the 2 liter canister to the cubitainer with a capacity of 5 liters for the large supply of ECG contact spray. The conductive ECG spray can be transferred from the canisters and cubitainers to resealable bottles and spray bottles from our range. For this purpose, we also have handy dosing heads with pumps and screw threads as accessories for practical use.
Aside from electrode contact spray, you can also find the following products in the Medicalcorner24® online shop:
ECG Devices
Electrode Cream
IPL Gel
Electrode Gel / Contact Gel
Ultrasound Gel