Nitrile Gloves
Nitrile gloves are tear-resistant, elastic, touch sensitive and are officially suitable for the handling of food. Nitrile gloves are also latex-free and powder-free, making them especially suitable for people with allergies.
Nitrile gloves are available in different sizes, colours - also in black. These high quality gloves by different manufacturers are used in medical institutions and laboratories, in tattoo studios, by the food processing industry or in private use. Read on here at the end of this page.
...


Advantages of Nitrile Gloves - Allergy-Friendly & Comfortable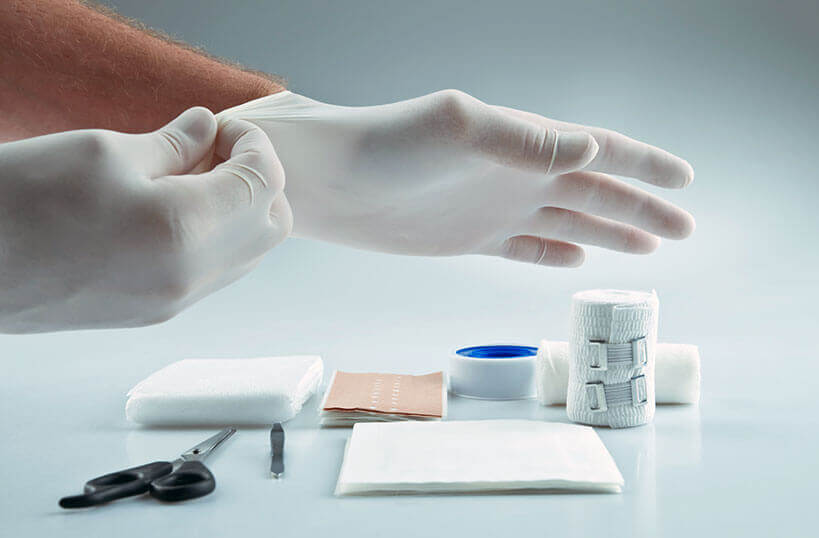 Nitrile gloves are increasingly being used in medicine, nursing, laboratories, and many other sensitive areas as an alternative to latex gloves which can cause latex allergies. Nitrile disposable gloves are 100% latex-free, have excellent skin compatibility, and are therefore ideal for people with sensitive skin or a latex allergy. Thanks to nitrile disposable gloves, they can continue to rely on reliable hand protection in their everyday work. The many advantages of nitrile gloves show at a glance why these protective gloves are such a popular choice:
good skin compatibility - suitable for allergy sufferers

flexible, tear-resistant, and puncture-resistant - with high elasticity

resistant to fats and oils - food-safe

excellent fingertip sensitivity - very good tactile sensation

sustainable - high abrasion resistance and durability

comfortable - pleasant wearing sensation and good breathability
Some nitrile gloves have a special inner coating to facilitate donning and doffing. In addition, nitrile disposable gloves have micro-roughened fingertips and a textured surface, providing enhanced grip compared to smooth gloves, even though they are powder-free. This ensures a pleasantly precise sense of touch when used as examination gloves. The vulcanized rolled cuff prevents slipping of the glove. Buy these helpful and protective nitrile gloves at Medicalcorner24® today!
Who Are Nitrile Disposable Gloves Suitable For?
The high-quality nitrile disposable gloves from various manufacturers are used where latex gloves are used: in veterinary medicine, medical practices, medical facilities and laboratories, tattoo studios, the food industry, or for personal use. Nitrile gloves are suitable for all users who value high tactile sensitivity and gloves made of durable, resilient materials.
Nitrile Gloves as Protective Clothing in Healthcare and Medicine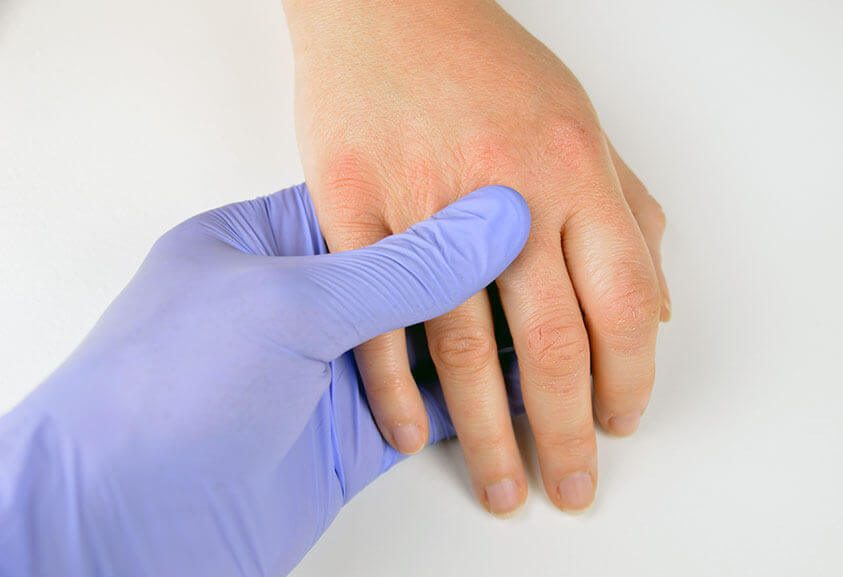 A nitrile protective glove is impermeable to germs and pathogens. Sterile nitrile gloves have clinic-grade quality, which is why they are used extensively in the medical field. The examination gloves are skin-friendly, puncture-resistant, and tear-resistant, ensuring high tactile sensitivity. Nitrile disposable gloves are excellent as surgical gloves, providing optimal protection for both the healthcare professional and the patient.
In addition, nitrile gloves are used in dental practices and emergency medical services where they provide good protection against germs as well as injuries from needles or sharp edges. The material maintains its grip even when wet. Besides their use in clinics and practices, nitrile disposable gloves are regularly used in outpatient and inpatient care. They protect healthcare workers from direct contact with bodily fluids and effectively prevent the transmission of bacteria and viruses.
Nitrile allows the skin to breathe. Even during extended wear, the hands sweat minimally, making nitrile disposable gloves provide high wearing comfort even during extensive tasks.
Nitrile Gloves in the Laboratory
Nitrile gloves are resistant to a variety of chemicals, solvents, fats, and oils. Therefore, nitrile disposable gloves are frequently used in industrial laboratories as protective gloves when handling various chemicals. It is important to ensure that the gloves comply with the European standard - small pictograms on the edge of the box, representing an Erlenmeyer flask, provide information about this. Before receiving this certification mark, nitrile gloves are tested to determine their resistance to specific chemicals. Order nitrile gloves online now!
Nitrile Disposable Gloves in the Food Industry and Gastronomy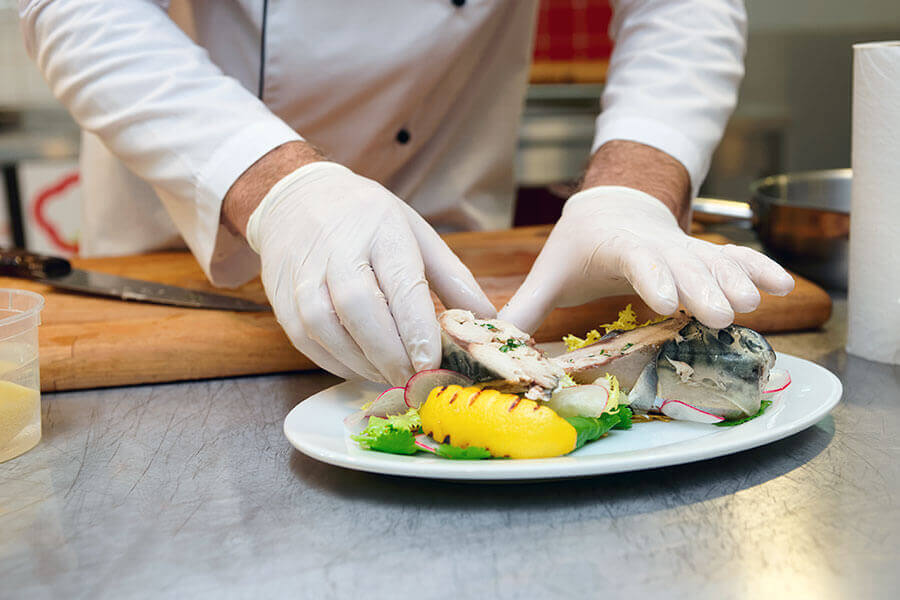 The disposable gloves made of nitrile are approved for contact with food. They do not contain plasticizers, which are often oil- or fat-soluble. In the food industry, gloves must be powder-free to prevent food contamination from the powder. The powder-free nitrile disposable gloves guarantee hygienic and germ-free food processing. In food manufacturing industries, blue nitrile gloves are commonly used as this color is rarely found in food. If a glove is accidentally lost, it can be quickly identified due to its color.
Nitrile disposable gloves are also highly popular in gastronomy. In addition to the classic benefits that the food processing industry also enjoys, the use of protective gloves demonstrates to guests that the respective restaurant, café, or snack bar operates under the highest hygiene standards. The nitrile disposable glove is a symbol of hygiene and cleanliness in these settings, which instills a reassuring feeling of trust in guests and customers. To create a harmonious overall appearance with the uniform, chefs typically opt for white nitrile gloves, while waiters and bartenders often choose black nitrile gloves.
Order reliable nitrile gloves for your business at Medicalcorner24®!
Nitrile Gloves for Cleaning in Professional and Domestic Settings
In cleaning, whether in professional or domestic environments, it is important to adequately protect the hands. By wearing nitrile disposable gloves, you avoid direct contact with dirt and potential pathogens. Additionally, many cleaning agents contain substances and chemicals that can attack the natural protective film of the hands. Similar to laboratory use, it is important to use chemical-resistant nitrile gloves for cleaning tasks.
Tip:
Due to their breathability and durability, nitrile disposable gloves are also well-suited for cleaning or gardening tasks, as they minimize sweating!
Nitrile Disposable Gloves in Tattoo Studios and Beauty Salons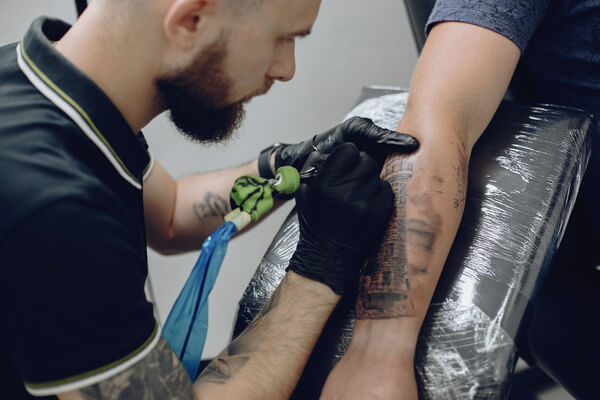 Nitrile gloves are also used in professions dedicated to aesthetics. For example, nitrile disposable gloves are used in beauty salons or nail studios to maintain hygiene standards. Especially for treatments involving the face, appropriate precautions should be taken to avoid infections. Since there are no specific requirements regarding the color of gloves in the cosmetic field, practitioners can unleash their creativity. Medicalcorner24® offers a range of colored nitrile gloves for the cosmetic industry.
In tattoo studios, particularly during the tattooing process, black nitrile disposable gloves are worn. This has the advantage that blood and ink stains are less noticeable on the dark color. Additionally, tattoos involve open wounds, which justifies the need for disposable gloves from a medical standpoint. Therefore, it is essential to ensure that the gloves meet the requirements of a medical disposable item.
How do I determine the right size for my disposable gloves?
A secure fit of nitrile gloves allows you to easily integrate them into your everyday work. To determine your glove size, you should first measure your hand circumference. Place the measuring tape around the widest part of your dominant hand, which is usually just below the knuckles. Then compare the measured value with our size chart.
Hand circumference in cm
Glove size
Unisex size
What are the differences between latex, vinyl, and nitrile gloves?
Made from natural rubber obtained from the sap of the rubber tree, latex gloves are particularly elastic and tear-resistant. However, the proteins within natural rubber can cause allergic reactions on the skin. Vinyl gloves are made from polyvinyl chloride (PVC). The initially rigid synthetic material gains elasticity and softness with the addition of plasticizers.
The nitrile glove is the all-rounder among disposable gloves. It combines the advantages of latex and vinyl and is considered particularly stretchable, firm, and chemical-resistant. Order now at Medicalcorner24®!
Nitrile disposable gloves in a wide range of colors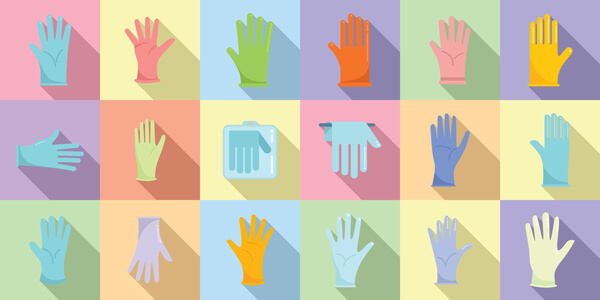 Nitrile gloves are offered in different sizes and colors in our Medicalcorner24® online shop. We carry sizes XS-XL in units ranging from a pair of gloves to a 10 x 150 piece box. There is a wide selection of colors available:
blue

green

white

purple

yellow

orange

red

black
In cosmetic or tattoo studios, black nitrile gloves are often used because splashes of color or particles are hardly visible on them. In the medical field, green, blue, and purple gloves are mainly used. When handling food or in the gastronomy industry, blue, white, or black gloves are more commonly used.
You will definitely find a nitrile disposable glove in the right color for your profession or studio. Also, order a suitable glove dispenser from us. The dispenser box ensures hygienic removal of medical disposable gloves. Buy the practical nitrile disposable gloves online now!
Buy nitrile gloves and other disposable gloves online at low prices
The nitrile gloves from Medicalcorner24® impress with their quality and wide range of colors. In our online shop, you will find the right gloves for your needs and applications. If you are looking for an alternative to nitrile disposable gloves or a disposable glove with different properties, you will find it in our online shop. We offer gloves in sterile and non-sterile versions, as well as in a variety of different materials: