Bandages & Ortheses
The assortment of bandages includes precast splints, protective and supporting clothing and ortheses for different body parts.
Bandages for the extremities as well as supportive bandages for shoulders, torso and neck or special shoes are usually available in different sizes and colours. Further information is also available at the end of this page.
...


Differences between Orthoses and Bandages
Our range of orthoses and bandages includes pre-fabricated splints as well as protective, supportive, and gentle garments and orthoses for various body parts. In addition to bandages for the extremities, there are also support bandages for shoulders, torso, neck, and special bandage shoes. Most bandages and orthoses in our online shop are available in different sizes and colors.
Orthoses are sometimes also called splints. There is a distinction between paralysis orthoses and relief orthoses. They are made of soft, elastic, and stabilizing materials. Plastics or metals provide the necessary stability. This allows for targeted limitation of movement or ensuring joint alignment.
Orthoses are more complex in design and consist of firmer materials that can be customized to fit the body. An orthosis is usually more rigid than a bandage and non-elastic, restricting freedom of movement or immobilizing joints completely. Unlike a prosthesis that replaces a body part, an orthosis only stabilizes and helps prevent deformities after injuries.
How do Orthoses Work?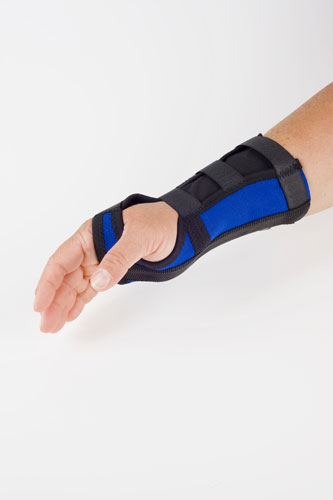 The functioning can best be explained using a wrist orthosis. In this case, a splint is placed in the palm of the hand, providing the necessary stability and neutral position of the hand. This ensures proper blood circulation and promotes the healing process. Orthoses are often used after sprains, such as in the area of the wrist. Conveniently, orthoses can be temporarily removed for washing or for showering.
There are also different orthoses available for various body regions and applications, including:
wrist orthosis

lumbar orthosis

thumb orthosis

ankle orthosis

lower leg orthosis

trunk orthosis

finger orthosis

elbow orthosis

back orthosis
They are primarily used in the affected body region for injuries. Common sports injuries where orthoses are used include ACL tears, ankle ligament injuries, or Achilles tendon rupture. They are also used for therapeutic treatment of scoliosis, arthritis, or osteoporosis. They aid in stabilization. Order the appropriate orthosis now!
What are Bandages?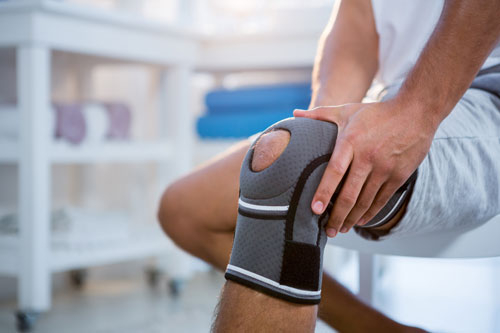 Anatomically shaped support bandages, on the other hand, adapt optimally to the respective body part and offer high wearing comfort. They provide joint support, relieve ligaments, correct movements, and at the same time, allow for maximum freedom of movement and mobility, even with injuries or pre-existing conditions. They help in the rehabilitation of injuries through the massaging effect.
Various Types of Bandages
Bandages are made of soft, breathable fabrics. Due to the elasticity of the compression knit, they provide support and stability, while also massaging the joint with every movement, stimulating blood circulation and promoting healing. They fit snugly on the affected body part and feel comfortable on the skin. Moreover, they do not restrict mobility.
Overview of various bandages:
ankle bandage

elbow bandage

back support bandages and back bandage

ankle brace
Bandages for the Limbs
The assortment includes, for example, bandages for joints in the arms and knees, for wrists and fingers, or back and shoulder. The tendons and joints in the arms and legs are often subjected to significant stress, which can lead to discomfort, chronic pain, or injuries. The offered bandages are suitable for supporting an affected joint, such as after a stroke, in cases of arthritis, or tennis elbow, or for immobilizing it after surgery. Bandages made of flexible synthetic fabrics or rigid plastic splints can be chosen.
Foot Bandages, Special Shoes & Socks
Sports, strenuous physical work, or age-related wear and tear can lead to irritation or injuries to the tendons and joints of the feet. Special foot bandages made of breathable materials support foot joints such as ankle or Achilles tendon and can be worn during sports activities and therapeutic measures. A classic example is the use of ankle bandages after sports injuries.
Special surgical shoes, lower leg splints, and orthoses can immobilize the ankle or the entire foot after surgical interventions. These comfortably padded foot bandages and special shoes are partially removable, extremely lightweight, stable, and more comfortable to wear than, for example, plaster casts.
Back, Shoulder & Neck Bandages
Support bandages for various areas of the spine as well as for the shoulder area promote a healthy body posture. They are suitable for stabilizing the affected body region or immobilizing it completely. Bandages for the back, neck, or shoulders offer a comfortable alternative to rigid plaster casts as they are lighter and more flexible. Many bandages can be individually adjusted to the wearer. Order the appropriate bandage now!
Buy Orthoses and Bandages - with Medicalcorner24®, the right partner for your practice equipment
With us, you will find products of the highest quality and a wide selection of bandages and orthoses! With Medicalcorner24®, you have the ideal partner by your side when it comes to equipping your therapy and treatment facilities. In our assortment, you will also find: