Hot and Cold Compresses
Whether as cold compress that can be stored in the fridge until needed or as hot pack, heatable in the microwave oven - the available gel packs are hot and cold compress in one. These compresses are often used in private households, for sports, physiotherapy, in hospitals and practices or as first aid measure.
Hot and cold compresses and fitting non-woven sleeves are available in many different sizes - for medical practices or other major customers also in larger lot sizes at convenient prices. Read on now at the end of this page.
...


What are Cold/Hot Compresses used for?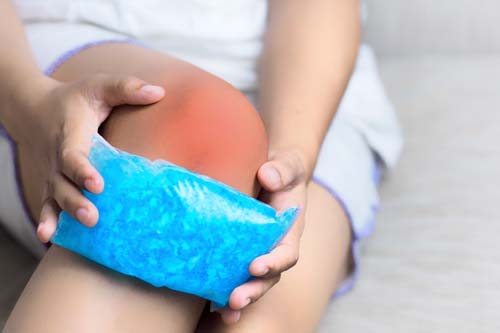 Compresses are a versatile medical product that should not be missing in sports, at home, or in any medical facility. Whether you've bumped into something, had a fall, or need to alleviate pain after surgery, compresses can help with either a cooling or a warming effect.
Depending on the application, compresses can be used as either cold compresses or hot compresses.
Thanks to the innovative gel, gel packs can be used as cool packs or hot packs. The properties of the gel filling can be appropriately used for cooling or warming therapy. As a result, the cold/hot compress has the following effects:
pain relieving

relaxing

soothing

cooling
Application as a Cold Compress or Hot Compress
As a Cold Compress
After about two hours in the freezer, the gel compress can be used for cooling and reducing swelling.
To avoid cold burns, a thin piece of fabric should be placed between the compress and the skin.
Areas of application:
headaches

bruises

toothaches

strains

sprains

fever

arthritis

insect bites

migraines
As a Warm Compress
To warm up tense muscles or to use as a pocket warmer in winter, the compress can be briefly heated. For this, boil enough water so that you can completely submerge the warm compress in the water bath at 80°C for 5 - 10 minutes.
Alternatively, you can heat the warm compress in the microwave for 30 to 60 seconds.
Areas of application:
For heat therapy and treatment of back pain

Rheumatism

in case of a lumbago

muscle soreness

as a pocket warmer
Properties of Cold/Hot Compresses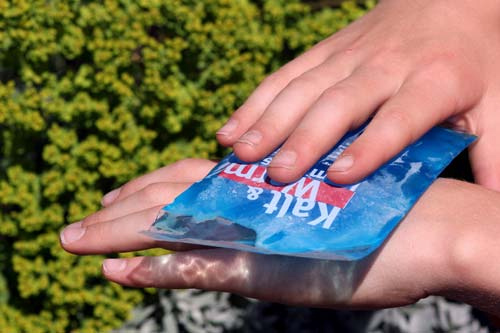 This medical product is only intended for external use. The compress can relieve local pain and tension and can be used for targeted treatment without side effects. The cold/hot compress is easy to use as it can simply be applied to the affected area and then easily conforms to the body.
Even when deeply frozen, the compress remains flexible and does not solidify. Simply take the compress out of the freezer and place it on the area to be cooled. The compress is microwave-safe and can be heated or cooled as often as desired without losing its quality. It is very durable and intended for repeated use.
Cleaning and Disposal
Clean and disinfect the cold/hot compress with commercially available cleaning agents. Dispose of the compress in regular household or waste bins. There is no risk to the sewage system when disposed of correctly.