Infection Protection & Clothing
Clothing for infection protection is used to protect physicians, nursing personal and patients from germ-transmission during exams or surgery. Such protective clothing consists of easily cleanable, dirt- and water-repellent materials.
Besides protective clothing for hair, mouth and eyes, the selection also includes aprons and gowns to be worn over the usual clothes. Many products for infection protection are available as disposable variants or can be sterilised. Read on here at the end of this page.
...


Protective Clothing as a Barrier against Germs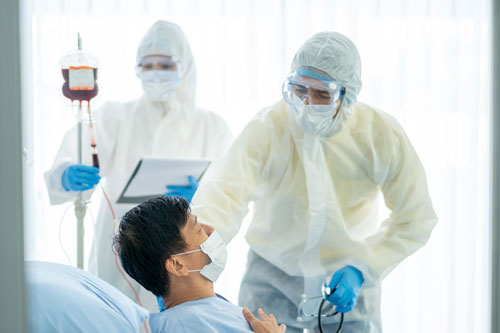 Protective clothing is designed to protect against the transmission of pathogens. Such clothing is made of easy-to-clean, dirt- and water-repellent materials.
In addition to protective clothing for hair, mouth, and eyes, aprons and gowns are also available to be worn over regular clothing. Many articles for protection against infections are available in both sterilizable and disposable options.
Common types of protective clothing in medical facilities include:
Protective clothing can be easily worn over regular clothing and protects staff, patients, or visitors from bodily fluids and potential infections. Medical protective clothing is made of impermeable plastics or film-coated non-woven fabrics. The gowns and aprons are available in various sizes and colors in our online shop.
Protective Clothing for Head and Face
To protect the head and face from infections and the spread of germs, we offer:
Protective eyewear keeps germs and other harmful substances away from the sensitive eye mucosa. Various models are offered in different colors. The glasses are made of durable, scratch-resistant plastic and some models are coated to prevent fogging of the lenses and provide protection against UV rays and light reflections. Eyeglass wearers can comfortably wear these lightweight protective glasses over their corrective glasses.
Surgical caps are worn during medical procedures and operations, as well as in all hygienically sensitive areas. They hygienically cover hair and scalp, effectively preventing germs, dirt, and loose hair. At the same time, this protective clothing for infection control protects the wearer's hair and scalp from contamination with pathogens or harmful substances.
Infection Protection Clothing for Medical Procedures & Operations
Infection protection clothing for respiratory protection during medical procedures and operations consists of:
The respiratory system, as well as the mucous membranes in the mouth and nose, are among the most common points of attack for viruses and bacteria. A medical face mask or surgical mask consists of varying layers of lightweight, absorbent materials such as nonwoven fabric, polymer, or polypropylene, depending on the model. Internally absorbent and externally water-repellent coated, the surgical masks allow the passage of air and filter out harmful substances.
Private & Practice Equipment with Infection Protection Clothing
The infection protection clothing from our range is suitable for both private use, when dealing with sick or contaminated individuals or when working with corrosive cleaning agents, as well as for professional use in hospitals, clinics, and practices.
Whether in nursing, during renovations, or in everyday practice, the protective clothing and equipment from Medicalcorner24® ensures protection against contamination or when handling light chemicals. Buy infection protection clothing now!
Buy Infection Protection Clothing at Medicalcorner24®
At Medicalcorner24®, you will find medical infection protection clothing that you can order in complete packages. These packages contain all the protective clothing necessary to protect patients and yourself. Order various types of infection protection clothing at affordable prices here in the online shop!