Vitril gloves - the practical material blend of vinyl & nitrile
With disposable gloves you always ensure compliance with increased hygiene standards and safety regulations. Vitril gloves combine the advantages of nitrile and vinyl without compromising on safety.
Benefit from the many advantages when you buy Vitril gloves at Medicalcorner24:
Practical bulk packs & purchase quantities

different sizes & colours
optimal combination of vinyl & nitrile

various fields of application
In our online shop you will find various versions of Vitril gloves in different sizes and colours, which can be used for a variety of different applications. At the bottom of this page we have collected more information for you about Vitril gloves. Order online now!
...


What are Vitril gloves?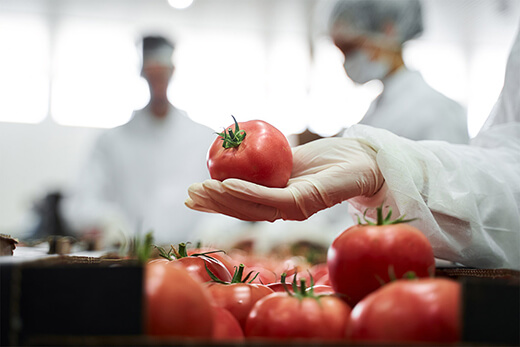 A Vitril glove is a hybrid glove composed of thermoplastic and elastomer - vinyl and nitrile. The material mixture is convincing in that it does not contain any sensitising substances and the disposable gloves can be used powder-free. In addition, the material composition makes the glove odourless and, due to the increased nitrile content, more elastic and stretchable than vinyl gloves. This makes it easy to put on and take off.
As Vitril gloves do not contain any latex proteins, they are also suitable for latex allergy sufferers as well as for use in the medical sector and the food industry.
Buy Vitril Gloves now!
Advantages and applications of the nitrile-vinyl blend
As a hybrid mixture between nitrile and vinyl, vinyl gloves combine the advantages of both materials without developing corresponding disadvantages:
cheap alternative to nitrile gloves

odourless & latex-free

free from sensitising substances

good elasticity

High tensile strength & chemical resistance
Due to the relevant advantages, Vitril gloves enjoy great popularity in the most diverse areas. Whether as examination gloves in the medical sector in hospitals, doctors' surgeries and nursing homes or as protective gloves in the food industry, cleaning sector and cosmetics - Vitril gloves are versatile. Employees of tattoo studios, hairdressing salons and beauty salons also regularly use the gloves for their daily work.
What size and colour do I need for my Vitril gloves?
In order to integrate the Vitril gloves optimally into everyday work and to ensure optimum comfort, it is important that the disposable glove fits correctly. Despite the increased stretchability, the glove can tear if it is chosen too small. In addition, if the glove is too tight, the blood supply to the hand can be restricted and comfort reduced. On the other hand, a Vitril glove that is too large can simply slip off the fingers.
A secure fit of the gloves is necessary to get the most out of them. To determine the right size for you, you should first measure the circumference of your hand. To do this, place a flexible measuring tape on the widest part of your dominant hand - this should usually be just below the knuckles. Then compare the measured value with the size chart provided:
Unisex size
Glove size
Hand circum­ference in cm
In terms of colour, you will find a wide range of disposable gloves at Medicalcorner24. Even though these have no influence on the material properties, certain colours are often identified with specific areas of application and occupational groups.
White: White disposable gloves are used in everyday medical and nursing care. They suggest cleanliness and a high level of hygiene.
Blue: As an alternative to the white version, blue Vitril gloves have also become established in the medical sector.
Black: Black models are often used by tattoo artists or waiters - thanks to the dark colour, stains do not stand out quickly.
Purple/ Pink: Feminine colours such as pink or purple are often worn in the cleaning trade and for cosmetic treatments.
In general, the colour of the gloves does not indicate the quality of the product. The colour scheme can be chosen according to individual style, functionality or workwear requirements. Buy Vitril gloves in different colours now!

Vitril Gloves and Alternatives buy cheap online
At Medicalcorner24 you will find a large selection of different disposable gloves. Browse through our range and discover alternatives to Vitril gloves. The products on offer always convince with high quality as well as a variety of colours. We offer sterile and non-sterile gloves as well as a range of different materials: