Disinfection Baths
Disinfection Tubs and disinfection baths for manual reprocessing of medical instruments. The handy boxes are available in different sizes and consist of heat-resistant plastic. They are suitable for all medical fields. Read on here at the end of this page.
...


Disinfection Baths for the Safe Cleaning of Instruments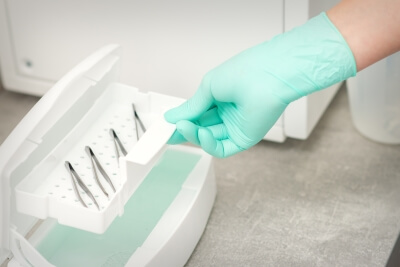 The available disinfection baths comply with medical standards for the professional disinfection of instruments such as scalpels, clamps, or endoscopes. These medical instruments are often contaminated with germs, blood, or tissue residues after use. Therefore, they need to be processed in a suitable disinfection tub as soon as possible.
The disinfection of instruments is carried out in multiple steps, with each step performed in a separate disinfection bath. The equipment is placed in the instrument trays using custom-fit sieve inserts. The trays are filled with disinfectant solutions or cleaning agents according to the work steps. Transparent lids seal the containers and allow for quick inspection of the contents at a glance.
Order affordable instrument baths of the highest medical quality from our online shop. We offer tubs in various sizes with a capacity ranging from three to 30 liters. You can also get accessories such as separate lids, sieve inserts, drain valves, or special instrument containers. Some instruments, such as dental drills, can be conveniently placed in their own boxes inside the disinfection tray. Order disinfection baths now!
In the online shop of Medicalcorner24®, you can buy disinfection baths as well as many other articles for hygiene in private and medical settings. We offer products of high quality at affordable prices in the following categories: