Buy Surgical Masks - Medical Disposable Mouthguards and FFP2 / FFP3 Respirators
A surgical mask serves both to protect patients in clinics and hospitals and to protect against infections in everyday life. The mouthguard reduces the transmission of viruses from the wearer to the air - it is therefore primarily used to protect third parties against droplet infections. Particle-filtering FFP2 and FFP3 masks provide self-protection at the same time and are therefore an integral part of personal protective equipment.
Benefit from these advantages of your Medicalcorner24® medical supply store:
high quality medical products at low prices

practical, flexible purchase quantities

products in comfortable sets with disinfectant and gloves
fast delivery

large selection of different mask designs and sizes
In our online shop you will find disposable surgical masks made of various materials, in various colors, sizes and purchase quantities. Especially in times of viral infections, surgical masks are used for protection in everyday life. Buy mouthguards now! Read on here at the end of this page.
...


Buy Surgical Masks for Everyday Life
The medical disposable surgical mask is particularly suitable for everyday use. It can be worn when shopping or on public transport. The mouthguard reduces airborne droplet transmission, such as when speaking, sneezing or coughing. The surgical masks always consist of mouth masks and a nose protector, which reduce the transmission of bacteria and viruses such as the coronavirus (SARS-CoV-2). Medicalcorner24® offers you surgical masks of different protection classes in different designs - choose between models for children or adults with or without valve, from a large selection of different colors and flexible pack sizes that exactly match your needs. Buy surgical masks now!
Types of Surgical Masks and Their Protective Effect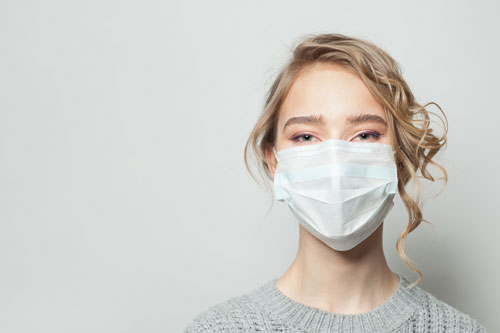 The face mask is made of extremely light, absorbent material. The material allows breathing air to pass unhindered and ensures low breathing resistance. This ensures comfortable wearing and breathing with the mask. Germs and bacteria, on the other hand, are reliably filtered out. Depending on the design, a face mask consists of a different number of layers - moisture-repellent on the outside and highly absorbent on the inside. Disposable masks are latex-free and free from allergens and harmful substances such as glass fibers, copper or nickel. Accordingly, they have extremely skin-friendly properties and are also suitable for allergy sufferers.
So-called surgical masks, everyday masks or mouth-nose masks (also called MNS for mouth-nose protection) are suitable for everyday life.
Not all mouth guards possess the same protective properties. Basically, masks with a particle filter are among the protective masks that also protect the wearer. They are called FFP masks and are divided into three different protection classes with different filter performance. FFP1, FFP2 and FFP3. At least level 2 is recommended, especially when used in areas with an increased risk of infection.
How the Surgical Mask is Properly Put On and Worn
Since the disposable masks only serve their purpose if they are put on correctly, the correct use of respiratory protection is essential. How to put on your surgical mask correctly:
Wash your hands with soap before putting on the disposable mouthguard.
To put on and take off the surgical mask, grip the loops only and pull the earbands over your ears.
Press the nosepiece of the disposable mouthguard so that it fits snugly against the contours of your face.
When the nose clip is properly seated, pull the bottom edge of the mask to pull it over your chin.
Make sure that the mouthguard fits properly on all edges and covers the face correctly. This is the only way to effectively stop the spread of particles and pathogens.

If the mouthguard is soaked, it must be disposed of and replaced immediately so that as few aerosols as possible are released into the ambient air. Important: Wearing half masks makes a huge contribution to hygiene and safety in public spaces. In addition to this measure, the correct safety distance (at least 1.5 m), regular hand washing and the use of hand disinfectants are essential safety precautions. So always follow the official recommendations.
Also, when buying a sugical mask, make sure you choose the right size. Because a mask that is too large does not offer sufficient protection.
Equip yourself with disposable products for your personal protection - buy mouthguards now at Medicalcorner24®!
Buy the Right Surgical Mask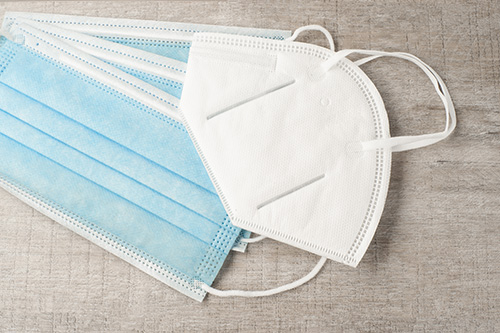 When buying surgical masks at Medicalcorner24®, you can choose from different colors such as white, pink or blue. We offer both mouthguards with elastic bands and laces for ideal wearing comfort. We also have models with bendable nosepieces for a comfortable fit on the mouth and nose.
In our range you will find disposable surgical masks from various manufacturers, individually or in sets, in various designs and purchase quantities, as well as surgical masks and FFP2 / FFP3 or disposable gloves. Also discover our extensive range of products for practice needs and other hygiene items.