Dressing Stick – Dress Yourself Easily Every Day
If it is difficult to put on and take off clothing independently due to limited arm or hand function, a dressing stick can help. It extends the necessary range while dressing and thus prevents laborious and often painful contortions and flexion movements. Dressing sticks are therefore particularly suitable as aids for people with restricted mobility or stiffness in the spine, shoulder, elbow joint, hip and / or knee joint.
Benefit from these advantages when you order a dressing stick from Medicalcorner24®:
fast and reliable delivery

best quality at affordable prices
better quality of life thanks to regained independence

reliable aids for an independent everyday life despite restrictions

more safety by avoiding difficult movements
For more independence when dressing - buy a dressing stick at Medicalcorner24® now! Would you like to find out more about dressing sticks? Read on here at the end of this page.
...


Dressing Sticks from Medicalcorner24®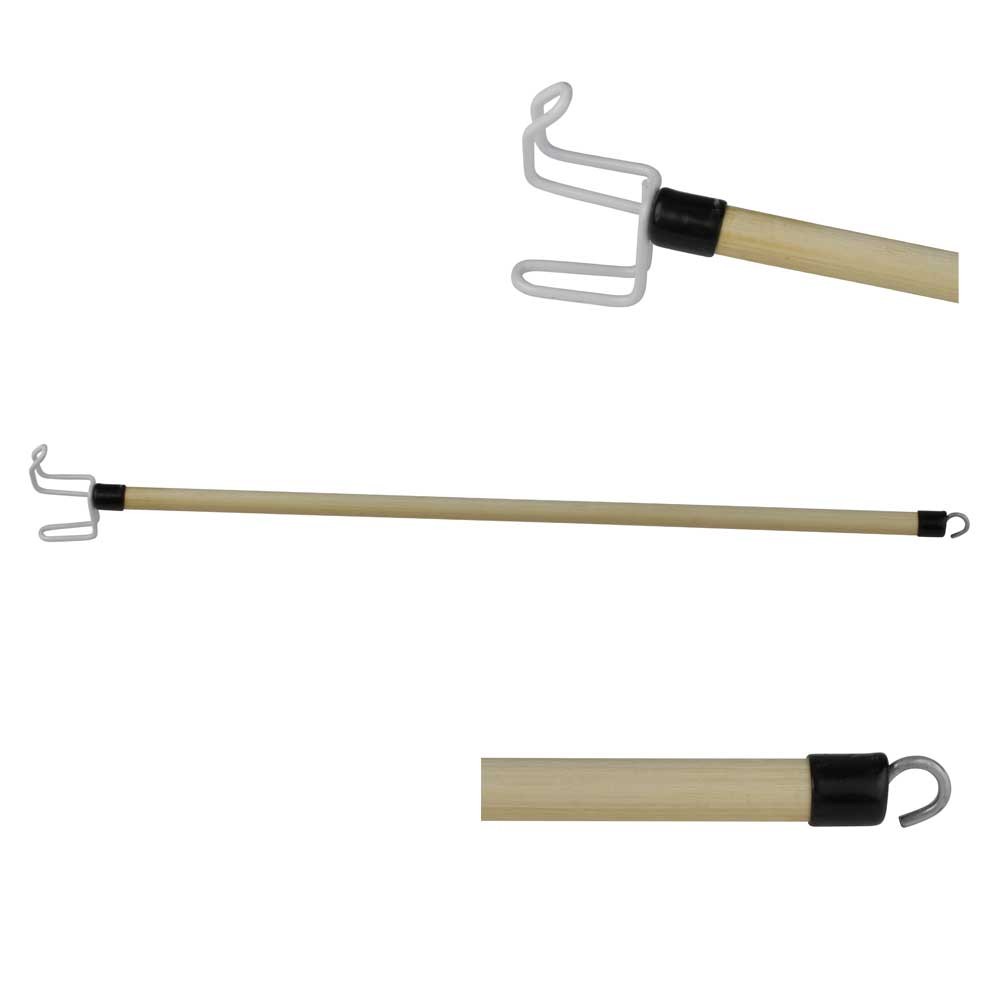 The dressing stick makes it easier to put on or take off jackets, shirts, pants and socks when bending and stretching movements cause problems. The aid works like an extended arm, with which the garments can be pulled over parts of the body that your own hand cannot reach. The dressing stick consists of a rod with a multifunctional hook on one end and a zipper pulling aid on the other end. The thickened foam handle allows a comfortable and secure grip.
Dressing sticks are available in different lengths, materials and diameters. The hook can have different shapes and is usually made of metal or plastic. Some models are also equipped with a shoehorn to make it easier to put on the shoes.
With the practical aid, hard-to-reach clothing can also be better removed from the clothes rail and shoes can be conveniently taken out from under the bed, for example.
Correct use of a dressing stick requires a certain amount of manual dexterity and practice. If you are unable to practice on your own, an occupational therapist can also carry out dressing training prescribed by a doctor.
The high-quality dressing sticks from Medicalcorner24® allow you to put on and take off clothes and socks easily and to put on your shoes comfortably without laborious bending or stretching movements. In addition, they are also suitable as a convenient back scraper. Buy dressing sticks now!
Order Dressing Aids and More Conveniently Online
In the Medicalcorner24® online shop you will find high-quality dressing sticks as well as a large selection of other practical dressing aids such as:
You can also discover our diverse range for other care needs. If you have any questions about our products, please do not hesitate to contact us and advise you in detail on the selection of the appropriate dressing aid. Simply use our contact form for this. Buy dressing sticks online now!