Skin Disinfection
Skin disinfectants are available in different versions for diverse purposes or types of skin. The selection includes disinfectants for normal skin cleaning up to surgical disinfectants used prior to surgery. The available skin disinfectants are efficient against a large variety of bacteria, viruses and fungi, thus helping to protect the users skin from dirt or germs.
Many skin disinfectants are available e.g. in different charges, as disinfectant spray or wipes, coloured our colourless as well as in special versions for mucous membranes, feet or hand disinfection. Read on here at the end of this page.
...


Prevention and Protection with Skin Disinfectants
Special skin disinfectants enable effective hygienic cleaning and prevention against infections and diseases. Fungi, viruses, and bacteria are killed or partially eliminated by the chemical composition of these preparations. Skin disinfectants have bactericidal, tuberculocidal, fungicidal, or virucidal properties.
Standard skin disinfectants are alcohol-based, rubbed or sprayed onto the skin, and provide reliable and gentle protection within a few seconds against a variety of bacteria and viruses when applied thoroughly. For resistant bacteria or HIV, HBV, or HCV viruses, skin disinfectants with particularly strong effectiveness, such as virucidal solutions, are recommended. Buy skin disinfectants now!
Various Application Areas and Versions of Skin Disinfectants
Skin disinfectants are available in different variations: colored and colorless, as spray disinfectants or from a pump dispenser, for placing or wall mounting. Spray disinfectants are particularly economical as they only dispense the required amount, and the product is very efficient. The exposure time for most disinfectants is 30 seconds.
The possibilities for skin disinfection are diverse. Skin disinfectants are mainly applied in these situations:
before blood sampling

before vaccination

before puncture or injection

for prophylaxis in hygienic areas

for wound care and before wound dressing
Information: Disinfectants are usually billed as part of medical supplies.
Special Disinfection Sprays - Skin Disinfectants and Foot Sprays for Prophylaxis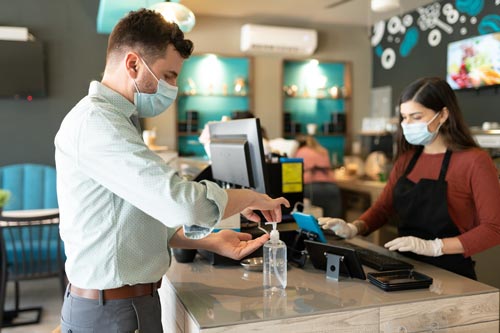 Foot disinfection spray can be applied to the skin, shoes, or socks and eliminates foot fungus pathogens. For sustainable prevention against foot fungus, it is advisable to carry handy bottles of disinfection spray with you, for example, when buying shoes, engaging in sports, borrowing shoes, or while on the go.
You should carry a skin disinfectant or skin antiseptic particularly in these areas:
in swimming pools

in hotel rooms

in shower rooms and wet areas

while traveling

in public spaces and transportation
Buy Skin Disinfectants at Medicalcorner24® at a Low Price
At Medicalcorner24®, you will find the suitable skin disinfectant. In our range, you will find special preparations that are particularly gentle on the skin, suitable for use in mucous membrane areas. The skin disinfectants from Medicalcorner24® are of high quality and suitable for sensitive skin flora. For other areas, there are specific disinfectants available. In addition, you will also find in our online shop: