Grain pillow - the natural alternative to the hot water bottle
The pillow offers an optimal, dry alternative to the classic hot water bottle. The areas of application remain similar, whereby the pillow can bring some additional advantages such as a pleasant massage effect due to the structure of the respective seeds and cores. Thus, the pillow can be used both for the relief of pain as well as for relaxation and for the well-being in everyday life and is very popular as a classic natural remedy.
These advantages offer you the pillows from Medicalcorner24:
Practical application in heat & cold therapy

Simple pain relief

Wide range of fillings
Various sizes & dimensions

Best quality from different manufacturers
The offered grain pillows can be practically heated in the oven and in the microwave and are thus ideally suited for the quick treatment of all kinds of complaints. Buy pillows now! Go on reading at the end of this page
...


Grain Pillows: Areas of Application and Usage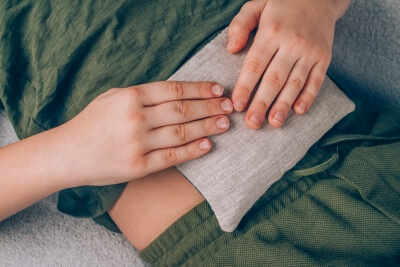 Looking to buy the ideal grain pillow? The right choice depends significantly on the intended usage. Although the heating or cooling function is practically the same for all pillows, the usage can still be optimized by factors such as the appropriate size, leading to improved treatment results.
Heat Therapy and Cooling
Unlike a hot water bottle, which can only be heated, a grain pillow can also be placed in the refrigerator or in a freezer bag in the freezer for a few minutes. The grains can retain the cold, which allows the pillow to be used for cooling purposes, similar to a hot-cold compress. This versatile usage allows for optimal treatment of sprains and contusions.
Naturally, the grain pillow can also be used as a heat pillow. For this purpose, follow the instructions provided to heat the pillow in the oven or microwave. The heat is retained by the grains, and even with extended use, it does not fall below body temperature, which enhances the effectiveness of the heat.
Care Instructions
When purchasing a grain pillow, it is important to store the pillow dry between uses. Heating or cooling can generate moisture, which can damage the grains over time. Regular airing and dry storage ensure long-term use. Some pillows, especially those in the form of plush toys for children, offer the option to remove the filling using a Velcro fastener and wash the fabric. While grain pillows should not come into contact with water, cherry pit pillows can be gently cleaned by handwashing.
The Various Benefits of Different Filling Materials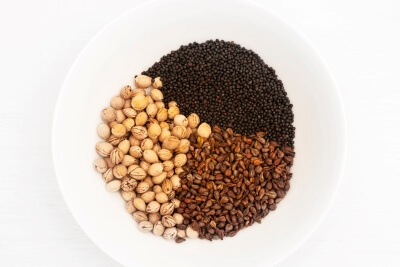 Unlike a hot water bottle, a grain pillow offers the significant advantage of being filled with dry natural materials. There is no risk of scalding, making the pillow particularly suitable for children and babies.
Depending on the filling, an additional massage effect can be achieved. Finely grained natural materials are softer and more pliable, while coarsely grained kernels, as in cherry pit pillows, provide a more pronounced massage that can stimulate metabolism.
Whether with cherry pits or spelt kernels, purchase your desired grain pillow from our shop now!
Grain Kernels
Grain pillows and especially spelt pillows are the most common variants, along with cherry pit pillows. In addition to spelt, which is particularly used by allergy sufferers, other grains such as rye, wheat, rapeseed, or millet are also used.
Grain Pillows
Area of Application
Spelt Pillow
Grain length: approx. 5-7 mm

Rheumatism

Tension

Arthrosis

Millet Pillow
Grain length: approx. 1-2 mm

Joint pain

Tension

Neck pain

Rapeseed Pillow
Grain length: approx. 1-2 mm

Digestive problems

Stomach ache

Linseed Pillow
Grain length: approx. 2-4 mm

Digestive problems

Stomach ache

Particularly light

Wheat Pillow
Grain length: approx. 5-7 mm

Optimal heat storage, therefore ideal in all applications
Fruit Kernels - Grape & Cherry Pits
Fruit kernels are also commonly used in kernel pillows. One of the most popular variants is the cherry pit pillow. The coarseness particularly stimulates blood circulation, which can help with arthrosis and joint problems. Grape seed pillows retain heat particularly well due to the high oil content in grape seeds and are ideal in a chilled state for migraines and headaches.
Buy grain pillows now at Medicalcorner24® online!
Buy Grain Pillows and Other Heat Therapy Products
The range of Medicalcorner24® includes heating pads made of different materials and with various fillings. In our online shop, you will also find other products for heat treatment. Among other things, we offer products from these categories: