Fever Thermometers for Babies
Fever thermometers for babies measure the body temperature of babies or small children with the greatest possible accuracy. With these thermometers, which are specially designed for small to very small children, it is also taken into account that the measurement can be carried out as comfortably and quickly as possible. Depending on the model, the baby thermometers provide you with a reliable measurement result within a few seconds. In our online shop you can buy different types of baby thermometers at low prices. Read on now at the end of this page.
...


Buy Fever Thermometers for Babies - Safe and Precise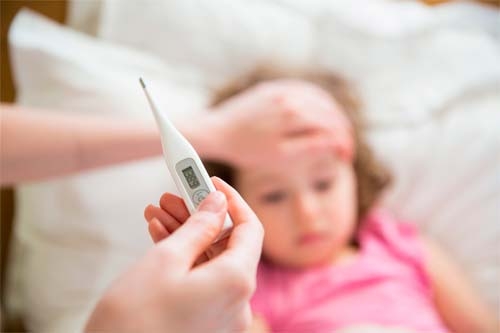 Fever thermometers for babies are just as important for taking a temperature as they are for preventive care for babies and toddlers. An increase in body temperature can be a sign of an impending cold. It is normal for the body to fight a disease with an elevated temperature.
However, if the immune reaction does not subside after three days, a doctor should be consulted. If a fever has already set in, regular measurements should also be taken with the baby thermometer. For the sake of health, medical advice is strongly recommended even at temperatures above 39 degrees Celsius. The core body temperature of a healthy baby or small child is between 36.5 and 37.5 degrees Celsius.
Fever thermometers for babies are medical products that are recommended for every medicine cabinet. Depending on the type of thermometer, the temperature can be taken rectally (in the bottom), in the ear, under the armpit, orally (in the mouth) or on the forehead. Particular care should be taken when taking measurements in the ear canal to avoid injury - this method is only recommended for calm babies and toddlers.
You can also buy non-contact infrared baby thermometers from us. We also have contact thermometers with a soft, flexible measuring tip for oral, axillary or rectal fever measurement. These include models from the Beurer company, the handles of which are designed as funny animal figures. These waterproof, digital, glass- and mercury-free fever thermometers for babies offer as frog, monkey or dog to measure the baby's body temperature in a playful way and provide some distraction for the child. Temperature measurement is literally easy for everyone involved.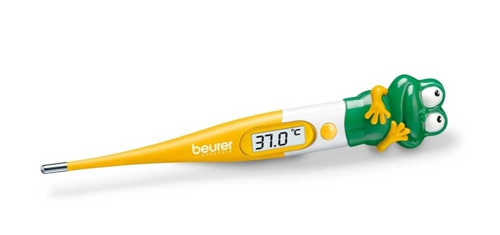 A modern, digital fever thermometer for babies usually has an illuminated display and a memory function for the last ten or more measurement results. This gives an overview of the course of the fever. Some models are also equipped with an optical fever alert or acoustic signal to draw your attention to an increased temperature.
The baby clinical thermometers and some of the associated protective caps or hygienic protective covers can be cleaned with disinfectants, which you can also find in our online shop. Order accessories and temperature monitors online now at Medicalcorner24®!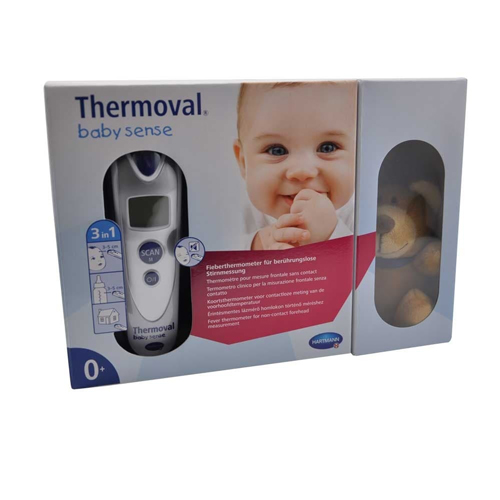 Our range also includes non-contact and noiseless infrared fever thermometers for babies. These measuring devices, equipped with an infrared sensor, measure the body temperature of a baby completely contactless within three seconds. The measurement is usually carried out as a forehead measurement. This is particularly useful as it allows you to take a temperature reading while the child is sleeping without waking the baby. Like many other thermometers, the digital infrared thermometer is also equipped with a memory function. Incidentally, in addition to measuring the temperature of parts of the body, it is also possible to test the temperature of objects such as milk bottles and measure the room temperature in the children's room or the temperature of the bathing water.
Order Low Priced Thermometers for Babies at Medicalcorner24®
In addition to our fever thermometers for babies, you will also find in the Medicalcorner24® online shop: