Kinesiology Tape
Kinesiology tapes are used e.g. as stabilising tape to counter muscular problems or lymphatic drainage problems. Its purpose is the enhancement of blood circulation within the muscles. The flexible kinesiology tape preserves complete mobility. It can be worn for longer periods during sports or daily routine - even when swimming or showering.
The selection of kinesiology tapes includes products made of high quality materials - breathable and waterproof. Diverse users credit the different colours of the tapes with special effects. The tapes are available in different colours or sets in different lot sizes. Read on here at the end of this page.
...


Why Buy Kinesio Tape?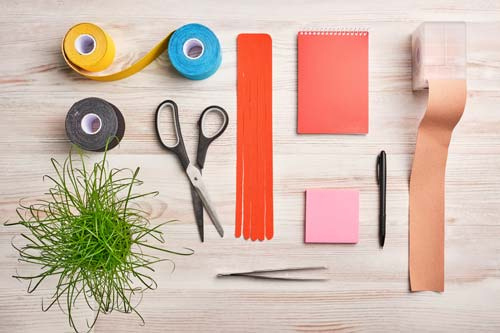 Kinesiology Tape convinces with its easy application and effective function. In sports medicine and physiotherapy, the self-adhesive tapes are gaining popularity. They are regularly used in professional sports and can be applied to almost any part of the body. The reason athletes buy Kinesio Tape is due to its mode of action, which is attributed to the elastic tapes.
The tension of Kinesio Tape on the skin is said to improve the circulation of the underlying tissue layers and thus provide optimal conditions for the healing process. With every movement of the body, the elastic tape exerts a gentle massaging effect on the tissue.
You can buy Kinesio Tape to support the treatment of various muscle complaints or to prevent their occurrence.
In addition, Kinesio Tape offers a range of other applications:
relieving muscle tightness and loosening tense muscles.
supporting painful joints without limiting mobility.
preventing inflammation of irritated muscles.
When you buy Kinesio Tape from our shop, you will receive high-quality products made of latex-free, breathable cotton fabric with a wave-like coating. The flexible and stretchable fabric matches the thickness and elasticity of human skin. It follows all movements without restrictions and allows the wearer full flexibility. Daily activities and sports can be continued as usual.
Buy Kinesio Tape for Various Therapy Areas
Today, taping with Kinesio Tape is used as an accompanying therapy for a variety of muscular and neurological complaints. Kinesio Tape is often purchased to treat sports injuries such as dislocations, sprains, strains, or muscle tightness.
Alternatively, Kinesiology Tape can also be used to relieve everyday ailments such as osteoarthritis, arthritis, rheumatism, headaches, or disc problems. For example, Kinesio Tapes can also be used to treat carpal tunnel syndrome, which can develop from tendonitis or prolonged wrist strain.
In addition, you can buy Kinesio Tape if you suffer from the following conditions:
pain in the elbow, knees, or ankle
tennis elbow or golfer's elbow
back pain and tension
posture problems and overuse injuries
shin splints
The Different Colors of Kinesiology Tapes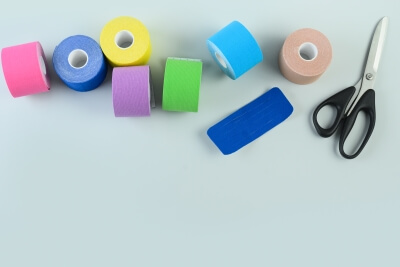 Many users attribute influence on the therapy process to the different colors of Kinesio Tapes. They report their experiences of a cooling and calming effect with blue and green tapes or a warming and stimulating effect with red and pink bands. The colors are used differently depending on the desired effect.
The different colors originate from Asian color theory and are believed to have the following effects:
Green: Represents inner calmness and balance.
Red and Pink: Have an activating, warming effect. Contribute to strengthening and relaxing the affected region.
Blue: With its association with water, the color blue has a cooling effect. It is particularly used on inflamed and swollen areas of the body.
Orange: Activates energy and lymph flow and represents warmth and strengthening of the immune system.
Black and Beige/White: These colors are considered neutral and are believed to have no additional properties.
Note: The medical effectiveness of the different colors as well as the metabolism-stimulating properties of Kinesiology Tapes have not yet been proven by scientific studies. However, various case studies and the years of experience of numerous users, patients, and satisfied customers indicate the practical benefits of Kinesio Tapes. In case of doubt, please consult your doctor or therapist before buying and using Kinesio Tape.
Buy Kinesio Tape - Proper Application, Use, and Removal
To achieve the desired results, specific knowledge about the tapes, application techniques, and the problem being treated is necessary. Improper use and sloppy technique can cause undesired effects. Only use Kinesio Tape if you have sufficient expertise in the field or have been properly instructed.
After applying the Kinesiology Tape, it adjusts optimally to the body's temperature through the skin in the first half hour. The body heat activates the skin-friendly acrylic adhesive. Carefully put on your clothes over the treated areas. To prevent the corners of the tape bandage from peeling off quickly, you can rub talcum powder on it. This will prevent it from sticking to your clothes.
If in doubt, always consult a doctor, therapist, or medical professional. This way, you can ensure that the symptoms are treated correctly and that the Kinesio Tape can take effect.
However, you can remove the tape yourself. For this, various approaches similar to removing a bandage are recommended:
Moisten the Kinesio Tape sufficiently and gradually remove it in the direction of hair growth. With the other hand, hold the skin directly behind the tape.
For sensitive skin, first apply oil to the skin and tape and let it soak in for a few minutes.
Alternatively, you can rub the tape with Sterillium or another alcoholic disinfectant to loosen the adhesive layer. After that, the Kinesio Tape can be easily peeled off.
Thanks to the skin-friendly medical acrylic adhesive, the Kinesiology Tape remains stable and without any loss of quality for several days. It can be worn until it detaches from the skin. On average, kinesiological tape adheres for 4 to 6 days. Buy Kinesio Tape now!
Applying Kinesiology Tape on the Skin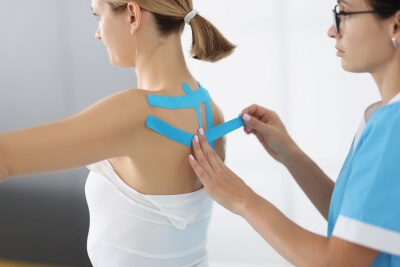 Since Kinesiology Tape is not sterile, it should not be used for wound care like a bandage. However, it can be applied around the wound. In the case of scars, the skin must already be fully closed. It should also be used for therapy after radiation treatment only after one month.
When buying Kinesio Tape, use it carefully on hairy skin. It is best to remove long hair beforehand with a hair trimmer to achieve successful results. Avoid oily products such as creams or oils before taping. This will enhance the adherence of the kinesiological tape. Buy Kinesio Tape easily now and order online at Medicalcorner24®!
Buy Sports Tape or Kinesio Tape - A Comparison of Tapes
Type of Tape
Features
Intended Use
Type of Tape
Sports Tape
Features
secures ankles before gymnastics competitions
limits range of motion
recommended for removal after a short period of time
Intended Use
Preventive application for injury prevention and firm fixation of joints
Type of Tape
Kinesiology Tape
Features
promotes blood circulation and provides support to affected areas
no restriction of movement
flexible and thin material for high comfort
long-lasting adherence for up to one week
Intended Use
Suitable for everyday use and sports, especially in competitive sports. Minimizes the risk of skin irritations and offers firm support.
Sports Tape is used to secure the ankles before gymnastics competitions. These tapes are used preventively to prevent injuries and provide a firm fixation of the joints. Therefore, sports tapes are designed to restrict movement and should be removed after a short period of time to avoid blood stasis.
Kinesiology Tape, on the other hand, promotes blood circulation and supports the affected area without restricting movement. It also offers absolute comfort in everyday life and sports due to its flexible adaptation to the skin. The thin material allows for a barely noticeable wearing sensation. Medical acrylic adhesive minimizes the risk of skin irritations while providing firm adherence for up to one week. Taping is gaining more and more popularity, especially in competitive sports.
Help yourself with discomfort without the use of medication by buying your suitable Kinesio Tape now!
Buy Other Tapes and Therapy Supplies for Athletes Online
If you buy Kinesio Tape, you may also need other bandages, tapes, or sports accessories to cool or warm strained muscles. In our online shop, you will find various sports-related products at affordable prices: