Hygiene control
The available products for hygiene control are suitable to test the efficiency of diverse disinfection or cleaning methods. The selection includes different products to conduct visual control of surfaces as well as indicators for germs, which enable e.g. the examination of semi-solid surfaces or liquids. Read on here at the end of this page.
...


Cleaning Control with UV Light on Surfaces & Hands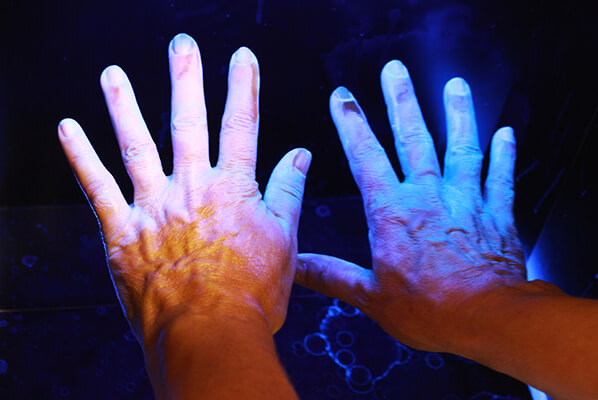 The cleaning control with UV light is used to verify the effectiveness of measures for cleaning or disinfecting surfaces or hands. It can identify deficiencies in hygiene management and makes an important contribution to preventing the spread of dangerous germs and pathogens. The method provides quick and reliable results without having to wait for the results of time-consuming laboratory tests or contact cultures.
Measures such as UV control of hand disinfection or disinfection control on surfaces are taken in all areas where high hygiene standards are required.
The cleaning control with UV light is particularly useful in the following areas:
in hospitals & medical practices

in nursing homes & care facilities

in laboratories & cleanrooms

in food processing plants

in gastronomy & hotel industry

in authorities, schools & kindergartens
Disinfection Control of Surfaces
Professional disinfection of surfaces is usually carried out as part of fixed disinfection plans by trained personnel. It is specified how long, how often, and how intensively cleaning or disinfection should be done. Visual inspection alone is not sufficient to verify the success of disinfection. Therefore, hygiene control with black light is an excellent way to test the efficiency of these cleaning procedures. That's why cleaning control with UV light is also used in the training of future cleaning staff.
For disinfection control, special UV markers or washable fluids with fluorescent properties are used. These become visible under black light, so after optimal cleaning or disinfection, no color residues should be detectable. Hygiene with UV lamp is easiest to perform on smooth and hard surfaces. Porous surfaces or untreated wood, for example, should be treated only in specific areas rather than extensively, as the fluorescent liquid may be difficult to remove completely.
The cleaning control with UV light is particularly suitable for the following types of surfaces:
smooth tiles on walls and floors

work surfaces and countertops – e.g., office desks

toilet seats or urinals

various types of continuous flooring

door handles, light switches, or fixtures

most smooth-surfaced plastics
Always follow the manufacturer's instructions for hygiene control with black light. For example, it is often advised not to apply fluorescent fluids to medical equipment such as ultrasound probes.
UV Control of Hand Disinfection
Even after hand disinfection, cleaning control can be performed with UV light. The hands are treated with a fluorescent contrast agent. Under black light, the effectiveness of hand hygiene becomes visible, as any gaps in coverage become immediately apparent. Especially in the small folds and lines of the hand and between the fingers, disinfection solutions must be carefully rubbed in. Hygiene control with black light immediately reveals whether the hands have been properly disinfected.
In addition to pocket-sized blacklight lamps, our range also includes UV test boxes. These are boxes that are illuminated from the inside with black light containing UV rays. The wetted hands can simply be held inside the box to perform cleaning control under UV light.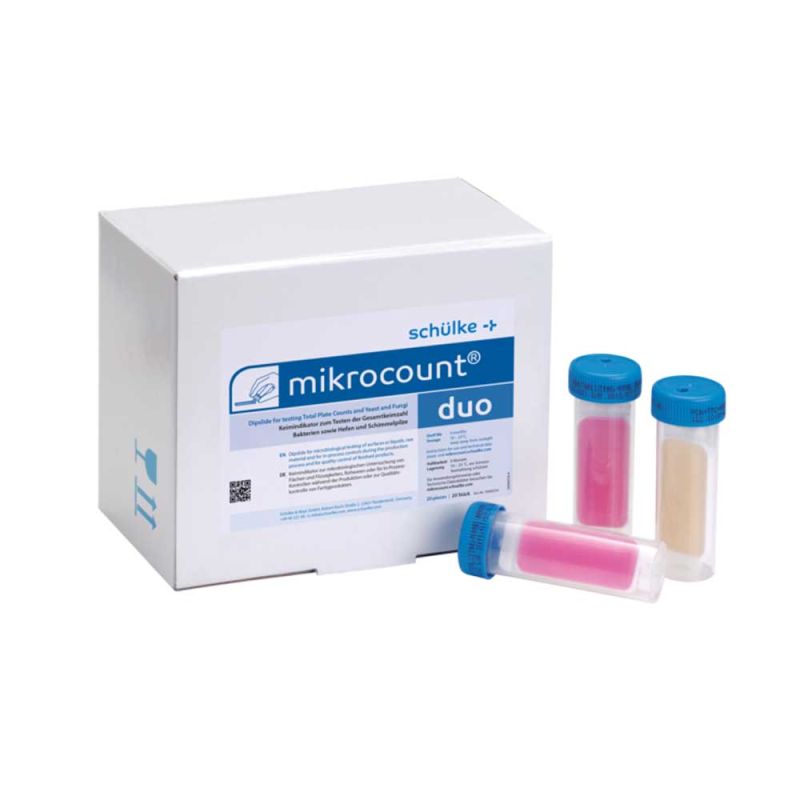 Hygiene Control with Germ Indicators
The offered germ indicators are culture media carriers used to take swabs and samples from surfaces, semi-solid materials, and liquids. Within 24 to 72 hours, the indicators provide reliable results. For example, the type and quantity of bacteria, yeasts, or molds on a surface can be determined.
Hygiene Control and Other Hygiene Products to Buy Online
In addition to articles for disinfection control and cleaning control with UV light and black light, we offer many other products for cleaning and disinfection of surfaces or the skin. Now meet your hygiene needs at affordable prices in the online shop of Medicalcorner24®.