Dumbbells - effective training utensil for muscle building
Dumbbells and weights are often used for strength training in order to properly challenge the muscles and build them up accordingly. This is usually the case when muscles need to regenerate after an operation during therapy, for example, or when muscles need to be built up to increase fitness or aesthetics. But purely from a health point of view, weight training has many advantages: It helps you lose weight and increase your general well-being. Other advantages you have with the free weights from Medicalcorner24:
High-quality, resistant materials for the longevity of your dumbbells

Models for vibration training
Practical sets with different weights to increase your training weight

Suitable for therapeutic training & fitness
Get started at home and reach your training goal - buy dumbbells now! Read more here...
...


Quality dumbbells for your fitness training
The range includes different versions of the classic dumbbells, with hand-friendly vinyl cover or sponge rubber handle, as well as special versions such as dumbbells with counterweights for vibration training. As an alternative to the standard dumbbell shape, ball dumbbells are also offered, for example, which are used in the rehabilitation and health sector. Buy dumbbells in a practical set now and get started right away!
Perfectly equipped for your weight training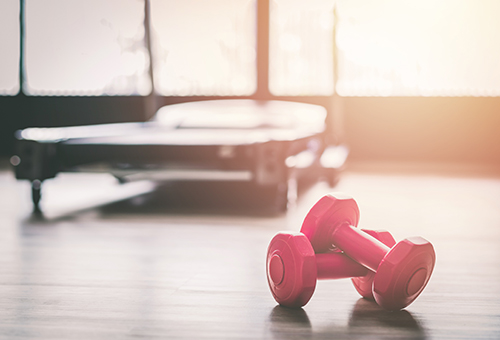 Dumbbells or dumbbells are versatile training tools that are mainly used to build up muscles. Depending on the type of dumbbells and the training methods, you can build up practically all muscles of the body. Classic dumbbell training can therefore also be carried out ideally at home.
In our range, you will also find very light dumbbells that are used to support fitness exercises or endurance training, for example during upper body training or jogging. We offer most models in wide gradations of weights so that you can put together the weights of your choice in a uniform look.
Special forms & their areas of application
Free weights are among the ultimate training tools for muscle building through weight training. In the past, people used to train with simple iron weights, but nowadays there is a wide range of modern dumbbells made of different materials in various shapes, colours and weight gradations.
Vibration dumbbells are moved in an oscillating or impacting motion during training, whereby the dumbbells, which are often equipped with adjustable counterweights, start to vibrate. This method is used to train muscles in various areas and to train the tonic stretch reflex. Vibration training with dumbbells is also said to stimulate the metabolism and the lymphatic system.

Ball dumbbells are used less for pure strength building, but are mostly used for a combination of strength and endurance sports.

Barbells or two-handed dumbbells have a longer bar and more weight, which is why they are primarily used in bodybuilding and are less suitable for rehabilitation or therapy sports. They are usually equipped with weight plates, also called weight plates.

Curl dumbbells are another form of barbells. They are characterised by the SZ shape, which protects the forearms during the workout.
Buy dumbbells and other therapy equipment online - at Medicalcorner24
At Medicalcorner24, you can find classic dumbbell sets, kettlebells and vibration dumbbells as well as other materials to support your individual therapy measures in the therapy supplies. For example, supplement your muscle building with hand trainers or gymnastics mats for training with your own weight: