Back Braces
Back braces can be worn e.g. for therapeutical activities or sports as well as during the daily routine at work or at home. They stabilise spine and muscles after injuries or surgery or are used to counter and correct malpositions.
The selection includes diverse types of back braces, like e.g. thorax-abdominal braces or corsets to keep the thoracic spine upright. Back braces are available in different sizes and colours. Read on here at the end of this page.
...


Back Support Braces for all areas of the back & torso
Back support braces support the spine and relieve the back muscles. In case of incorrect posture, irritations, or injuries, the different back braces help stabilize the vertebrae, joints, and muscles in the back area from the shoulders down to the hips. When engaging in physically demanding activities or work, wearing preventive back braces can minimize the risk of injury – for example, orthopedic back support belts when lifting heavy objects. Buy back support braces online now!
What types of back braces can you buy online?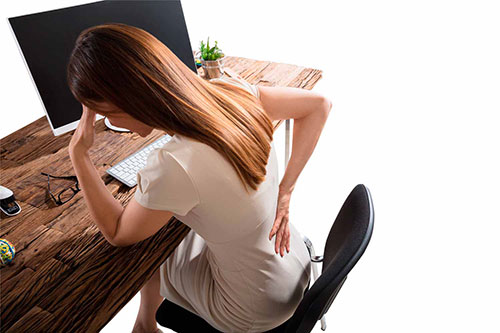 In our range, we offer various types of back braces that, depending on the model, support and relieve the spine, back muscles, back ligaments, or connective tissue in the upper and lower abdomen, or correct incorrect posture. The offered back support braces are made of skin-friendly, durable materials and provide a high level of comfort even during prolonged use. In the online shop of Medicalcorner24®, you can find, for example:
thoracoabdominal supports

rib braces & rib belts

adult umbilical hernia braces

maternity belts for pregnancy

back stabilizers

pelvic orthoses

symphysis belts

lumbar braces

orthopedic back belts

braces for back pain

back support belts for men & women
Orthopedic support belts for the spine and back
For different areas of the spine, suitable back braces are offered for muscular stabilization and correction of incorrect posture. To stabilize the lumbar spine, stable orthopedic support belts for the back are suitable, which adapt anatomically and are applied similar to normal belts. Such a back support is used for treating back pain in the lumbar region or degenerative spondylolisthesis after disc surgery.
For incorrect posture or pain in the thoracic spine area, elastic back stabilizers promote active alignment of the spine into an optimal position, thus correcting the posture. Such an active brace is applied using the backpack principle and can be individually adjusted. These back braces should not be confused with rib braces which are worn to stabilize the chest after a rib fracture.
Thoracoabdominal supports are elastic bandages made of breathable fabric, which, depending on the model, enclose the area from the sternum to the lower abdomen. They are applied like belts and can be comfortably adjusted individually with Velcro fasteners. Such a back brace is used for the circumferential stabilization of the thoracic and abdominal areas. A support belt of this type is, for example, worn after surgical procedures, in cases of abdominal injuries, or connective tissue weakness in the abdominal area. These braces are also known as adult umbilical hernia braces. You can buy these and other back support braces in our online shop – order now!
FAQ - Frequently Asked Questions
Who should wear a back support brace and when?
Sitting for long periods of time significantly strains the back muscles more than walking or standing. Sitting often leads to an incorrectly loaded back musculature. Prolonged sitting also excessively burdens the intervertebral discs. In combination with a lack of movement or physical activity, prolonged sitting in the office or at home can result in tension, misalignment, and back pain.
In the face of back pain, many sufferers adopt a kind of hunched protective posture. Over time, this shortens the back muscles, which further worsens the symptoms and can trigger a vicious cycle of new back pain and avoidance postures. People who work in offices and sit for more than 14 hours a day are particularly at risk of compromising their back health.
Wearing a suitable brace can help counteract back pain. For example, a back support belt brings the spine into an optimal, upright position and supports the back muscles. Individuals who have had an accident or surgery also wear orthopedic back support belts to aid in the healing process. Back orthoses are used both preventively and for pain therapy and treatment. The orthopedic back belt can be comfortably worn under clothing during the day at work, effectively protecting and stabilizing the back.
How does a back brace help?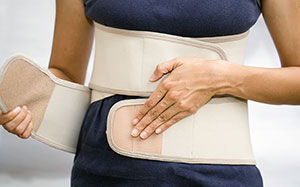 A back brace helps individuals with a weak or injured back to straighten their posture. It also helps prevent tension and provides relief to the back muscles through its stabilizing support function. As orthopedic support belts for the back, back braces support the lumbar spine, ensuring proper body posture.
Tip: After surgery, orthoses aid in the restoration of mobility by providing support to the back during the healing process. Orthopedic back support belts also support therapy by stabilizing the back while maintaining a high degree of mobility.
Back braces are made of elastic, breathable knitted fabric. While wearing the brace, the material gently massages the back, promoting blood circulation to the deeper muscle tissue and accelerating the healing process.
In addition, an orthopedic back belt alleviates the fear of exacerbating pain through incorrect movements. The brace provides secure support where needed, protects the muscles, and ensures that your back is protected from external impacts, such as shocks.
Some back support braces incorporate additional back pads (pelottes). The pelottes massage specific points on the back and improve pain relief. The massage promotes blood circulation and aims to activate muscular functions.
Functions of a back support brace summarized:
posture correction
aiding the healing process
pain relief
pain therapy
preventive back protection
How do I Wear a Back Support Brace?
Depending on the model you purchased, a back support brace is simply placed around the back or lower back (back support belt). Thanks to adjustable closures, the belts for back pain can be flexibly adjusted to fit your body circumference and worn comfortably. Especially during activities that involve movement, it is recommended to wear a back orthosis. You should remove the support brace during longer periods of rest. Continuous support of the back muscles can cause muscle tissue to deteriorate, which also has negative effects on body posture. Order now online!
Which back support brace is right for me?

Which back support brace you should order and which one is right for your condition should be determined by a doctor. Because back pain has different causes and needs to be treated accordingly. Just as the treatment options differ, so do the suitable back braces.
Order the ideal back orthosis at Medicalcorner24®
The right orthopedic back support brace is crucial for the course of therapy and optimal healing process. Moreover, using the wrong back support brace not only fails to achieve the desired effect – it could worsen the symptoms or cause new problems.
After orthopedic consultation, special sports braces are often recommended to continue protecting the muscles even after treatment. Depending on the procedure or healing process, a multifunctional orthosis may also be beneficial. Such orthopedic back support belts can be complemented with individual elements and customized for the best fit.
In the online shop of Medicalcorner24®, you can buy various types of back support braces. Additionally, we offer many other braces in the field of bandages and orthoses that can help with misalignment, lumbago, overuse, muscle weakness, or other pains: