Breathalyser - Test per mille quickly & reliably
Breathalysers are measuring devices that determine the alcohol content in the breath. The devices use various sensors - from semiconductor sensors to infrared sensors to electrochemical sensors. In our online shop, you will find police-specific alcohol testers that show exactly how high the alcohol level is and whether the test person is still fit to drive. Our range includes mobile breathalysers as well as accessories such as disposable mouthpieces with a rebreathing barrier. Quick alcohol tests for at home or on the road are also part of the range.
For more information on how alcohol testers work and how to use them, see the bottom of this page. Find out more now...
...


Buy alcohol tester and promille tester - measure blood alcohol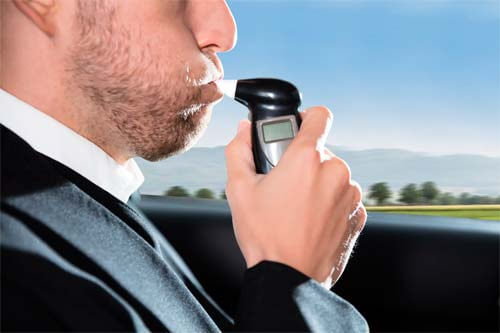 You want to know whether you are still allowed to drive after a corresponding alcohol consumption? Or do you have to be able to safely check the driving ability of other people for professional reasons With our mobile alcohol testers and promille testers, you can rely on quick results with the highest measurement accuracy. In our online shop, you can buy alcohol testers that convince with their ease of use. The alcohol content of the blood is indicated on an LCD display or by discolouring granules. The breathalysers in our range are handy devices - about the size of a smartphone - that can be carried around in your handbag or jacket pocket. Many models also offer the option of saving measurement results and evaluating them later via an app.
Replaceable mouthpieces with a back-breathing barrier ensure maximum hygiene when using the breathalysers. They also guarantee better readings than blowing straws or devices without a blow-in aid. The mouthpiece should be replaced after each use. This serves both hygiene and the accuracy of the measurement result. Do not attempt to clean the mouthpieces - this could interfere with the function of the rebreather, causing measurement inaccuracies and erroneous results. Buy a breathalyser now!
How does a breathalyser work?
A breathalyser measures the breath alcohol concentration during use to calculate the blood alcohol concentration. When you drink alcohol, much of it enters the blood through digestion. However, ethanol is also released into the air you breathe via the alveoli. This happens as part of the natural gas exchange during breathing. Breathalysers contain either chemicals that change colour on contact with the exhaled air or sensitive sensors that measure the alcohol concentration.
Since the breath alcohol concentration value is much lower than the blood alcohol concentration value, an electric breathalyser calculates the actual alcohol level on the basis of the breath alcohol. In rapid tests, which consist of a tube to blow into, granulate is usually used, which turns colour when it comes into contact with alcohol from the breath.
Mobile, digital breathalysers compared to other systems
Mobile, digital breathalysers and promille testers are battery operated. Thanks to exchangeable mouthpieces, the high-quality devices can be used over a long period of time. In addition, digital breathalysers are also used by the police in general traffic controls. Depending on the type, the test devices use different sensors to determine the blood alcohol level of the test person based on the breath taken:
Semiconductor sensor: has a sensor layer coated with metal oxides which reacts to ethanol and similar gases.
Infrared sensor: Measures the light transmission of injected gases and thus determines the alcohol content.
Electrochemical sensor: the oxidation of metal by a gas - in this case ethanol - produces a current flow between two diodes. This current flow enables a statement to be made about the per mille value.
Disposable alcohol tests
These rapid alcohol tests, also known as blow tubes, consist of simple plastic tubes containing a chemical granulate. If this granulate comes into contact with ethanol, it changes colour. The test is not performed directly into the tube, but first into a balloon. The breathing air from the inflated balloon is then emptied into the test tube. The measuring accuracy of disposable alcohol tests is lower than that of sensor alcohol testers. However, it provides sufficient information about the current driving ability. As disposable tests, tubes and balloons must also be disposed of after use.
Alcolock ignition lock
The Alcolock is a highly efficient but also very expensive system that was developed specifically for installation in cars. It functions as an immobiliser that first measures the breath alcohol before driving and only unlocks when it has been proven that the driver is fit to drive. The measurement accuracy is very high and reaches the quality required for police testing devices. The cost of an Alcolock is around 1,000 euros. Some states, such as the USA, impose the installation of an Alcolock on alcohol offenders as a court sentence.
Breathalysers for more safety on the road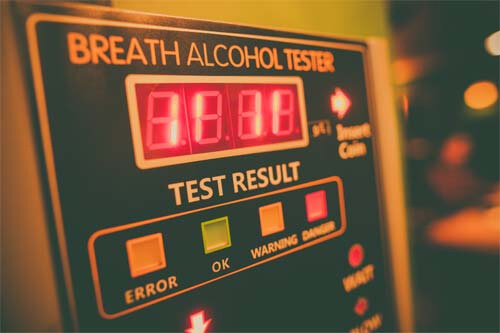 In some catering establishments, it is possible to measure one's own alcohol level - in this way, serious traffic accidents can be prevented.
Drunk drivers are among the greatest dangers in road traffic, as alcohol leads to impaired perception in the body and slower reactions in dangerous situations. Every year, thousands of traffic accidents occur under the influence of alcohol. Breathalysers ensure that the driver of a car is actually fit to drive. The famous "blow" at the police checkpoint can cost drunk drivers their driving licence.
If an increased breath alcohol concentration is detected, a blood sample can then be ordered. The proportion of alcohol in the breath is significantly lower than the blood alcohol concentration, which is why the exact number of per mille can only be determined on the basis of the blood sample in the laboratory. Therefore, please note that it is not the breath alcohol test but only the blood test that is legally relevant.
A police-accurate alcohol test is now also available to private individuals with the modern testing devices from our range. In Germany, however, there is no obligation to carry alcohol testers in your vehicle. In France, however, it is already a legal requirement to carry an NFX-approved breathalyser in the vehicle.
Catering establishments, on the other hand, often use stationary devices to check the driving ability of guests and, in case of doubt, advise them against driving home in their own cars. Currently, the introduction of alcohol testers that can be installed in vehicles and that trigger an immobiliser if alcohol levels are too high is already beginning on a trial basis.
The promille testers from our shop are suitable for private use as well as for use in social stations, transport companies or security companies. Check yourself and encourage other drivers to check their breath alcohol concentration.
Accurate and easy-to-use breathalysers can be ordered online here in the shop.
Some tips before you buy a breathalyser online
Before you buy a breathalyser, you should consider what exactly you need the tester for and what measurement quality is required for your purposes. The following questions can help you make your choice:
What is the accuracy class of the measuring device? These range from level 1+ (professional, police-accurate measurement) to level 4, which only provides an approximation of the actual blood alcohol level. Use at least level 1 for professional use breathalysers. If you are looking for an NFX-approved breathalyser for driving in France, you will recognise them by the French standard France NFX 20702 for disposable breathalysers and NFX 20704 for reusable testers.

What kind of sensor or test medium is installed? Depending on the type, semiconductor sensors, infrared sensors, electrochemical sensors or granules are used.

Can the device be calibrated? Alcohol measuring devices must be recalibrated every six months or once a year, depending on the model.
There are also various differences in the equipment of the alcohol measuring devices. Some alcohol testers have replaceable sensors or allow the evaluation of test results via an app. If the tester has to be carried in the car for private or professional use, a model that can be recharged in the car is recommended.
The correct use of a breathalyser
Please refer to the enclosed instructions for use for the exact application of your respective breathalyser. Do not drink any alcohol or consume any food containing alcohol for at least 15 minutes before use. Otherwise, so-called mouth alcohol could falsify the measurement result. This is alcohol that is absorbed into the breath from the upper mouth and throat. These residues evaporate by themselves after a while.
Usually, the use of a Promilletester proceeds like this:
After switching the meter on, it has to warm up first. Once it is ready, put the mouthpiece to your lips and blow into the device continuously until the test is finished. Most testers will then beep. If you want to check the test result, simply wait a few minutes for any residual mouth alcohol to dissipate and repeat the procedure using a new mouthpiece.
A new mouthpiece must be used because residual alcohol can be retained in a used specimen. A new measurement could be falsified by this. For this reason, you should also not clean or disinfect the mouthpiece.
Breathalyser with high measuring accuracy order cheap online
In our shop you can buy alcohol testers and promille testers online at low prices as well as high quality. Apart from alcohol testers you will also find here in the online shop: