Disinfection & Cleaning
The selection of disinfectants and professional cleaning agents includes e.g. products for the disinfection of hands and skin, distilled or double-distilled water (Aqua Dest & Aqua Bidest), pharmaceutical Isopropanol, special cleaners for instrument disinfection or medical surface disinfectants.
Many of the highly efficient disinfectants for skin, surfaces or instruments are available in different sizes and quantities. Read on here at the end of this page.
...


Effective Protection against Pathogens, Viruses, and Germs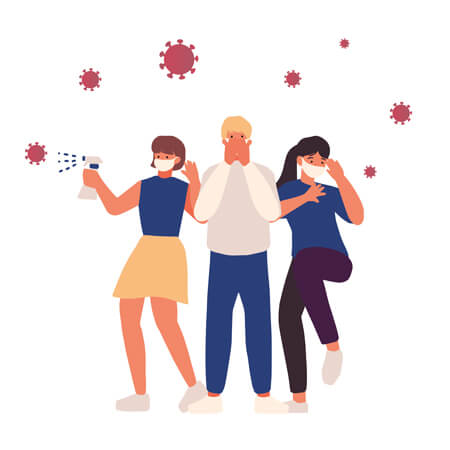 Especially during the Covid-19 pandemic, proper hygiene is a central issue. Disinfectants can help reduce the risk of infection by viruses, as well as bacteria or fungi.
Disinfection is particularly important in the medical field. It is crucial to prevent the transmission of pathogens and to stop the spread of antibiotic-resistant bacteria, such as MRSA.
Disinfectants are used to kill or inactivate pathogens. The respective product descriptions indicate which disinfectants are listed according to DGHM (German Society for Hygiene and Microbiology), VAH (Association for Applied Hygiene), or RKI (Robert Koch Institute).
Disinfectant
according to RKI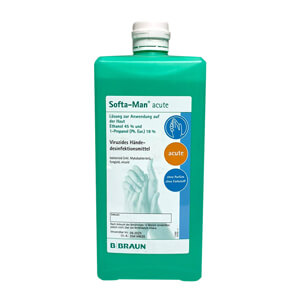 The B. Braun hand disinfectant Softa-Man® acute complies with the requirements of the Robert Koch Institute.
Disinfectant
according to VAH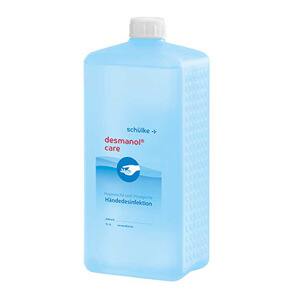 The Schülke hand disinfectant desmanol® care complies with the requirements of the Association for Applied Hygiene.
Disinfectant
according to DGHM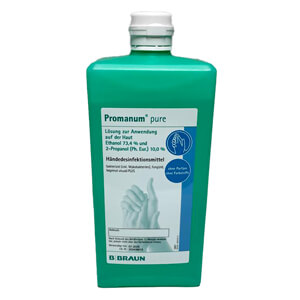 The B. Braun hand disinfectant Promamum® complies with the requirements of the German Society for Hygiene and Microbiology.
In addition, you can find the spectrum of activity of each disinfectant on the disinfectant label:
bactericidal: effective against bacteria

fungicidal: effective against fungi

limited virucidal: effective against enveloped viruses, such as Hepatitis B or C viruses and HIV

limited virucidal plus: effective against enveloped viruses and some non-enveloped viruses that are particularly common in clinics and care facilities

virucidal: effective against all viruses, such as the coronavirus or norovirus
Our range of disinfectants and professional cleaning supplies extends from products for hand and skin disinfection to simple distilled water (Aqua Dest) and double-distilled water (Aqua Bidest), pharmaceutical isopropanol, specialized cleaners for instrument disinfection, and medical surface disinfectants.
We offer many of these highly effective disinfectants for skin, surfaces, devices, and instruments in various sizes and quantities. In addition to liquid solutions, our extensive range at Medicalcorner24 also includes cleansing disinfection wipes.
Versatile Applications - Areas of Application for Disinfectants
The variety of different disinfectants is primarily due to the breadth of application areas. In particular, hand disinfectants have become indispensable in daily life, aiming to ensure hygiene during interactions among multiple people and prevent the spread of viruses. However, even before the COVID-19 pandemic, the areas of disinfection were diverse:
Medical Facilities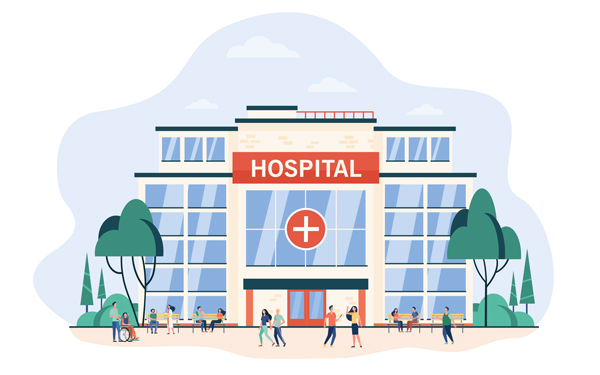 Medical facilities rely on enhanced hygiene concepts. Regular disinfection of surfaces, floors, and hands prevents the risk of cross-contamination and protects patients, visitors, as well as the medical personnel. Additionally, instrument disinfection offers the advantage of hygienically preparing and reusing medical utensils.
Medical practices

Clinics & hospitals

Therapeutic facilities

Nursing homes

Retirement homes
Public Institutions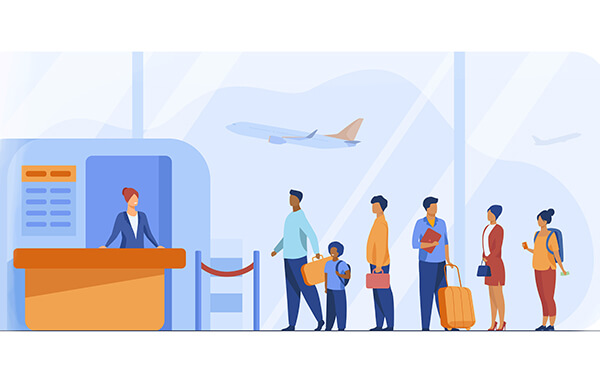 In public places with a high number of visitors, hand disinfection dispensers are indispensable. Additionally, frequently used objects like door handles should be disinfected to prevent the spread of viruses, bacteria, and germs as effectively as possible.
Retail stores

Public restrooms

Kindergartens, universities & schools

Government agencies

Exhibition halls

Airports & train stations
Gastronomic Establishments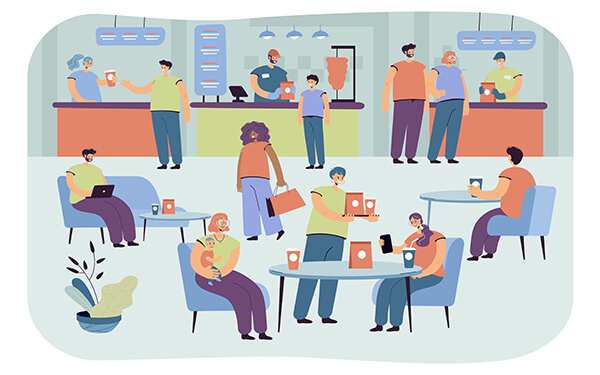 Similar to medical facilities, gastronomic establishments should adhere to an enhanced hygiene concept. In addition to regular hand cleaning, surfaces and tools that come into direct contact with food should be disinfected and then rinsed with clear water.
Restaurants

Bakeries

Canteens

Cafés
Work Environment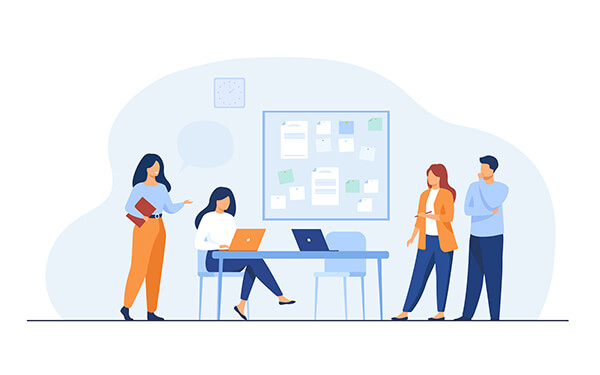 Isopropanol and surface disinfectants are essential for professional cleaning. However, other fields, such as cosmetic treatments, also require regular disinfection.
Food industry

Cleaning companies

Cosmetic treatments

Tattoo studios
Household - Disinfectants for the Home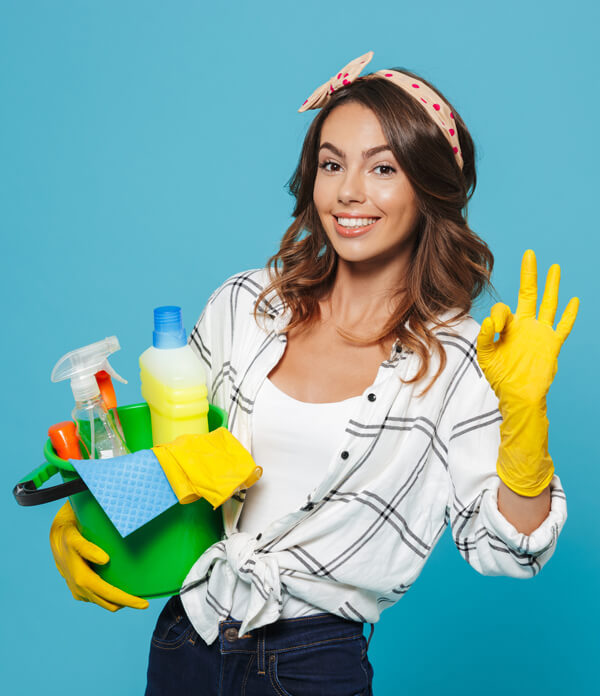 Medicalcorner24 offers a variety of different disinfectants that can be safely integrated into everyday life in your own home. A germ-free home generally provides the following benefits:
If a household member or family member is suffering from a highly contagious infection, disinfectants help break the chain of infection.

If the risk of infection is particularly high for individuals with weakened immune systems, cleaning with disinfectants can help protect them.

To minimize the spread of germs, viruses, and bacteria.

Regular disinfection of frequently used household items (e.g., smartphone, laptop, remote control, telephone, table, countertop) reduces the risk of infection with harmful pathogens.
What types of disinfectants are available?
Depending on the application area, manufacturers of medical products have suitable disinfectants to meet specific disinfection properties and requirements.
Hand and Skin Disinfectants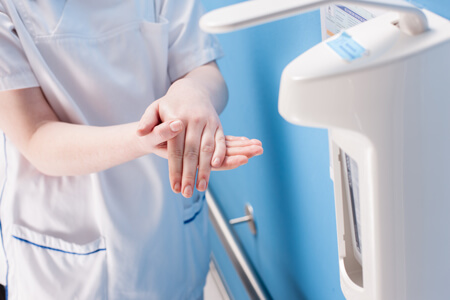 Hand and skin disinfection prevents pathogens from being transferred from one person to another using disinfectants. Hand disinfectants are an effective means of interrupting infection chains and are an important part of the fight against the Covid-19 pandemic. They can be used in liquid form, as hand disinfectant gel, or as convenient disinfectant wipes. You can find hand disinfectants in various sizes and versions at Medicalcorner24®.
Before invasive procedures, punctures, injections, and blood collection, the skin must be disinfected to prevent germs, viruses, and bacteria from entering the open wound. Usually, a skin disinfectant is sprayed onto the skin, but it can also be applied with a swab.
What properties should hand and skin disinfectants have?
Especially gentle on the skin

Disinfectants with nurturing components

Optimal for everyday work in clinics and medical practices

No cumulative long-term effects

Special skin-compatible properties such as moisturizers
Our hand disinfectants are suitable for germ-free hands and surgical hand disinfection!
Buy now
Surface Disinfection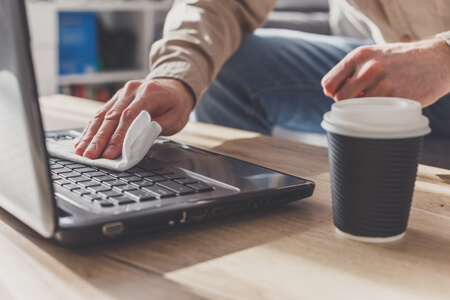 In clinics, medical practices, gastronomy, and care facilities, floors, inventory, and surfaces must be regularly disinfected. Surface disinfection for wiping or spraying acts quickly and eliminates dirt and germs from the treated surface. Disinfection cleaner concentrates mixed with water are usually used for disinfecting floors and large surfaces. For disinfecting smaller areas, equipment, and dispensers, ready-to-use surface disinfectants and disinfectant wipes are commonly used. Often, so-called disinfection cleaners are used, which clean and disinfect in just one step.
What properties should surface disinfectants have?
Protection against everyday germs

Suitable for sensitive materials

Odor-binding properties

Ready to use

Disinfection of common surfaces
Buy now
Instrument Disinfection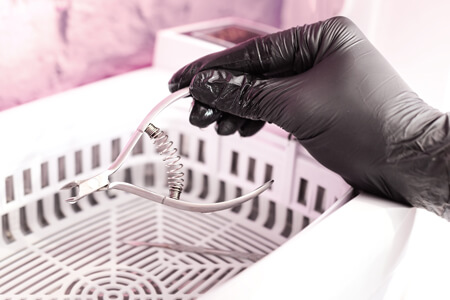 Medical instruments used in hospitals, laboratories, and medical practices need to be thoroughly disinfected. For this purpose, the instruments are placed in an appropriate immersion bath or an automatic thermal disinfector after use. We offer a wide range of powerful instrument disinfection and preparation agents. These are primarily offered as concentrates to prepare an aqueous solution independently. Additionally, you can find disinfection trays for manual cleaning of medical instruments in the online shop of Medicalcorner24®.
What properties should instrument disinfectants have?
Suitable for disinfection of reusable devices

Appropriate for instrument preparation

For medical use as well as in hobby areas (e.g., nail studios)

Convenient disinfection trays available in the shop
Buy now
Isopropyl Alcohol - The All-purpose Cleaner and Disinfectant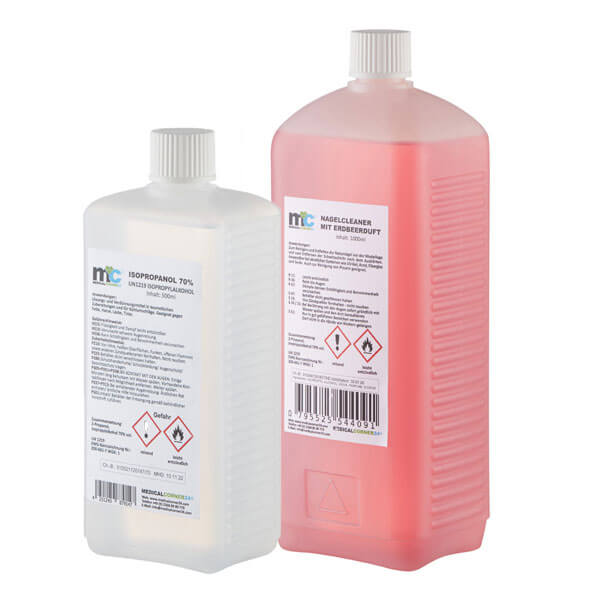 Pharmaceutical-grade isopropyl alcohol is a highly concentrated secondary alcohol that can be used as a disinfectant and cleaning agent, solvent, diluent, or to combat mold. Isopropyl alcohol, also known as isopropanol, is available in different concentrations at Medicalcorner24®.
Versatile in its applications

Suitable for disinfection, cleaning, and as a solvent

Available in different concentrations

Convenient spray bottles
Buy now