Heart Rate Monitors
The range of products for measurement of pulse and heart rate includes different heart rate monitors. For example in form of wrist bands or pulse watches that can be carried to keep an eye on the pulse rate during sports or while travelling. Pulse monitors and oximeters for the fingertips measure pulse rate and arterial oxygen saturation during medical examinations or private use.
The selection includes different models of heart rate monitors and pulse oximeters with varying extra functions. For any questions regarding our growing assortment of heart rate and pulse monitors, just contact our friendly service team. Read more at the end of this page.
...


What are Heart Rate Monitors used for?
Heart rate monitors are ideal companions for sports activities. They help optimize training and facilitate routines. All data is always in view and evaluated individually. Especially for inexperienced users who want to monitor their performance data, heart rate monitors are a sensible investment. Especially when equipped with a warning system, they provide early warnings of potential overexertion. They are also helpful in the medical field for monitoring pulse, oxygen saturation, and overall health. They help detect heart diseases in a timely manner.
Heart Rate Monitors and their Different Types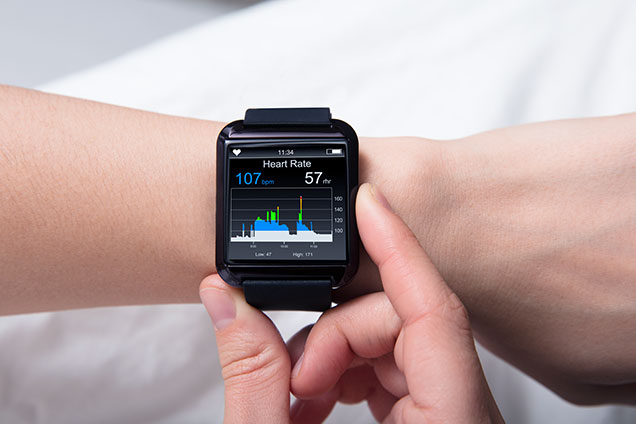 Pulse watches, running watches, or sports watches: different names for the same device. Chest straps are usually used for pulse measurement with such watches. They measure the heart rate using special electrodes that are in contact with the skin. Impulses are emitted through the skin and detected by the sensors. Then, the strap sends a radio signal to the wristwatch, which evaluates it and displays the current heart rate value on the display. One advantage of the chest strap is the accurate measurement. There are also models that utilize Bluetooth and are compatible with common smartphones. Chest straps are particularly suitable for endurance sports.
Since the chest strap is not the most comfortable method, many people prefer measuring the pulse through the wrist. In this variation, the pulse is measured optically. How does it work? LED lights are located on the underside of the pulse watch. These emit light into the skin tissue on the wrist, which is then reflected. The reflected light provides information about blood flow and is measured by the heart rate monitor. This method of measurement is more comfortable, but the results are not as accurate as with a chest strap.
Activity Trackers with Many Additional Features
In addition to the heart rate sensor, many trackers have several additional features. For example, step counters, calorie counters, information about fat burning, GPS connectivity, or data storage function. Since some models are even waterproof, swimmers can also benefit from a heart rate monitor. Buy a heart rate monitor now at Medicalcorner24®!
The Pulse Oximeter: Pulse Measurement through Finger Sensor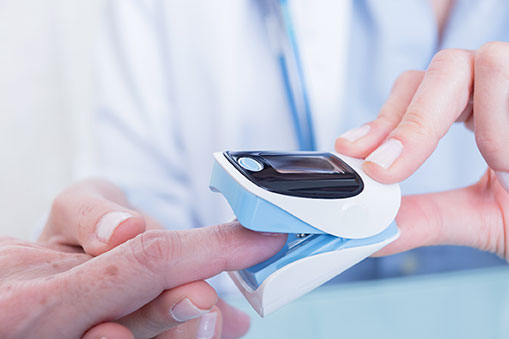 Another way to measure the pulse is through devices called pulse oximeters. These small pulse measuring devices are simply placed on the fingertip. They also measure blood oxygen saturation simultaneously. Here, too, the measurement is optical. The device consists of two parts. On one side, there is a light source, and on the other side, there is a light sensor. Both sides surround the finger, and infrared rays are emitted by the light source through the finger. The opposite sensor measures which parts of the light were absorbed by the blood. What is absorbed depends on the concentration of red blood cells and their saturation with oxygen.
Pulse oximeters are usually used in performance tests or for the stationary monitoring of a patient's condition in the hospital.
What does the Pulse actually do?
Pulse basically refers to the expansion of the arteries after each heartbeat, which is measured using specific methods. The heart rate is measured per minute, which is why the term "pulse" generally refers to the heart rate. It is an important indicator of physical exertion. The body regulates the heart rate, similar to blood pressure, based on the current demands placed on it. The frequency of the heartbeat during low exertion, known as the resting heart rate, is as follows:
Infants: approximately 130 beats per minute
Children: approximately 100 beats per minute
Adolescents: approximately 85 beats per minute
Adults: approximately 70 beats per minute
Seniors: approximately 80 beats per minute
The counterpart to the resting heart rate is the maximum heart rate, which is the highest heart rate during maximum physical exertion. It is calculated based on gender, age, body weight, and fitness level. To avoid overloading the cardiovascular system during exercise, it is important to know one's personal maximum heart rate value and determine it through pulse measurement. The heart rate zone is also important, and depending on the training intensity, it can be divided into the following zones:
| Heart Rate | Zone | Goal |
| --- | --- | --- |
| 50 - 60% of maximum heart rate | Health zone | Promote health, strengthen cardiovascular system |
| 60 - 70% of maximum heart rate | Fat burning zone | Burn fat, improve basic endurance |
| 70 - 80% of maximum heart rate | Aerobic training | Improve endurance, burn carbohydrates and fats |
| 80 - 90% of maximum heart rate | Anaerobic training | Build strength and muscles |
| 90-100% of maximum heart rate | Competition zone | Improve maximum performance and speed |
Now you can conveniently purchase all the important devices for pulse measurement in our online shop. We also offer other diagnostic devices for cardiac prevention and monitoring, such as an ECG device or blood pressure monitors. Buy a pulse meter online at Medicalcorner24 and check your health!
Buy pulse meters at Medicalcorner24®
In addition to pulse measurement devices, you will also find the following items in the online shop of Medicalcorner24: