Instant Cold Compresses
Instant cold compresses are cooling packs which can be used immediately without pre-cooling. It is suitable to cool injuries like e.g. bruises, sprains, scaldings or pulled muscles. Instant cold compresses provide easily usable first aid measures for sports, diverse medical treatments or private use at home.
The selection includes instant cold compresses in different sizes and convenient lot sizes. Please direct any questions regarding the available products to our friendly service team. Read on here at the end of this page.
...


The Instant Cold Compress - Cooling Compress for Emergency Situations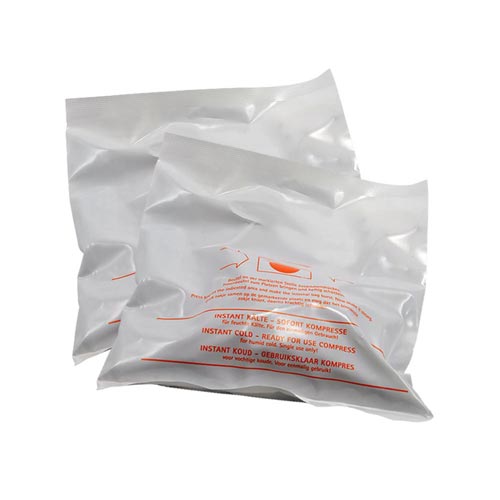 An instant cold compress is an immediate cooling aid for emergency situations and initial care. When rapid cooling is needed, such as for sprains, bruises, and similar injuries in everyday life or during various sports activities, the instant cold compress provides immediate relief. There is no time for pre-cooling in order to prevent swelling and alleviate pain. With the instant cold compress in your first aid kit, you will find isntant relief, and the long waiting time is eliminated!
Instant cold compresses are equipped with an inner pouch that is ruptured by applying firm pressure, causing a cooling liquid to be released into the cold pack, which then distributes within the compress. This achieves a temperature of approximately 3 degrees to -8 degrees Celsius within seconds. The cooling effect of the instant cold compress remains constant for at least 20 minutes. Be prepared for quick cooling and purchase instant cold compresses at Medicalcorner24®!
Note: Do not apply the instant cold compress to open wounds. For skin protection, use a barrier, such as a cloth, to avoid direct contact with the skin and prevent frostbite. Store instant cold compresses in a dry and frost-free place.
Application and Function of the Instant Cold Compress
The instant cold compress relieves pain within seconds. Simply follow these steps to apply the cold pack:
Remove the cold compress from the first aid kit
Fold and knead the pouch
The liquid inside the pouch is activated
Apply once and press it onto the affected area
The immediate cooling effect is activated when the inner water bladder triggers an endothermic reaction between the water and the nitrogen salt mixture contained inside, upon applying pressure. Shaking and kneading support the reaction. After 30 minutes, the cooling effect diminishes, and the instant cold compress can be disposed of after single use.
Overview of Application Possibilities of the Cold Compress
Cold compresses or cool packs are suitable for use as a cold bandage for the following purposes, as well as for relieving pain in the case of the following conditions, injuries, and accidents: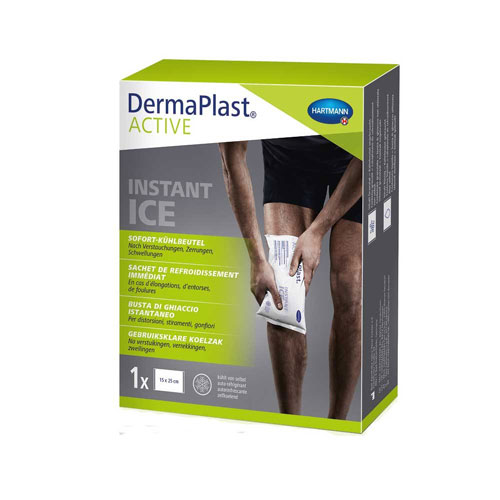 Sports injuries
Sprains
Bruises and contusions
Hematomas
Strains
Hyperthermia
Burns
for cryotherapy
The cold packs offered here differ from gel compresses in their immediate cooling effect and single-use capability. Unlike cold packs, gel compresses can also be used warm as hot-cold packs, but they take longer to reach the desired temperature. Note: The so-called hot-cold packs can be cooled in the freezer or refrigerator or heated in the microwave for use as a heat compress. In contrast, instant cold compresses must not be heated!
Order Cool Compresses at Medicalcorner24®
We offer the cold compresses in various variations and sizes. Apart from instant cold compresses, you will also find other cooling products and matching accessories in the online shop of Medicalcorner24®: