Pulse Oximeter – Reliably Measure Oxygen Saturation
Finger pulse oximeters are non-invasive diagnostic devices that measure the oxygen saturation of the blood using a strong light source. At the same time, the oxygen saturation measuring devices allow the pulse rate and heart rate to be monitored, as arterial blood is scanned via photodetector. Finger pulse oximeters are attached to a patient's fingertips, but can also be attached to the earlobe or, in the case of young children or infants, to the foot. They are used particularly frequently in oxygen therapy. Some devices have a recording function for the measured values. Benefit from the many advantages when you buy pulse oximeters at Medicalcorner24®:
painless measurement of the oxygen content

available in different sizes
high quality & cheap

for use at home as well as in practices and clinics
Buy finger pulse oximeter and pulse oximeter now in our shop! Read on here at the end of this page.
...


Buy High Quality and Low Priced Finger Pulse Oximeters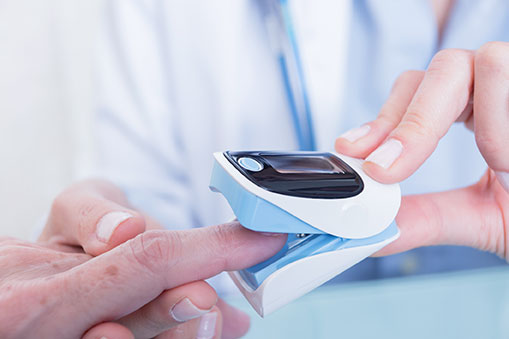 Pulse oximeters are medical diagnostic devices with which the blood oxygen saturation can be measured within a few seconds by fluoroscopy. Hemoglobin (the red pigment of the blood), which is enriched with oxygen, can be distinguished from oxygen-free hemoglobin in pulse oximetry. The scan of the blood vessels serves to record the different wavelengths of loaded or unloaded hemoglobin and thus measures the oxygen saturation of the arterial blood.
How is a Pulse Oximeter Used?
As the name suggests, the device does not measure the patient's pulse, but rather the oxygen content in the blood. Since this measurement can be carried out particularly well at the fingertips, most oxygen saturation measuring devices are designed as finger pulse oximeters. They have a clip with which the device can be securely attached to the finger. There are also handheld pulse oximeters. The pulse oximeters from our range can be used either with regular batteries or with rechargeable batteries. Instructions are included with the device. The finger pulse oximeters are also used regularly at home by people with COPD or asthma.
With pulse oximeters you can always check the vital signs. Buy the right pulse oximeter and finger pulse oximeter online here at Medicalcorner24®!
When measuring the pulse with the finger pulse oximeter, a few factors should be observed in order to avoid measurement errors. Painted or artificial fingernails can block the light. In patients with reduced blood flow to the peripheral capillaries - for example in the event of a shock - incorrect values ​​can also be displayed. Vibrations - for example during transport in an ambulance - can lead to incorrect values ​​in the pulse measurement. The best measurement results are achieved with stable patients in a resting position on the left hand.
Buy Pulse Oximeter at Medicalcorner24®
In addition to the oxygen saturation measuring devices, you can also find the following in the Medicalcorner24® online shop:
Blood Pressure Monitors
Blood Pressure Cuffs
Blood Glucose Meters
ECG Devices
Scales