Hand Bandages
Hand bandages stabilize injured or strained ligaments, sinews and muscles of wrist or fingers, thus relieving pain and supporting the healing process. Bandages for hands are made of durable materials that are gentle on the skin and can be worn day and night.
Wrist bandages, finger splints or thumb orthoses are available in different variations, colours and sizes, e.g. for children and adults. Read on here at the end of this page.
...


Support Healing & Facilitate Movement with Hand Bandages from Medicalcorner24®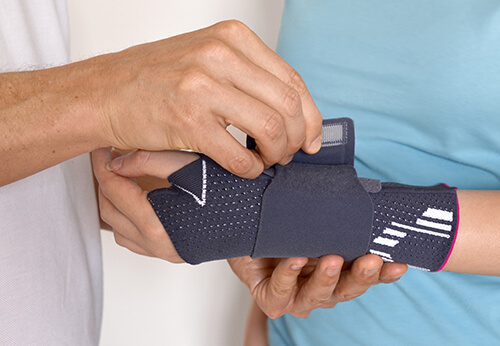 Irritations and injuries to the hand apparatus such as arthritis, inflammation of the tendon sheaths, or carpal tunnel syndrome can cause severe hand pain. In therapy, a bandage is used for immobilization. Hand orthoses and bandages serve to stabilize the joint, supporting healing and facilitating movement. Depending on the injury, hand bandages can support individual or multiple areas of the hand simultaneously to alleviate hand pain.
Buy hand bandages now at Medicalcorner24®!
Wrist Bandages
Medicalcorner24® offers wrist bandages in various designs, either with anatomically preformed splints or as elastic hand bandages with silicone pads for intermittent massage. These bandages are used for relief and support of the wrist, especially in chronic, post-traumatic, and postoperative irritations. The bandages are designed to allow optimal finger mobility while stabilizing the wrist. They provide support to the wrist by exerting targeted pressure on the tendons and muscles in the forearm. This can help relieve the musculature and alleviate pain.
Medicalcorner24®'s bandages are particularly suitable for individuals suffering from wrist injuries such as sprains or strains, wrist arthritis, tendonitis (tendovaginitis), or a feeling of instability. They provide supportive effects and can promote the healing process. By applying targeted pressure on the tendons and forearm muscles, the bandages support the wrist while allowing flexible finger movement. This can lead to pain relief and muscle relief. Comfort for the wearer is the focus of Medicalcorner24®'s wrist bandages. These bandages are surprisingly easy to put on and take off, yet they remain secure and comfortable on the wrist. The moisture-wicking materials transport sweat to the outside, ensuring a pleasant wearing experience during use - whether at work, during leisure activities, or during sports.
Buy medical wrist bandages now!
Finger Splints
In addition to hand bandages, our range includes various rigid splints, supports, and orthoses to stabilize the finger joints. Our plastic finger bandages are particularly effective in protecting and stabilizing injured fingers. They can be easily slipped over the affected finger and are custom-made for an optimal fit. These bandages are a proven aid, especially for arthritis.
Furthermore, we offer flexible finger splints and finger bandages that are versatile. Our finger splints for the index finger can also be used universally to support the middle finger or ring finger. This provides you with versatile options to stabilize your finger joints and alleviate pain.
Buy hand bandages and finger bandages now!
Thumb Bandages
Thumb splints and thumb orthoses constitute a separate category due to the unique joint. These are worn over the thumb like gloves. Integrated splints keep the thumb metacarpophalangeal joint and thumb saddle joint still while allowing the other fingers to move. Thumb bandages support the wrist, ligaments, and cartilage.
Protect injured joints and ligaments and order hand bandages from Medicalcorner24!
Ganglion Bandage for the Finger
A ganglion bandage for the finger is a type of dressing or bandage specifically used to support and stabilize a ganglion or cyst on the finger. A ganglion is a cystic swelling, a fluid-filled cavity that usually forms at joints. It is a benign tumor. The bandage aims to alleviate the pain and improve finger mobility.
Causes of Hand Pain - Reasons for Wrist Pain
The complex structure of tissues, bones, muscles, tendons, and nerves in the hand is one of the most fascinating areas of the human body. Unfortunately, it also allows for irritations, inflammations, and other conditions. Hand pain is not only very uncomfortable for those affected but also significantly limits their activities.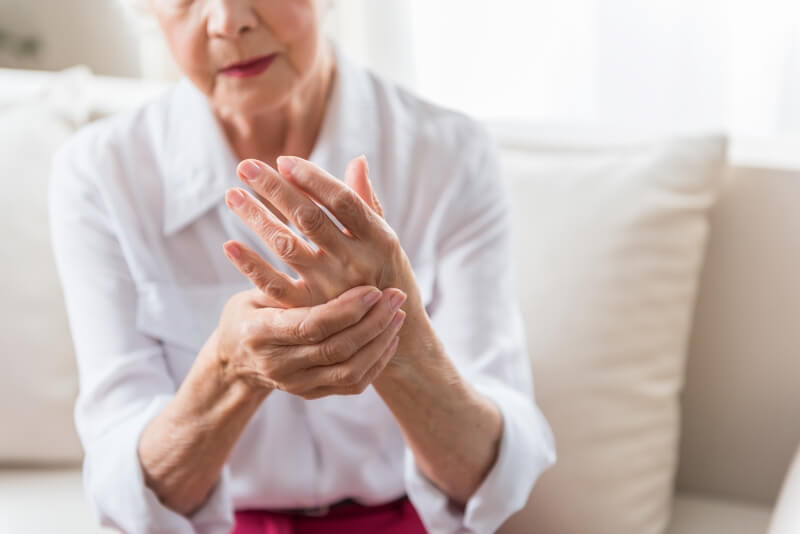 To determine and treat hand pain accurately, consult a doctor or orthopedic specialist. Nevertheless, the more common complaints can be attributed to the following causes and can be relieved with hand bandages:
Arthritis
Hand arthritis is a well-known part of aging and is not abnormal. However, people can be affected at an early age and experience severe symptoms. The most persistent form of arthritis is osteoarthritis. Hand bandages are used to support against cartilage wear.
Tendon Sheath Inflammation
Tendon sheath inflammation is one of the most well-known and unpleasant conditions affecting the hands. The tendon sheaths surround important tendon sections. When these become inflamed, it causes pain and restricted mobility for the affected individuals. In most cases, the condition is treated with orthoses or bandages.
Nerve Irritation
As a sensory organ, the hand consists of a variety of nerve fibers. Compression, diseases, or injuries to the nerves cause uncomfortable hand pain. Carpal tunnel syndrome is one of the most well-known conditions. Individuals suffering from it experience pain and numbness in specific areas of the hand.
Ganglion Cysts
Ganglion cysts, also known as synovial cysts, can occur anywhere fluid from joints and tendon sheaths can accumulate in a sac. The hand contains numerous joints and tendon sheaths that can cause this condition. After surgically removing a ganglion cyst due to severe symptoms, hand splints are used for temporary immobilization.
Fractures
The hand consists of 27 individual bones. Therefore, various painful fractures in the hand can occur. Hand bandages and splints are used to support the healing process and stabilize the affected bones postoperatively.
Order Medical Hand Bandages and More at Medicalcorner24®
With hand bandages from our shop, you can correct, guide, align, and immobilize the hand and fingers to achieve the desired hand or finger position.
Medicalcorner24 also offers other bandages and orthoses: