Positioning Aids and Pillows - for Pleasant Relief of Stressed Body Parts
Positioning aids support the relief of painful parts of the body and promote symptom-free sitting and lying. Orthopedic positioning cushions or seat cushions - such as wedge cushions, neck support cushions, lordosis cushions, positioning rolls and surgical covers - are used, e.g. in care for the elderly and the sick, to support hospital patients in their positions and in physiotherapy. In the Medicalcorner24® online shop you will find a large selection of different seat and positioning aids, surgical pads or anti-decubitus pads in different materials, sizes and colors. You can also discover special U-shaped pillows that can be used to comfortably rest the head during massages, cosmetic treatments or private breaks.
simple and hygienic cleaning with standard wipe disinfection

high quality and robust materials
extensive range of sizes and colors and available in practical quantities

for the doctor, physiotherapy and care sector or private use
Special pillows for positioning and relaxation - buy positioning pillows online now! Would you like to find out more about the advantages and use of positioning cushions and seat cushions from our range? Read on here at the end of this page.
...


Functions of Special Positioning Aids and Pads
Positioning or positional support is about stabilizing the patient in a comfortable sitting or lying position that is optimal for the intended treatment. The entire body or a specific part of the body can be brought into position with the help of specially shaped positioning cushions. In addition to positioning aids for temporary treatments or orthopedically correct sitting, Medicalcorner24® also offers products for the permanent stabilization and padding of bedridden patients for decubitus prophylaxis as well as pillows for pregnancy.
Positioning Pillows and Wedge Pillows for Targeted Relief of Various Parts of the Body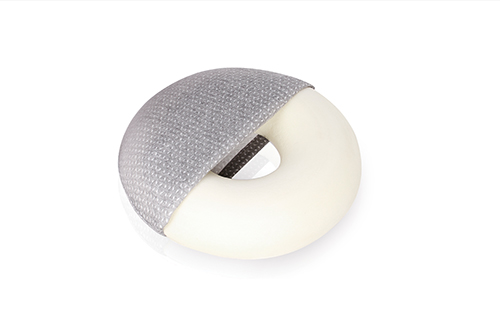 In pressure ulcer prophylaxis and therapy, the pressure-relieving position during patient care is particularly important in order to prevent pressure sores and protect the patient from pain.
Medicalcorner24® positioning cushions increase the comfort while lying down and are equipped with a special filling that enables optimal pressure relief. Various positioning aids help stabilize, mobilize and relieve various parts of the body such as the legs, knees or the intervertebral discs.
Special gel cushions or vein cushions can be used as seat cushions on any seat surface. Painful back problems can also be counteracted with the help of a positioning aid. A U-shaped semicircular pillow, for example, helps to stabilize the body while lying on the back and on the side. In addition, positioning cushions can be placed under the knees, which relieves the lumbar spine and prevents a hollow back.
Positioning Aids come in a variety of shapes and sizes for different areas of application. In addition to cube-shaped or wedge-shaped seat and posture cushions as well as round and semicircular rolls and lordosis cushions, there are also special shapes: These include vein cushions or lymphatic drainage wedges that have a surface with anatomically shaped depressions for the legs. Another special form are the U-shaped cushions, which cushion and stabilize the neck or serve as a surface for the face during a massage treatment. The simultaneous use of different positioning cushions enables a patient to be positioned on different levels.
Materials of Various Support Pillows and Positioning Aids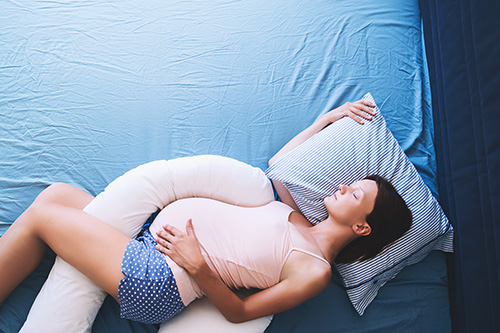 To be used in sick and elderly care or physiotherapy, the material of the positioning cushions must meet particularly high demands. Wedge pillows, vein pillows and rolls for position support from Medicalcorner24® are therefore made of high-quality materials such as solid poly-ether foam fillings or composite foam. Some models are additionally reinforced by a styrofoam core. Stable synthetic leather covers that are easy to clean are usually pulled over them. For maximum hygiene, these can be wiped off with a commercially available disinfectant. Many storage pillows also have removable covers that can be cleaned in the industrial laundry.
Conveniently order comfortable positioning aids to promote health online!
Positioning Techniques
Different clinical pictures require different positioning of the patient. We have summarized various positioning techniques for you:
30 degree inclination: Slide two large positioning pillows under the spine on the right, left or under the thigh. This leads to an even distribution of pressure, as either the right or the left half of the body is stressed in this position. Pressure points are avoided. Since the position does not put a strain on the circulatory system and a change of position is possible with little effort, this technique is also suitable for seriously ill patients.
135-degree position: This position is a gentler alternative to the prone position, which is associated with a high risk of bedsores. It relieves pressure in the back, sacrum and heel area and is also used for pressure points in the coccyx area. Place a positioning pillow under one half of the upper body, a second pillow is placed under the corresponding hip and thigh.
Micro-positioning:By placing special transfer aids and seat shells underneath, it is possible to move the patient quickly and gently and to reposition them with little effort. By changing position, the pressure is distributed and pain is relieved. The micro-positioning is mainly used for pain patients and people who cannot move on their own and therefore need support.
Exposed positioning: Place a cushion under the knee or thigh to expose the foot and heel. Make sure that the blood circulation is not impaired by the pressure on other parts of the body and that the knee is not hyperextended.
For pressure-relieving storage and position support - buy storage cushions now!
Buy Positioning Aids and More at Fair Prices at Medicalcorner24®
At Medicalcorner24® you can order storage pillows at low prices, in flexible purchase quantities and, if necessary, conveniently on account. Also discover our other therapy needs. You will find the following products and categories in our online shop: