Cannula Fixation Plaster for Secure Fixation of Cannulas
Cannula fixation plasters are plasters specially developed for cannula fixation. The adhesive plasters guarantee that vascular accesses and intravenous cannulas wich are connected to the infusion are securely attached and that the necessary hygiene is ensured. The cannula fixation plasters are sterile packaged products and can be stuck directly over a freshly punctured area. In contrast to plasters or bandages for wound care, cannula fixation plasters have no wound pads, but a gap in the middle, which means that the fixation plasters can be stuck around the valve of a cannula. These plasters can also be applied quickly in an emergency. Read more at the end of this page.
...


Cannula Fixation Plasters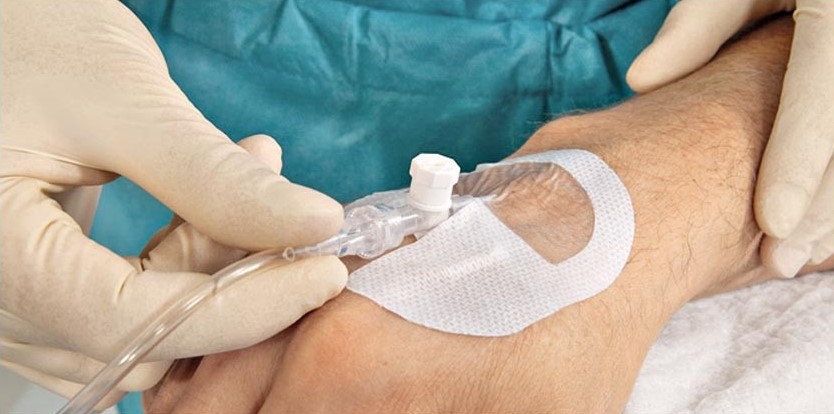 The sterile cannula fixation plasters from our range can be used on any part of the body to secure the injection of a cannula and, thanks to the cannula fixation, allow the repeated administration of medication via intravenous cannulas. The medical products are packaged sterile and have integrated cushions to relieve the puncture site.
Cannula fixation plasters are available in a transparent version, which facilitates the correct placement of the plaster and the medical monitoring of the puncture site for the infusion. The breathable, skin-friendly material of the infusion plasters guarantees maximum hygiene , even with prolonged use. These products are self-adhesive and made from germ-proof and waterproof materials. Thus, the puncture site of the cannula remains protected from water, dirt and bacteria. Order online here at Medicalcorner24®.
Order Cannula Fixation Plasters at Convenient Prices at Medicalcorner24®
Aside from cannula fixation plasters, you can also find the following products in the Medicalcorner24® online shop: