Tape Bandage
The selection of products includes tape bandages like kinesiology tapes and classic sports tapes as well as cross tapes. A therapy using tape bandages has no side effects. Tape bandages are available in different sizes and colours. The different colours are attributed to have their own healing effects. Read on here at the end of this page.
...


The Various Uses of Tape Bands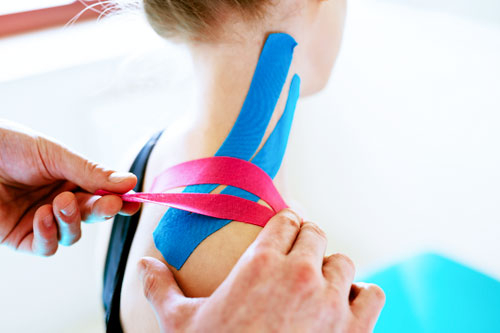 Tape bands assist in cooling, regeneration, healing, or protection both in physiotherapeutic treatment and personal use. A tape bandage or tape plaster is also used in the following areas:
to support muscle issues

for the therapy of musculoskeletal imbalances

for the treatment of pain conditions

for post-operative care
In the early 1970s, Japanese chiropractor Kenzo Kase introduced elastic adhesive tape for the treatment of joint and muscle pain.
The tape band ensures that during movement, the constant stimulation of the skin and the underlying muscle and tissue layers regulates muscle tension. This promotes blood circulation and relieves pain. Tape band therapy is primarily used to support the body's self-healing in case of injuries.
Usually, the application of tape is done by a doctor, chiropractor, or physiotherapist. However, with proper application and taping technique, you can also apply a tape bandage to the desired body area at home. Buy tape bands now at Medicalcorner24®!
Varieties of Tape Bands
The Classic Stabilizing Sports Tape
For stabilizing the tendons and skeletal system, we offer the durable sports tape, which is suitable for functional bandages in case of muscle, joint, and ligament injuries. In our online shop, you will find classic tape bands from various manufacturers for every sporting activity.
The Kinesiology Tape
Kinesiology tapes are gaining increasing popularity in sports medicine and physiotherapy, and they are regularly used in professional sports as well. Unlike the classic sports tape, these tape bands focus on promoting mobility as they are much more elastic. The tape is made of a cotton fabric that has similar elasticity to human skin. Therefore, it adapts perfectly to natural movements. The different colors are associated with individual effects on specific therapies.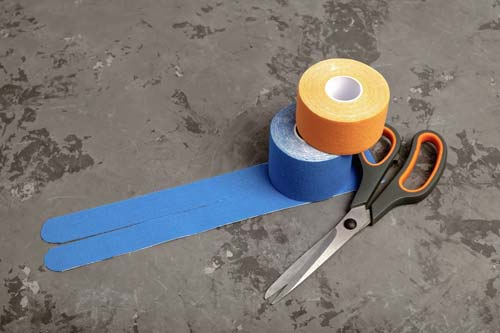 Red, pink, and orange kinesiology tape bands are intended to have stimulating, invigorating, and strengthening effects. Therefore, they are used for chronic pain, muscle weakness, improving blood circulation, and activating specific body regions.

Yellow and beige tapes are associated with auspicious and positive properties. They are used in the head and facial area as well as for stimulating lymph flow.

Blue and black kinesiology tapes are attributed with strengthening and empowering properties. Therefore, they are frequently used in sports, particularly in combat sports where they are popular.

White and green kinesiology tape bands are believed to stimulate metabolism and have a harmonizing effect on mood. Accordingly, they contribute to improving overall well-being.
At our store, you can find kinesiology tapes in every color. Buy now at Medicalcorner24!
The Grid Tape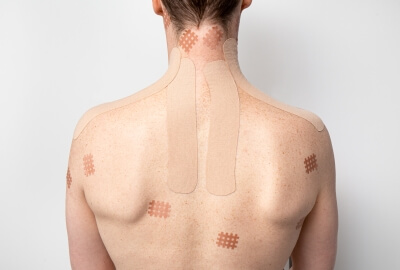 The grid tape is a self-adhesive and grid-shaped tape plaster. The therapy with a kinesiological grid tape, also known as Cross Tape, originates from traditional Asian medicine and was developed to balance the body's imbalances. Grid tapes possess pain-relieving and anti-inflammatory properties.
Grid tapes generate a persistent tissue stimulus, which has a similar effect to acupuncture and trigger point treatments. This helps to release blockages and tensions in the muscles. The advantages of grid tapes are that due to their smaller size, they can be applied locally and for a longer duration on the body, and they offer greater comfort in hot temperatures compared to larger tape bands.
Just like with kinesiology tapes, each color is attributed to a different effect that is used to support specific therapies.
In our range, we offer the ideal grid tapes for every application! Order the appropriate tape bands now at Medicalcorner24®!
Function and Effect of Tape Bands
Taping is often used as a supportive measure during therapy to support recovery and alleviate pain. Tape bands are used in various areas:
ligament injuries

swelling

ligament tears

joint injuries and problems
muscle strains

muscle overuse

back pain and tension

migraine
Tape bands are beneficial both for treatment and protection as well as for support and muscle circulation. Therefore, they are particularly popular among athletes or for sports-related injuries, helping with the instability of joints and muscles.
The specific effect depends on the technique used to apply the tape bands:
When the tape is applied from the inside out, starting from the muscle insertion and moving towards the muscle origin, it has a relaxing effect on the muscles.

If the tape band is applied in reverse, it puts the muscle under tension and provides support.
For an additional stabilizing effect, the tape bands can be applied at a right angle to each other. This supports the muscles both in length and width.
At our store, you can find high-quality products and a wide selection of tape bands and plasters! Ensure an ideal practice setup with Medicalcorner24® and buy the appropriate tape bands!
Buy Tape Bands and Other Therapy Supplies at Affordable Prices Online
At Medicalcorner24®, you will also find a wide selection of therapy supplies. Browse through our range and discover products for manual therapy as well as preventive treatments. The offered products always stand out for their high quality and can be used in clinics, practices, and at home. We offer products for improved physical well-being:
Furthermore, you will find therapy products to treat physical discomfort:
Find the perfect product according to your preferences and needs. For any questions regarding our practice and nursing supplies, we are here to assist you.