Medical Shoes – Ergonomic, Safe & Comfortable
Medical Shoes are ideal for nurses, doctors and everybody who has to walk and stand a lot throughout the working day. Especially in hospitals and nursing homes, doctors, therapists and nursing staff have to cover long distances every day. The feet of medical staff are exposed to high loads due to frequent standing and walking. For this reason, the right medical work shoes are an important part of work clothing. In our online shop you will find a large selection of medical shoes for men and women that are tailored to the different needs of healthcare workers. With medical work shoes from our assortment you can:
alleviate pain and counteract overloading of the feet

comply with the high hygienic standards in medical facilities
increase work motivation with colorful and modern designs

meet different requirements depending on the work environment
Read on at the end of the page for further information about medical shoes.
...


Medical Shoes – Foot Health in Medicine and Nursing
Activities that put a strain on the feet, such as long walks and periods of prolonged standing, such as during operations or assistance work, can lead to foot pain and even back problems in the long term if the wrong kind of shoes are worn. Medical Shoes support the arch of the foot during prolonged stress and thus counteract pain and overload. Most medical work shoes have an anatomically shaped footbed that distributes the pressure evenly and offers enough space for the foot to roll off when walking.
Avoid Pain from Misalignments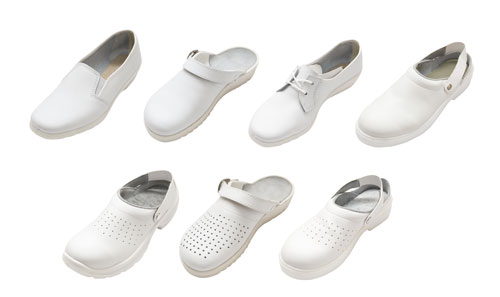 Misalignments of the feet are among the most common orthopedic diseases and affect doctors, nurses and medical assistants alike. Whether it is hallux valgus, splayfoot or clubfoot - foot malpositions require the wearing of high-quality medical shoes to maintain good foot health. Wearing specially adapted orthopedic insoles is essential in order to alleviate symptoms of foot malpositions. It is possible to replace the supplied insole with an orthopedic insole for many medical shoes in our online shop.
Promote foot health – order medical work shoes now!
Functionality & Comfort – Buy medical shoes Online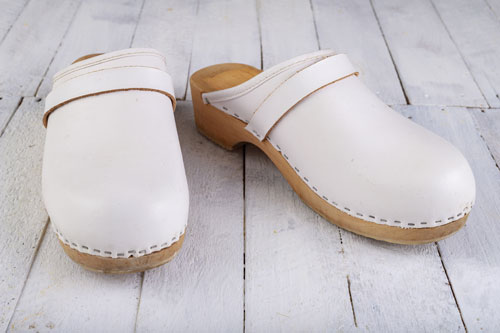 Medical Shoes must be able to withstand high loads during a long working day. In addition, a moisture-wicking lining and breathable outer material are important to ensure that the sweat produced by the feet does not accumulate in the shoe and thus the high hygienic standards in medical facilities can be met.
If sweat is not drained away, heat and moisture can cause germs to form. This can not only promote the development of athlete's foot, but also result in the spread of germs from the doctor's office or hospital. To ensure that the shoe can dry completely, it is recommended that you wear two pairs of medical work shoes alternately.
Shoes for nursing staff often have footbeds with an extra soft combination of foam and calfskin. Ergonomic footbeds ensure fatigue-free walking and standing. Shock-absorbing outsoles that protect the health of the wearer can also be useful with functional shoes in the form of clogs, loafers and other medical shoe models.
To ensure that medical shoes fit perfectly, attention should also be paid to features such as adjustable straps. With them, the size of the shoe can be optimally adapted to the respective foot, which in turn increases the wearing comfort. Adjustable and foldable heel straps are offered for clogs, which can easily be folded over to form an instep strap.
In everyday medical work, the foot often has to withstand great strain. The heel in particular has to absorb high forces with every step. For this reason, it should be supported by the work shoe as well as possible. Medical work shoes usually possess a cushioning sole that relieves the joints and spine by reducing the intensity of impacts that occur when walking.
When nursing the sick and elderly, medical staff come into daily contact with potentially infectious bodily fluids such as blood, wound secretions and vomit. It is not uncommon for medical workwear to get soiled, which makes cleaning and disinfecting it a necessity.
Of course, this also applies to hospital shoes. For this reason, medical work shoes must be easy to clean. Many available shoe models can also be treated with disinfectants.
Medical Work Shoes with Fashionable Design
Since Workwear is often worn over a very long period of time, it is all the more important to feel comfortable in it. A fashionable medical shoe can help to increase work motivation. In our online shop you will not only find classic white professional shoes for medicine, but also medical work shoes for men and women in many colors and patterns.
Make your everyday medical work easier – buy low priced medical work shoes online!
The Right Choice of Medical Shoes
When choosing the right medical work shoe, not only functionality and comfort but also occupational safety must be taken into account. Since the requirements differ in the various areas of activity, the requirements for medical footwear also change. Depending on the work environment, different shoe models can be used as occupational shoes in the medical field:
Occupational Shoes for the Operating Theatre
Washable and autoclavable clogs made of special plastics are usually worn in the operating theatre. In order to ensure that the surgical staff has a secure footing, the surgical shoes should have heel straps that can be folded down and, ideally, even adjusted.
Work Shoes for Driving Service & Nursing
Safety shoes with protective toe caps should be worn in all areas in which the feet might be injured by wheelchairs, hospital beds or other objects. They offer protection for the feet in everyday clinical practice and when transporting patients.
Professional Shoes for Medical Specialists
Medical specialists who only have to cover short distances usually only need simple work shoes. These should, however, be equipped with a good footbed and cushioning. Doctors often choose closed leather medical shoes that offer a high level of comfort, are breathable and have cushioning.
High Quality & Fashionable – BIRKENSTOCK Medical Shoes
Whether in the doctor's office or in the operating theater - the well-known shoe manufacturer BIRKENSTOCK offers a large selection of work and safety shoes with an anatomically shaped footbed to provide the necessary relief for joints and muscles when standing and walking for hours. In the Medicalcorner24® range you will find various medical shoes for the different needs of medical and nursing professions. The medical work shoes from BIRKENSTOCK are characterized by a particularly high level of wearing comfort and walking comfort. They are available in many tasteful designs and in a wide range of colors. Depending on the design, when you order BIRKENSTOCK work shoes from our shop, you will also benefit from these product features:
water and dirt repellent

washable

adjustable

cushioning

anti-slip

antistatic

replaceable footbed
Trust in brand quality and order medical work shoes from BIRKENSTOCK now! If you are looking for the right medical work shoes, you will find various models in different designs and colors in our shop. In addition, a large selection of other medical clothing and practice supplies awaits you in our online shop, such as: