Classic Tapes
The selection of classic tapes includes rigid tape bandages with strong adhesive properties, e.g. to prevent or treat sports injuries. Classic tapes are available in different colours and sizes. Read on here at the end of this page.
...


Buy Classic Tape and Stabilize Your Limbs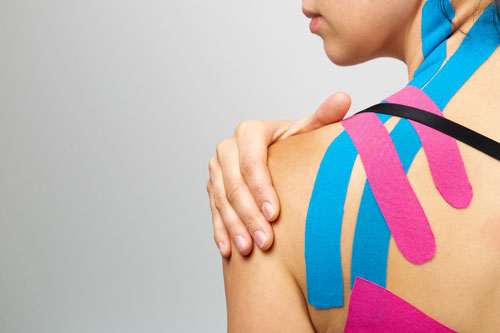 You should buy classic tape if you need stable and non-elastic tape bands to fix fingers or joints. Classic sports tapes are made of cotton or viscose fabric and have excellent adhesive properties. The self-adhesive tapes are coated with acrylic adhesive, polymer adhesive, or zinc oxide rubber adhesive, making them particularly resistant to tension. In addition, the adhesive, which is mostly latex-free, and the cotton fabric of the classic tapes are extremely skin-friendly.
Buy classic tape at a low price from Medicalcorner24® and securely stabilize your limbs!
Correct Use of Sports Tapes
Sports tapes are used for preventing muscle discomfort and joint injuries that can occur during sports or physically demanding activities. The rigid tapes support the limbs and remain slip-resistant and stable even under intense muscle strain.
Taping helps stabilize the tendons and skeletal system. During competitions, sports tapes are used, for example, to stabilize the ankles. The self-adhesive, non-elastic tape is securely wrapped around the ankle to provide stability. Thus, the classic tape ensures a firm hold of the joint during sport activities. In rugby or American football, wide tapes are often used to stabilize the wrists.
Special tapes for fingers are very narrow, usually between two and three centimeters wide, and are used, among other sports, in boxing, handball, or volleyball. Multiple fingers are bound together to achieve greater stability and prevent potential finger sprains. However, the tapes also limit joint movement by preventing bending, so they are not used in situations that require fine motor skills.
After use, the tape should be removed immediately, as tightly wrapped tape bands can impede blood circulation.
Use Sports Tape as a Fixation Bandage for Dressings
It can also be useful to buy tape for other applications. Due to its versatility and strong adhesive properties, it can be used, for example, to fix dressings. It can also be used as an underwrap for bandages, such as in the case of a sprained ankle. The strong and skin-friendly adhesive ensures that the tape securely holds onto the body and stabilizes the affected area.
Buy Classic Tape and Enjoy Its Benefits
Buying classic tape brings many advantages. It is easy and quick to apply and guarantees high effectiveness due to its stability. No medical assistance is required to apply sports tape. However, it should be noted that the tape should not be wrapped too tightly around the limbs to avoid interrupting blood circulation.
Properties and Mode of Action of the Tape
To adhere well to various muscle areas and joints, the Classic Tape has the following properties:
non-elastic and stable

self-adhesive

high adhesive strength

water-resistant

long-lasting and resistant to tension

tearable lengthwise and crosswise
The mode of action of a tape bandage primarily focuses on injury prevention. For example, the stable bandaging technique provides support for the capsule-ligament apparatus of the finger joints.
Taping - Applying and Removing the Tape
Step 1
Storage of the Tape - Keep the tape dry and protected from dirt.
Step 2
Preparation of the Skin - Shave the relevant skin areas and remove oily or greasy creams.
Step 3
Measuring and Cutting - Measure the required length of tape and cut a clean piece with scissors.
Step 4
Applying the Tape - Place the tape on the body part that needs support and wrap it around with gentle pressure.
Step 5
Duration of Use - Note that the sports tape should only be used for a short period of time.
Step 6
Removing the Tape - Remove the tape immediately after application and dissolve adhesive residue with oil or warm water.
Which Tape to Buy? Comparing Kinesio and Classic Tape
Classic Tapes and Kinesiology Tapes may look similar but should not be confused. Their mode of action is very different. Therefore, check which tape you want to buy. Here is an overview of the essential properties of both products:
Kinesiology Tape
used for the therapeutic treatment of muscle pain and strains

elastic and flexible

promotes blood circulation and relaxation

provides high mobility throughout the day
Classic Tape
provides stability and injury prevention under high stress

non-elastic and self-adhesive

ensures stable support

offers limited freedom of movement with improved stability
More than Just Tape - Other Products Available in the Shop
In the online shop of Medicalcorner24®, you can buy excellent tape - in addition, we also offer a range of other products that can be used for muscle pain, tendon issues, or sore joints for immobilization and pain reduction. For sports or everyday use, you will find, for example: