Hand orthoses - for successful handset therapy
Hand orthoses support the healing process in the event of pain or injuries of the handset. The affected joints are supported by hand orthoses and protected from backslides and misalignments. Hand orthoses from Medicalcorner24 enable gentle correction and stabilization of the affected hand and at the same time ensure the best possible use of its remaining functions.
Benefit from these advantages with hand orthoses from our shop:
Easy to put on and take off

Numerous setting options
Heat regulating materials

Suitable for short-term or permanent use
Relieve pain now and order hand orthoses online at low prices! Go on reading at the end of this page
...


Hand Orthosis for Relieving Irritation and Pain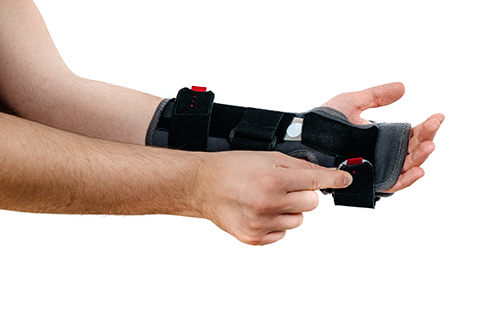 A hand orthosis or wrist orthosis is a type of wrist bandage that provides immobilization through stabilizing elements such as aluminum splints, while offering greater comfort compared to rigid plaster or cast bandages. Wrist orthoses are made of breathable, temperature-regulating materials that reduce sweating and can be worn comfortably for extended periods of time. However, the material is firmer than that of flexible hand bandages in order to selectively limit movements. This optimally supports the healing process of the corresponding area of the hand.
Many models of wrist orthoses allow the individual removal of the included splints. They precisely stabilize the areas of the hand or wrist that need immobilization while preserving the mobility of unaffected fingers. However, some wrist orthoses also have finger supports or thumb orthoses to enable relief and immobilization of the thumb or fingers.
The main purpose of a wrist orthosis is to stabilize the musculoskeletal system and promote the healing of hand injuries. This simultaneously helps alleviate irritation and reduce pain. Depending on the model, the healing process is supported through compressive knitted fabrics or individually adjustable orthotic modules.
When is a Wrist Orthosis Worn?
Wrist orthoses are often worn as a preoperative measure to support conservative treatments. They are also used for immobilizing the wrist or thumb saddle joint after surgeries. These orthopedic devices are also known as wrist splints. They can be used as a post-plaster treatment for the healing of a radius fracture or for wrist overuse. Wrist orthoses are suitable for the effective therapy of sprains, ligament injuries, or rheumatic diseases.
Wrist splints are frequently recommended for inflammatory irritations such as tendovaginitis. This condition, commonly known as tendon sheath inflammation, requires complete immobilization of the wrist. The wrist orthosis serves as an effective alternative to a plaster cast. Similarly, their aluminum splints can immobilize the joint when a nerve irritation, such as carpal tunnel syndrome, needs to heal. These preoperative measures can help avoid surgical interventions as part of conservative treatments.
Order a wrist orthosis at an affordable price in our online shop now!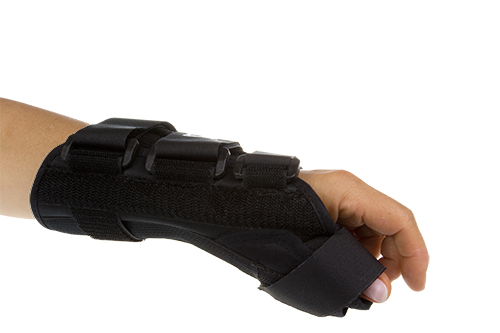 When are Hand Orthoses for Thumb Fixation Worn?
The thumb is indispensable for numerous gripping movements and is often subject to increased wear and tear due to incorrect loading over a person's lifetime. The thumb saddle joint is commonly affected, which can develop a specific form of arthritis called rhizarthrosis. Hand orthoses with thumb inclusion, also known as thumb orthoses, allow for thumb fixation while leaving the rest of the fingers free when worn.
Buy a thumb orthosis online at an affordable price now!
In addition to wrist orthoses, our extensive range of products for therapeutic needs includes: