Surgical Caps
Surgical caps cover hair and scalp during surgery and medical treatments. Germs and dust are safely held back. Surgical caps are suitable for the demand of hospitals, medical practices and laboratories as well as all hygienically sensitive areas in industry and science. They can also be used for private reasons, e.g. when painting walls and ceiling.
Surgical caps are available in different variations and packages. For example disposable caps or bandanas made of fabric in diverse colours. Read on here at the end of this page.
...


Surgical Caps for Various Purposes - Head Coverings for Hygienically Sensitive Areas
Surgical caps are an integral part of the standard equipment for medical practices and operating rooms - they are considered personal protective equipment (PPE). The surgical cap is worn before doctors and surgical staff enter the operating room. The head covering protects against transmission of microorganisms from hair or the scalp of medical personnel. It serves to protect both the patient from germs, dust, hair, and skin particles, and the wearer from contamination by dirt, germs, or pollutants.
Surgical caps are also part of the protective clothing in hygienically sensitive environments such as laboratories, where high hygiene standards apply, and they protect against hazardous substances and potentially infectious organisms. The protective effect of caps and coverings maintains laboratory hygiene and protects the wearers. However, surgical protective caps can also be used in versatile ways outside of professional use: In private households, for example, surgical caps protect the hair during painting work.
At Medicalcorner24®, surgical caps are available in various skin-friendly and breathable materials. They sit comfortably and comfortably even during extended wear. Order surgical caps now!
Applications of Surgical Caps
The head coverings are used by users in a variety of mainly medical fields to ensure the safety of the working environment. Surgical caps are worn by these professional groups for infection prevention:
Laboratory staff
Veterinarians
Dentists
Anesthesiologists
General practitioners
Intensive care personnel
Surgical Caps - Disposable or Reusable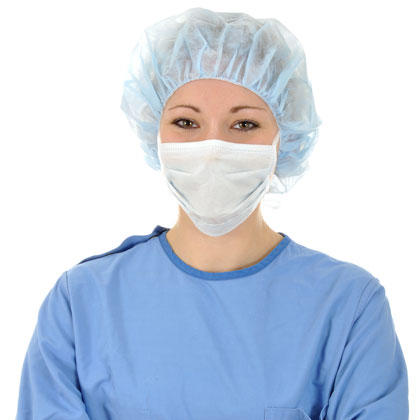 Surgical caps for single use are typically made of non-woven fabric. This material is breathable and therefore prevents excessive sweating and heat buildup during treatments and surgeries.
The caps are delivered in one size fits all and in packs of 100 or 200 pieces. They are suitable for covering short hair as well as long hair.
One practical feature of disposable caps made of non-woven fabric is that they can be simply disposed of in the trash after use. This makes them extremely cost-effective, as there are no expenses for reprocessing.
To ensure a secure and comfortable fit for any head shape, the surgical caps are equipped with either elastomeric threads or an elastic band. The elastic band keeps the full-coverage cap securely and comfortably on the forehead. Additionally, the non-woven caps are latex-free and therefore suitable for allergy sufferers.
Surgical Caps - Colorful & Suitable for Reuse
Surgical caps are offered in various designs. In addition to classic beret caps and disposable caps with elastic bands, Medicalcorner24® also offers caps in fashionable solid-colored bandana style, also known as fabric caps, which are simply tied at the nape of the neck. These reusable models are available in many different colors. They can be sterilized, autoclaved, or laundered.
In the USA, colorful reusable surgical caps, particularly in green or blue, have been popular for years, and they are becoming increasingly common in Germany as well. Thanks to the use of cotton, the fabric caps are particularly breathable. Being washable and sterilizable, they also ensure a high level of hygiene.
Buy Surgical Caps and Other Medical Protective Clothing at Medicalcorner24®
In addition to hygiene supplies such as surgical caps made of various materials, the range of Medicalcorner24® includes many other articles for infection protection and protective clothing of high quality. Among other things, we offer products in these categories: