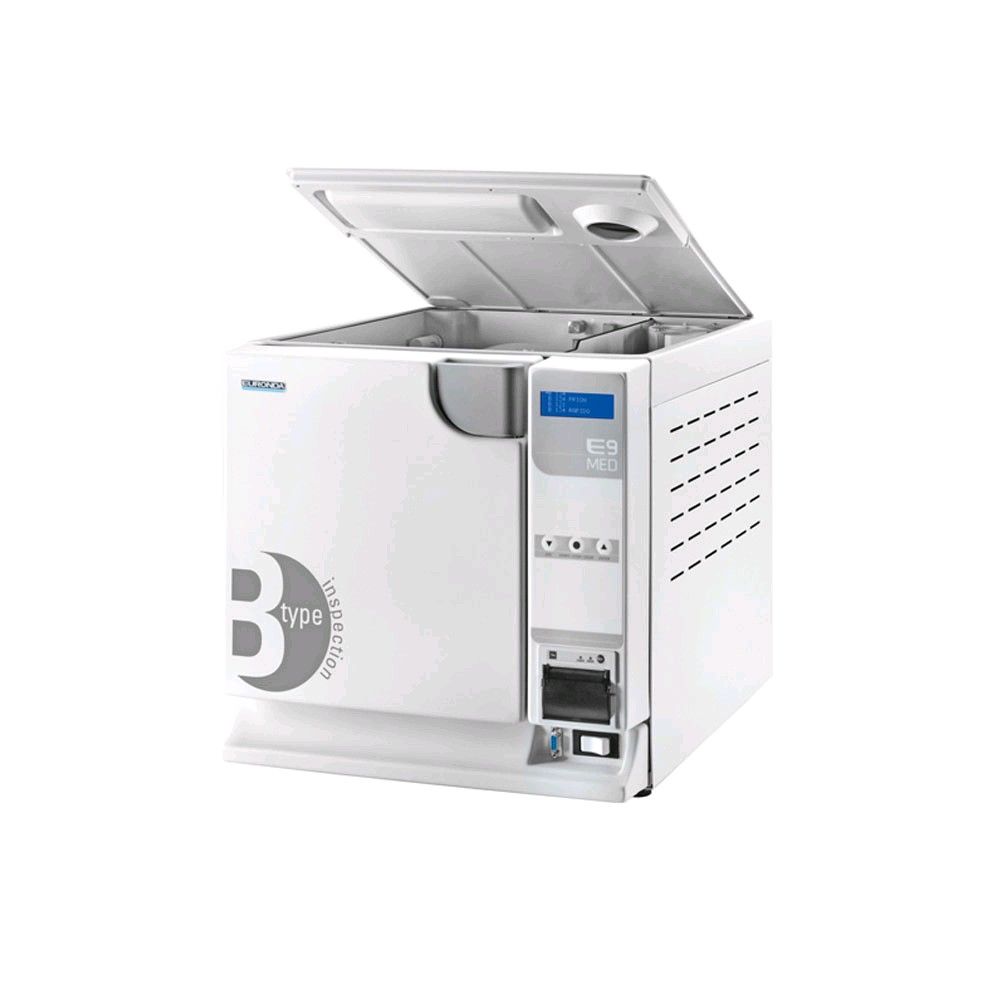 Available, delivery time 3-5 days
Product number:
EUR-115993
Best Advice on Medical Products
Fast Delivery of available products
High quality brands
Purchase on Account
Product details for Class B E9 Med Autoklav
The E9 Med Autoklav is a sterilisation device with many accessories.
The E9 Med Autoklav offers different sterilisation cycles (b-cycles only) to find the fitting programme for any need. Safely packaged instruments can also be sterilised, no matter if they are solid, hollow or porose. The E9 is very easy to handle, doesn´t take up much space and is also easy to clean. Fresh water and used water tanks are easy to reach. The integrated thermo printer can print all mandatory sterilisation results. The results can also be saved, using the E-Memory data management system which is also available in our shop.
Properties:
class B Autoklav
integrated thermo printer
economical
easy inspection and cleaning of fresh water and used water tanks by the user
integrated air-steam-separator
Standard equipment:
4 x perforated aluminium tray
1 x tray removal handle
water hoses
1 x cleaning sponge
Technical data:
stainless steel vacuum chamber with 18 or 24 litres capacity
capacity of water tank: 4 litres
dimensions: 45 x 44,5 x 61 cm (width, height, length)
weight: 40 kg (18 litres) or 42 kg (24 litres)
supply voltage: 1400 W 6,1 A (18 litres) / 1800 W 7,8 A (24 litres)
net voltage: 230 V 50/60 Hz
working temperature: 5 - 40 degrees Celsius
medium noise level: 50 db
Norms:
EN 13060
EN ISO 14971
EN 61010-1
EN 61010-2-040
EN 61326
EN 13445
Protective measures:
protection against short circuits, overheating, overpressure
protection against accidental opening of doors
process evaluation system
self-diagnosis in real time
Fields of application:
for safe sterilisation of packaged instruments (solid, hollow or porose)
The E9 Med Autoklav is available in different versions.
Manufacturer "EURONDA"
Euronda Deutschland GmbH manufactures devices and accessories for medical practice use, with a focus on infection protection, hygiene and the sterilization of medical equipment. Euronda's autoclaves and thermal disinfectors are highly efficient sterilization devices for medical practices, laboratories and hospitals. Foil sealing devices from Euronda enable the safe storage of sterilized materials. We also offer ultrasonic cleaners and medical protective clothing from Euronda - from face masks to protective goggles for dentists. Incidentally, the Euronda range contains many useful products for dental needs.
More articles from EURONDA to look at