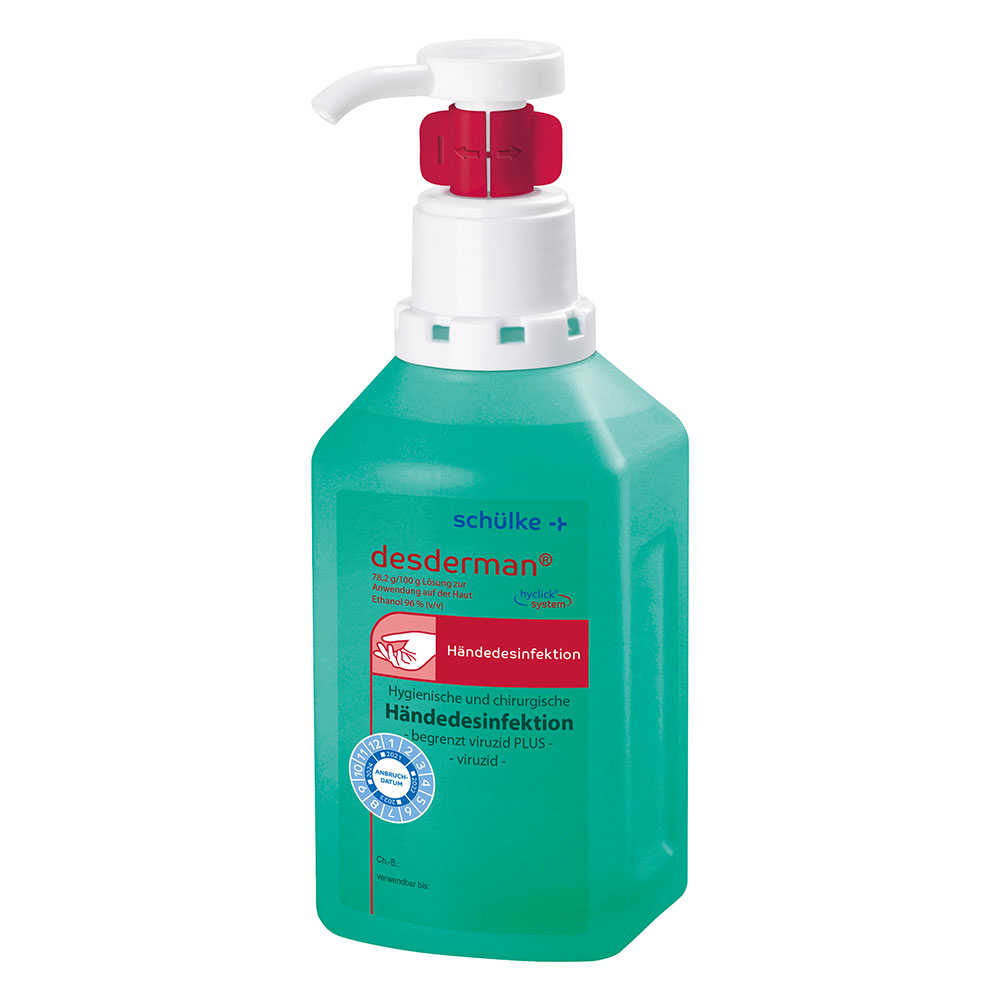 £5.80*
Content:
0.5 L
(£11.61* / 1 L)
Available, delivery time: 1-3 days
Product number:
SMH70000754K-001
Best Advice on Medical Products
Fast Delivery of available products
High quality brands
Purchase on Account
Product details of hand disinfection as hyclick bottle
The hand disinfectant Desderman® hyclick by Schülke, in the Hyclick bottle, forms a unit with the new hyclick® dispenser system.
Desderman is free from dyes and perfumes and is used as an alcoholic rubbing preparation for hygienic and surgical hand disinfection. It is also effective against Noro viruses and is very suitable for people who are sensitive to skin and allergy. It contains refatting ingredients which protect the skin from drying out.
Properties of hand disinfectant
In the new Hyclick bottle
In combination with the hyclick® dispenser a solid unit
The preparation of the donor is dispensed with
Bottle change by simple "click"
Provides effective protection against contamination
Fasche with first-time protection
Meets DGKH / RKI recommendations
Pronounced microbicidal and virucidal activity
Good skin tolerance
Re-greasing system
Free of perfume and color
Bactericidal (including TB)
fungicide
Virucide in lipophilic and hydrophilic viruses polio, aldeno, vaccinia, herpes simplex viruses, HBV, HCV, HIV, noro viruses
Application areas of the hand disinfectant
Hygienic and surgical hand disinfection
Hyclick bottle especially for the new hyclick® dispenser system
Mandatory texts on authorised medicinal products according to § 4 HWG
desderman® 78.2 g/100 g solution for application on the skin - active substance:
ethanol 96 % (v/v).
Fields of application:
Alcohol-based disinfectant for hygienic and surgical hand disinfection. Spectrum of antimicrobial efficacy: bacteria (incl. TbB), fungi, viruses: classification: "virucidal" (enveloped and non-enveloped viruses) and classification: "limited virucidal plus".
For risks and side effects, read the package leaflet and ask your doctor or pharmacist.
Manufacturer "SCHÜLKE"
The Schülke & Mayr GmbH - also known under the short form Schülke - is an internationally highly regarded manufacturer of disinfectants and cleaning agents. Schülke products are used, for example, to prevent infections in medical practices and hospitals, for industrial hygiene or general everyday hygiene. The Schülke & Mayr GmbH is an important partner of Medicalcorner24® and we have a wide range of Schülke products. Including well-known brands such as Desderman or Desmanol as well as modern dispenser systems for soaps and disinfectants.
More articles from SCHÜLKE to look at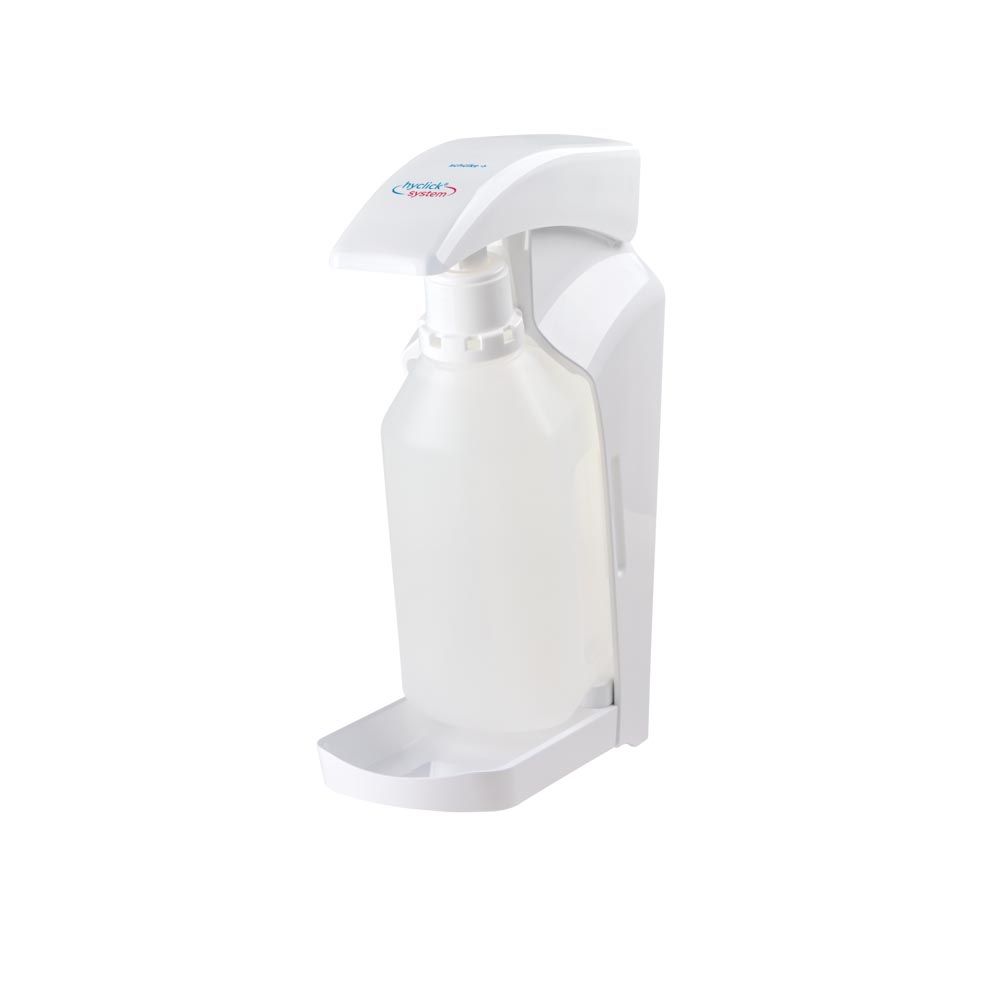 Schülke hyclick® dispenser Vario, disinfectant dispenser
Thanks to the 500ml adapter, the hyclick® Vario Dispenser can be equipped with either 1000 ml or 500 ml hyclick® bottles. The donor is not required for processing because the hyclick® bottles are equipped with an integrated pump and non-removal screw cap. The new system offers fast and hygienic bottle change with one click, high protection from contamination and easy assembly. In addition, the dispenser is suitable for many different liquids such as hand disinfectants and wash lotions.Properties of hyclick® disinfectant / soap dispenserNew hyclick® donor systemExclusively for hyclick® bottles 500 or 1,000 mlHyclick® bottles: with integrated pump and "non-removal" screw cap (sold separately)Incl. 500ml adapter (Vario version)Quick and easy bottle change - with 1 clickNo preparation is necessaryProvides high protection against contaminationLow cleaning effort - wipe with disinfectant clothRounded designAdjustable dosing stroke 1.5 and 3 mlEasy assemblyFor hand disinfectants and wash lotionsApplication areas of hyclick® disinfectant / soap dispenserFor the application of hand disinfectant and wash lotionFor hyclick® bottles 500 or 1,000 ml