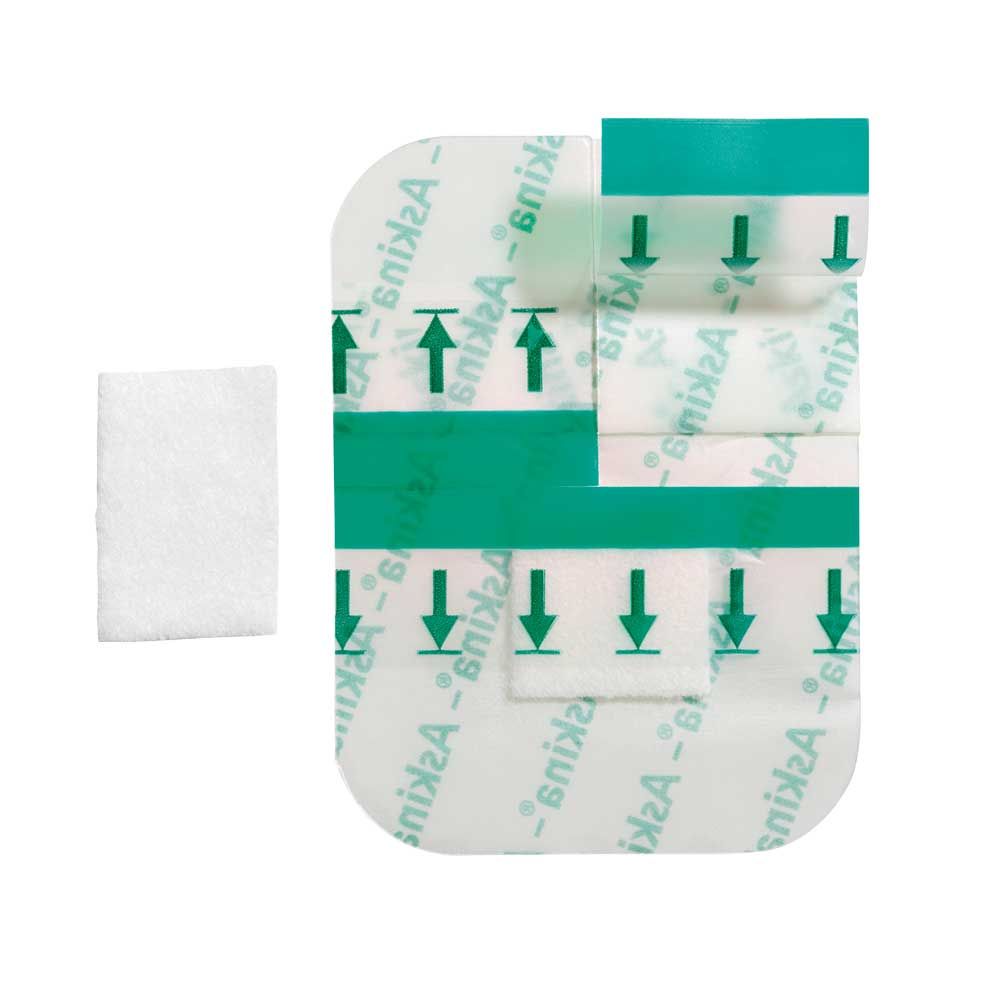 Product number:
PET9086803K
Best Advice on Medical Products
Fast Delivery of available products
High quality brands
Purchase on Account
Product details of film dressing
Der atmungsaktive Folienverband Askina® Soft Clear von B.Braun ist durch seine wasserabweisende und keimdichte Außenschicht absolut wassertauglich und muss selbst beim Baden nicht abgenommen werden.
Diese Eigenschaften, unterstrichen von seiner Anwender- und Hautfreundlichkeit, macht diese sterile Wundabdeckung so beliebt. Auch wird durch die innenseitige Wundkompresse, mit Gitternetz, eine Wundhaftung vermieden und eine schnelle und nicht trockene Wundheilung gewährleistet.
Die verwendetet Polyurethanfolie ist sehr gut haftend und lässt sich hervorragend applizieren, ohne Aufrollen der Ecken, da diese abgerundet sind. Auch wurde zur besseren Haftung bei gleichzeitiger Hautverträglichkeit ein hypoallergenen Polyacrylatkleber verwendet.
Der gebrauchsfertige und sterile Folienverband Askina® Soft Clear ist ideal bei nässende Wunden, die während der Heilung nicht trocken werden sollten, anzuwenden. Er ist in verschiedenen Abmessung und Verpackungsgrößen erhältlich.
Eigenschaften vom Folienverband
steril
gebrauchsfertig
atmungsaktiv
sehr gut hautverträglich
spezielles Wundpad mit super feinem Gitternetz
keine Wundhaftung / -verklebung
anwenderfreundlich
mit hypoallergenen Polyacrylatkleber
Außenschicht: transparente und stabilisierende Polyurethanfolie
wasserabweisend
keimdicht
wassertauglich - sogar beim Baden
sichere Haftung ohne Aufrollen - abgerundete Ecken
versch. Größen zur Auswahl
Abmessungen und Verpackungsgrößen vom Folienverband
7,5 cm x 5 cm / 50 Stück
9 cm x 5,0 cm / 50 Stück
9 cm x 10 cm / 50 Stück
9 cm x 15 cm / 40 Stück
9 cm x 20 cm / 30 Stück
9 cm x 25 cm / 30 Stück
Anwendungsbereiche vom Folienverband
zur sterilen Wundabdeckung von nässenden Wunden
zur Wundabdeckung während des Badens oder Duschens
Manufacturer "B. BRAUN"
Our range includes many different medical products from B.Braun Melsungen AG . The company, which was founded in 1839, is known for first-class medical technology as well as proven products for pharmaceutical and medical needs. In addition to protective gloves made of natural latex, the wide range of B.Braun products also includes disinfectants and cleaning agents for medical instruments, surfaces as well as for skin and hands. We also carry cannulas, needles and syringes as well as complete catheter sets and wound pads, plasters and bandages from B.Braun.
More articles from B. BRAUN to look at
Discover other interesting items!