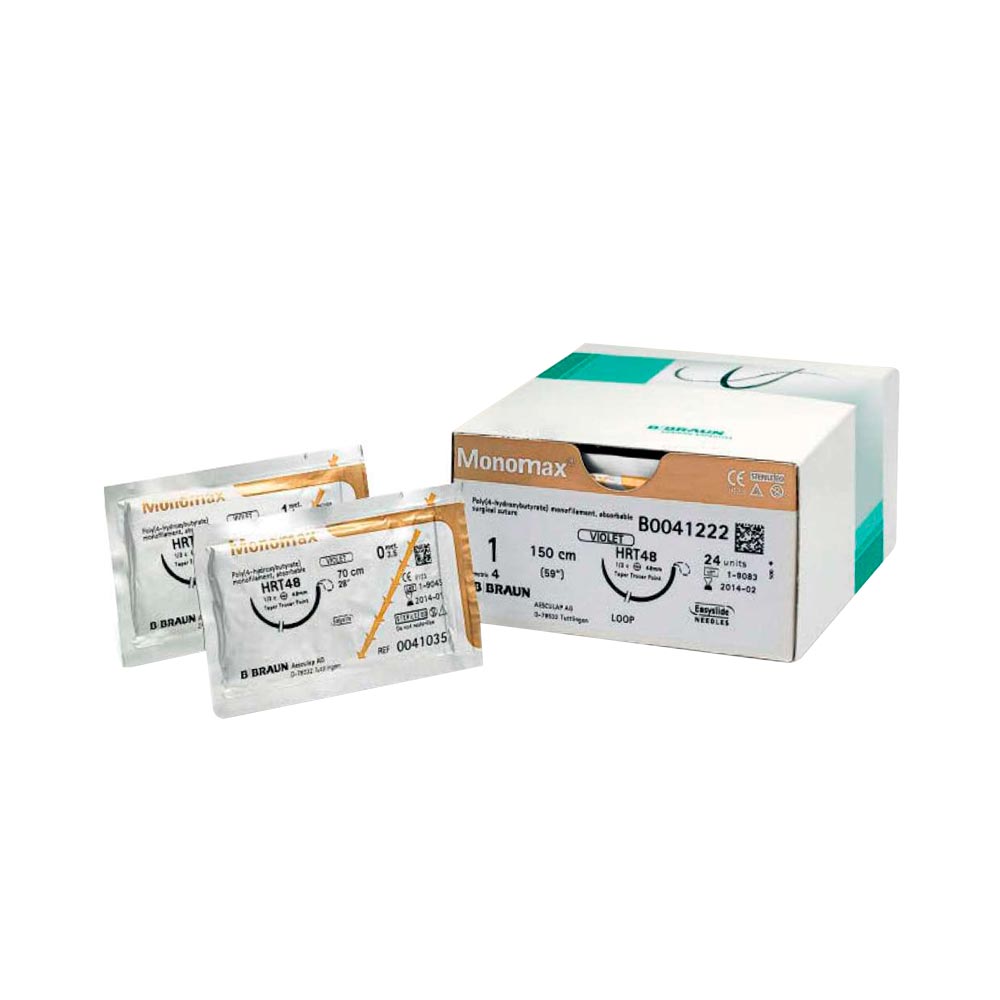 Available, delivery time 3-5 days
Product number:
PETB0041066
Best Advice on Medical Products
Fast Delivery of available products
High quality brands
Purchase on Account
Product details - Monomax Absorbable Suture Material
The B. Monoax® suture material from B.Braun consists of a long-term tear-resistant, elastic synthetic resorbable suture made from poly-4-hydroxybutyrate.
Due to its outstanding properties Monomax® is an excellently suitable thread for the abdominal wall closure. In addition, Monomax® has a significantly longer tear resistance compared to conventional long-term tear-resistant sutures and physically supports the abdominal wall for six months, thus offering maximum functionality.
Benefits of Monomax® Suture Material
Ultra-long tear strength to optimally support slow wound healing of the fascia
support
Optimal ratio between tear strength and absorption time
Long-elastic, thereby supporting the dynamics in the abdominal wall
Pleasant to use
Properties of Monomax® Suture Material
100% tear resistance on the 1st day
100% tear resistance after 14 days
90% tear resistance after 28 days
50% tear resistance after 90 days
Resorbed after 390 days
Ultra-long-term tear-resistant
For effective wound support in abdominal wall closure
Highly elastic resorbable thread
To catch the dynamic tension in the abdominal wall
Available thickness USP 3/0 (metric 2) to USP 1 (metric 4)
Applications of Monomax® Suture Material
Continuous fascia closure in primary abdominal wall closure
Continuous fascial closure in abdominal wall hernias in sublaid technique
Manufacturer "B. BRAUN"
Our range includes many different medical products from B.Braun Melsungen AG . The company, which was founded in 1839, is known for first-class medical technology as well as proven products for pharmaceutical and medical needs. In addition to protective gloves made of natural latex, the wide range of B.Braun products also includes disinfectants and cleaning agents for medical instruments, surfaces as well as for skin and hands. We also carry cannulas, needles and syringes as well as complete catheter sets and wound pads, plasters and bandages from B.Braun.
More articles from B. BRAUN to look at