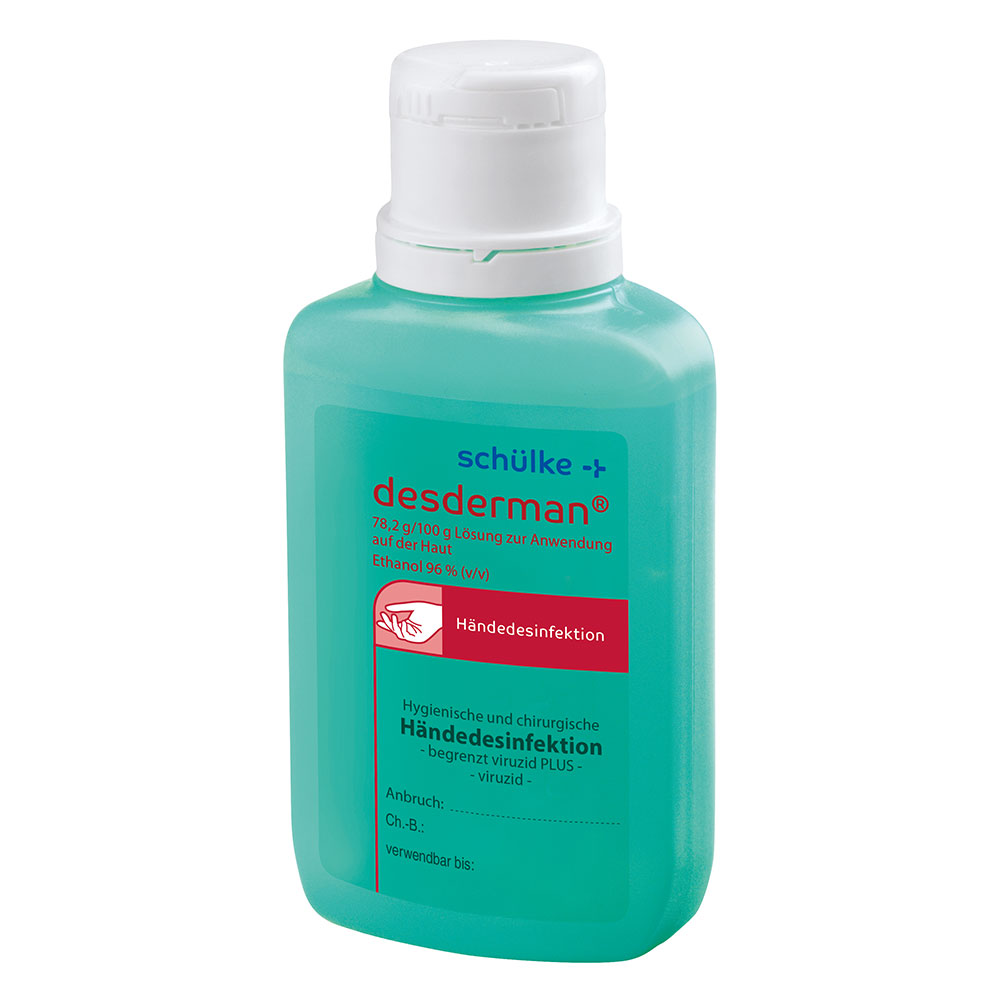 Quantity
Unit price
Base price
To

2

£1.68*


£16.84* / 1 L

To

5

£1.68*


£16.76* / 1 L

To

29

£1.67*


£16.68* / 1 L

From

30

£1.63*


£16.25* / 1 L

Available, delivery time 3-5 days
Product number:
SMH-116823
Best Advice on Medical Products
Fast Delivery of available products
High quality brands
Purchase on Account
Product details for Desderman
Desderman von Schülke ist farbstoff- und parfümfrei und wird als alkoholisches Einreibepräparat für die hygienische und chirurgische Händedesinfektion eingesetzt.
The disinfectant is effective against norovirus and is very suitable for the skin and allergy-sensitive people. Moreover Desderman emollients containing the skin from drying out protection.
Properties of hand sanitizer
pronounced microbicidal and virucidal activity
good skin compatibility
Rückfettungssystem
perfume and dye-free
bactericidal (incl. TB)
fungicide
virucidal for lipophilic and hydrophilic viruses polio, Aldeno-, vaccinia, herpes simplex viruses, HBV, HCV, HIV, norovirus
Applications from hand sanitizer
hygienic and surgical hand disinfection
Mandatory texts on authorised medicinal products according to § 4 HWG
desderman® 78.2 g/100 g solution for application on the skin - active substance:
ethanol 96 % (v/v).
Fields of application:
Alcohol-based disinfectant for hygienic and surgical hand disinfection. Spectrum of antimicrobial efficacy: bacteria (incl. TbB), fungi, viruses: classification: "virucidal" (enveloped and non-enveloped viruses) and classification: "limited virucidal plus".
For risks and side effects, read the package leaflet and ask your doctor or pharmacist.
Manufacturer "SCHÜLKE"
The Schülke & Mayr GmbH - also known under the short form Schülke - is an internationally highly regarded manufacturer of disinfectants and cleaning agents. Schülke products are used, for example, to prevent infections in medical practices and hospitals, for industrial hygiene or general everyday hygiene. The Schülke & Mayr GmbH is an important partner of Medicalcorner24® and we have a wide range of Schülke products. Including well-known brands such as Desderman or Desmanol as well as modern dispenser systems for soaps and disinfectants.
More articles from SCHÜLKE to look at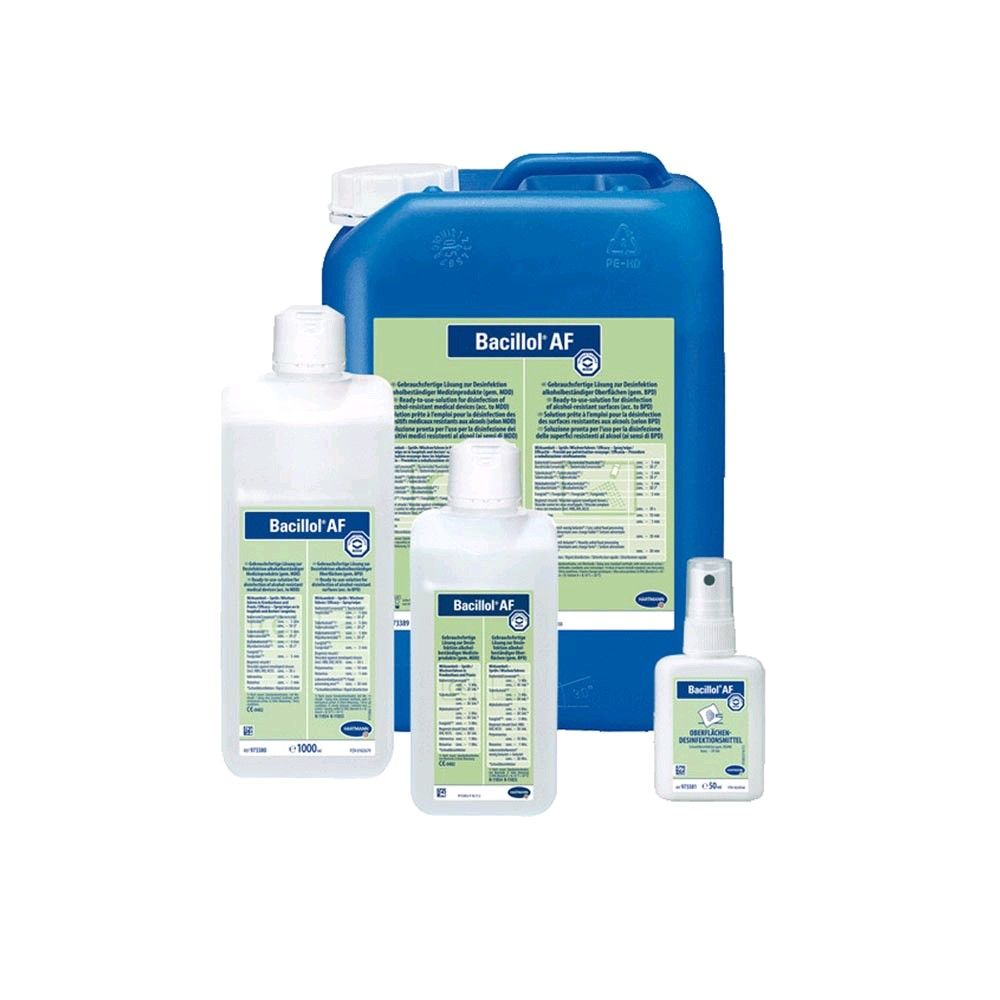 Bode Bacillol AF Surface Disinfectant, aldehyde-free
Bacillol AF by Bode is an aldehyde-free, alcohol-free quick acting (30 seconds) disinfectant. It dries quickly and without leaving residue. It is well suited for the use in hygienically sensitive environments. The disinfectant is also perfume-free and gentle on the cleaned material.Properties:quick disinfectionbroad range of effectsacts after 30 secondsgentle on the materialdries without residueperfume-free and aldehyde-freegood wetabilitybactericidal (including salmonella and listeria)levurocidalfungicidaltuberculocidalmykobactericidallimited virucidal (including HBV, HIV, HCV)adeno virusesFCVMNVpolyoma and rota virusesVAH, DVG and CE listed (marked according to medical product laws MPG respectively MDD)Fields of application:surfaces that need quick disinfection and drying without leaving residuequick disinfection of alcohol-resistant surfaces by spray or wipe cleaningfor medical instruments and inventory according to medical product laws (according to MPG)hospitals and nursing homes (according to BPD)canteen kitchens (according to BPD)Bacillol AF is available in different sizes.