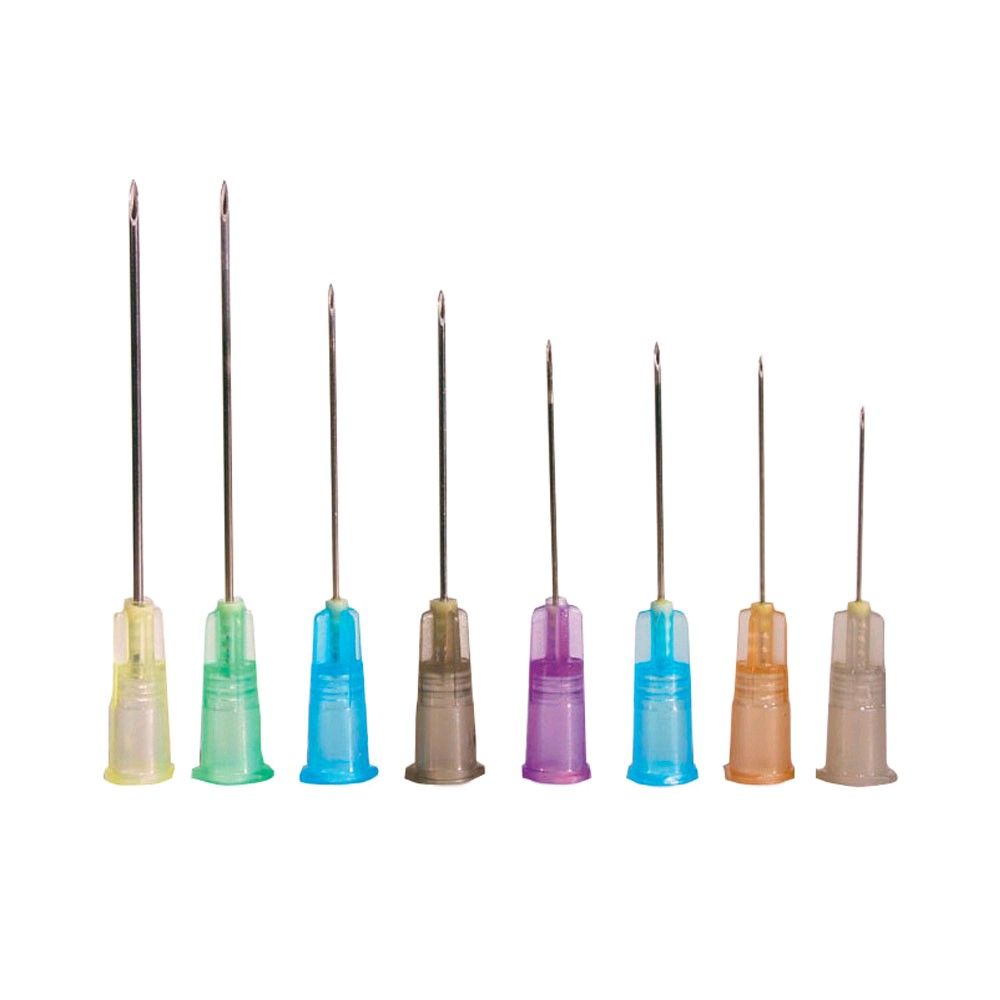 Available, delivery time 3-5 days
Product number:
DIS-10002
Best Advice on Medical Products
Fast Delivery of available products
High quality brands
Purchase on Account
Product details for Hypodermic needles
Neoject Hypodermic needles of Dispomed, have an international color code, a transparent luer lock approach and are individually packaged sterile.
The disposable cannulas have a precision lancet cut "long bevel" for a lowest sensitivity to pain. They are also Dry siliconisation, have a clean gluing and a very high flow rate. The International color code allows to distinguish the variables on first sight. Neoject needles are individually sterile packaged in a convenient peel-open package.
Properties of Hypodermic needles
Color code according to ISO 6009
transparent luer lock attachment
Dry siliconisation
precise lancet cut "long bevel"
clean gluing
high flow rate
Sterile EO according to ISO 11135-1
Peel-open packaging
Size / color of Hypodermic needles
No 1 0.90 x 40 mm - 20G x 1 ½ "- yellow
No 2 0.80 x 40 mm - 21G x 1 ½ "- green
No 12 0.70 x 30 mm - 22G x 1 ¼ "- black
No 14 0.60 x 30 mm - 23G x 1 ¼ "- blue
No 16 0.60 x 25 mm - 23G x 1 "- blue
No 17 0.55 x 25 mm - 24G x 1 "- violett
No 18 0.45 x 23 mm - 26G x 7/8 "- brown
No 20 0.40 x 20 mm - 27G x ¾ "- gray
Manufacturer "DISPOMED WITT"
The Hessian Dispomed Witt oHG is known for its single-use medical products. In our online shop you will find, for example, single-use cannulas with a highly precise cut. We carry canals and syringes from well-known Dispomed brands such as Neoject or Ecoject. Infusion syringes, insulin syringes and suitable accessories such as infusion tubes, combination stoppers for Luer-Lock syringes and complete infusion sets from Dispomed are available at low prices.
More articles from DISPOMED WITT to look at